Dir: Alan & Gabriel Polsky. US. 2012. 95mins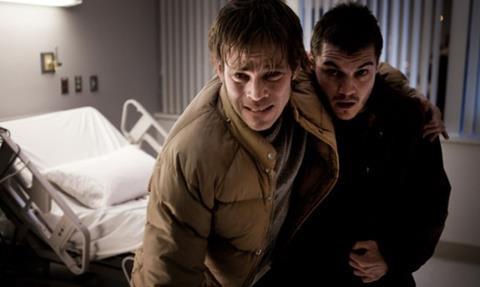 Vaguely reminiscent of Raymond Carver stories and Edward Hopper images, with a solid cast, a great cinematographer and some inspired animation, the Polsky brothers, already established as producers, seem to have all the right ingredients in place for a natural hit for their directorial debut. The one thing they lack, however, is a stronger plot that will not only sustain its promising premise, but also build it up towards a satisfactory climax, instead of meandering around towards a predictable and not very convincing ending. Names like Emile Hirsch and Steven Dorff will get it to the screens, staying there will be the challenge.
Hirsch and Dorff serve their parts well but neither one of them is allowed to grow.
Frank (Hirsch) and Jerry Lee (Dorff) have been on their own, since their childhood when their mother died leaving them $500 and their late father's gold-plated Winchester. For as long as they can remember all they had was each other, and all their comfort were the fairytales Frank would tell his brother, wonderfully imaginative but carrying the same type of gloom prevailing in their existence.
One night, one-legged Jerry Lee hobbles his way to their Reno hotel, terrified and drunk, wakes up Frank and tells him they have to run away. He had driven over a boy and killed him and convinced the police will soon come and pick him up. Frank tries to calm him down, but Jerry Lee takes the car, sets it on fire in the snow, shoots himself in the leg, and has to be hospitalised.
While following Frank's efforts to arrange for their getaway while rushing back and forth to visits his brother, the script jumps back to explain their past, also to expound on a love affair that never fully blossomed between Frank and Annie (Dakota Fanning). An obsessive gambler (Joshua Leonard) and a kindly car dealer (Kris Kristofferson) are also brought into the plot, though never fully developed.
Set in the most unglamorous part of Nevada during winter, the least attractive season of the year, the script seems dedicated to the notion of brotherly love and devotion that it remains strangely cryptic about all the rest of details in the plot, which would have been needed to give the whole story more substance. Frank and Jerry Lee may be natural-born losers, but they are truly attached and devoted to each other, probably too honest and decent for their own good, running away not only from a possible jail sentence but from life itself into the realms of imagination.
Never trying to suggest they are more than the underdog characters they have been handed, Hirsch and Dorff serve their parts well but neither one of them is allowed to grow, and by the end the film they are the same characters as when it started. Luckily helping to hold it all together is the sensitive camera work of Russian cinematographer Roman Vas'yanov (Hipsters), a richly suggestive soundtrack and most of all, the animation Mike Smith provides for all the tales Frank tells himself and his brother to escape the dreariness of their existence.
Production company: Polsky Film
International sales: Independent, mail@independentfilmcompany.com
US sales: Cinetic Media, sales@cineticmedia.com
Producers: Alan Polsky, Gabriel Polsky, Ann Ruark
Screenplay: Noah Harpster, Micah Fitzerman-Blue, based on novel by Willy Vlautin
Cinematography: Roman Vas'yanov
Editors: Hughes Winborne, Fabienne Rawley
Production designer: Ryan Warrren Smith
Music: David Holmes, Keefus Green
Main cast: Emile Hirsch, Steven Dorff, Dakota Fanning, Joshua Leonard, Kris Kristofferson, Noah Harpster