The breakthrough actors, producers and directors to track this year. Profiles by Chris Evans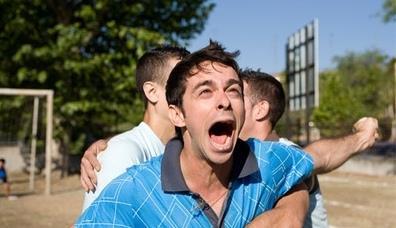 Amaia Salamanca, actor
Salamanca made her name in two popular local TV series, SMS: Sin Miedo A Sonar and Sin Tetas No Hay Paraiso. She then starred in Fernando Gonzalez Molina's comedy Brain Drain (pictured), as a bright student who wins a scholarship to Oxford University, where she is tracked down by an old flame. The film took $10m at the local box office.
Now she is set to take a lead role in Antoni Sole's English-language 3D horror Web Cam, alongside Michael Madsen. "Amaia displays the passion and intensity of a young Penelope Cruz and can also look very fragile and vulnerable," says Sole.
Contact Pilar Rasilla, Delphoss (agent)
Tel: (34) 915 21 73 73
Juan Romero, producer
Romero set up Madrid-based Suki Films in 2006, co-producing Vicente Penarrocha's cult mystery Guantanamero (Arritmia) in 2007. He then started up Mecanismo Films, through which he produced Dunia Ayaso and Felix Sabroso's The Island Inside last year, and is set to make Play, about a man whose life is being controlled in a computer game.
"Romero is a resilient producer with a knack for finding funding from all over the place for his projects," says Denis Pedregosa of Kanzaman Films.
Contact Juan Romero, Mecanismo Films
Tel: (34) 914 20 24 73
E-mail: juan@mecanismofilms.com
Miguel Angel Silvestre, actor
This rising star is another who started out in TV before clinching roles in a slew of local films, including Santiago Tabernero's coming-of-age drama Vida Y Color and Eduardo Chapero-Jackson's US-set short The End.
The latter project led to Silvestre landing a starring role in Jackson's hotly anticipated fantasy feature debut, Verbo. "Miguel combines a potent presence and energy with delicate and sensitive emotional nuances. He is capable of leading both small and large national and international projects," says Chapero-Jackson.
Contact Beatriz Castro (agent)
Tel: (34) 639 65 68 26
E-mail: bcastro@yoloviprimero.com
Antonio Naharro and Alvaro Pastor, directors
Their feature debut, Me Too (Yo Tambien), about a Down's Syndrome intellectual who falls for a woman who has never really been loved, was a hit at San Sebastian last year, and screened last month at Sundance in the World Cinema section. The pair are to work together again on two new dramas, both set to be international co-productions, in the early stages of development.
"Yo Tambien is one of the standout local films from first-time directors. It was very thought-provoking," says producer Simon De Santiago of Mod Producciones.
Contact Marta G—mez, Kuranda (agent)
Tel: (34) 917 48 95 25
E-mail: marta@kurandaweb.com
Miguel Angel Faura, producer
Faura has experience in several fields, including as an art director on Perfume: The Story Of A Murderer. His main line of work is as a producer through Roxbury Pictures. Credits include Ibon Cormenzana's children's film The Totenwackers, and Eugenio Mira's thriller Agnosia, which stars Eduardo Noriega and is now shooting in Barcelona with Filmax handling sales. Next up is Juan Carlos Medina's 1920s-set thriller Painless, about a group of children put into an asylum when they fall ill to an unknown disease.
"Faura is always looking to work with exciting film makers who have unique styles, but make marketable films," says Adrian Guerra, head of Versus Entertainment, who has been tracking the producer's progress and is keen to work with him.
Contact Miguel Angel Faura
Tel: (34) 932 21 10 77
E-mail: mafaura@roxbury.es
Yon Gonzalez, actor
Gonzalez starred with Amaia Salamanca in SMS before taking a lead role in the popular series El Internado. His feature work includes the comedy Sex, Party & Lies and Sebastian Cordero's upcoming drama Rabia, playing a murderer. He is also set to star in Xavier Villaverde's romantic comedy El Sexo De Los Angeles and Joan Cutrina's 3D action thriller Alpha.
"Gonzalez is one of the new breed of exciting young actors making the transition from TV to film," says Massimo Saidel of Latido Films, which has secured international rights to Sex, Party & Lies.
Contact Pilar Rasilla, Delphoss (agent)
Tel: (34) 915 21 73 73
Javier Ruiz Caldera, director
Caldera's debut feature, Spanish Movie, a parody of popular Spanish-language movies, became a surprise local hit in 2009. The director (pictured standing right with Leslie Nielsen) is now developing further comedy projects with the film's producer, Eneko Lizarraga of Think Studio.
Contact Eneko Lizarraga (producer)
E-mail: eneko@thinkstudio.es
Luis De Val Minguez, producer
Based at rising outfit Media Films, Minguez gained attention last year with the triple Goya-winning drama El Truco Del Manco, about two young men who set up a rap-music studio. The film snagged best new director for Santiago Zannou and best new actor for co-star El Langui. Minguez is now working on Pau Freixas' Heroes, about an office worker recalling his childhood in the 1980s.
"De Val is fast becoming a producer to turn to for quality local projects," says Kanzaman's Denis Pedregosa.
Contact Media Films
Tel: (34) 932 40 02 44
E-mail: mediafilms@mediafilms.es