Dir/scr: Srđjan Dragojevic. Serbia-Croatia-Macedonia. 2011. 115mins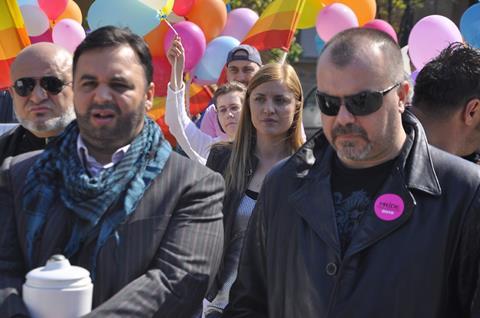 A rude and raunchy challenge to Balkan homophobia, The Parade (Parada) may be the most un-PC of films around, but it smartly celebrates those very un-PC qualities as it turns transgression into comedy, detailing the very real battlefield between machismo and gay pride.
Srđjan Dragojevic directs with a good deal of intelligence.
Written and directed by Srđjan Dragojevic, The Parade has proved to be a surprise success in the Balkans, and Serbia in particular where it has achieved more than 500,000 admissions. And this in a country where 5,000 police had to guard the 1,000 people who made up the 2010 Pride march. The film may intrigue buyers aware of its comedy success, though whether gay and lesbian festivals will embrace it remains to be seen
It is broad comedy fare that revels in its stereotyping and takes no prisoners with its deliberately scattershot approach. Srđjan Dragojevic directs with a good deal of intelligence, and is very much aware that his unsubtle characters offer an entertaining look at the culture clash between brutal Balkan machismo and a gay community that suffers violent attacks with little support or assistance from the authorities.
The film sets out its position right from the start. It opens with a glossary of slang terms – 'Shiptar' (derogatory term for Kosovar Albanians), 'Chetnik' (for Serbs), 'Ustasha' (for Croats) and 'Balija' (for Bosnians) – that the various factions in the Yugoslavian war used about each other…but ends pointing out that the term 'Peder' is the one that unites the factions when they refer to homosexuals.
The two worlds come together when Lemon (Kojo), an ex-criminal and war veteran has to rush his pet pit-bull terrier to the vet after it is the victim of a drive-by shooting. The dog is saved by vet Mirko (Jetvic), who is appalled by Lemon's bombastic behavior. Mirko is the partner of Radmillo (Samolov), who runs an agency that organises weddings and has been approached by Lemon's fiancée Pearl (Popović) to organise her wedding to Lemon.
Gay activist Radmillo, who is planning Belgrade's Pride march, balks about the thought of organising the event but eventually agrees…on the condition that Lemon, who runs a judo gym and security company, agrees to provide security for the march. Lemon reluctantly agrees, but when his staff all refuse to protect the march he is forced recruit his old enemies from his war-time days, and heads off with Mirko (in his bright pink mini) in accompaniment.
They manage to sign up Croat Niko (Navojec); Bosnian Muslim Halil (Aćimovic) and Kosovo Albanian Azem (Mihailovski) and they return to Belgrade to face their greatest challenge…protecting the march for marauding homophobic skinheads.
The characters are all broadly drawn, though the wonderfully stoney faced Nikola Kojo is the rock that holds the film together, with Hristina Popović also amusing as the determined Pearl…her finest moment comes when she slips on a flack-jacket to help Lemon and his men fight off the skinheads – but only if it will take an hour as she has parked her car at a meter.
Production companies: Mainframe, Sektor Film, Forum Film Ljubljana, Film & Music Entertainment, PRVA Srpska Televizija, Mainframe Production, Film Studio Viba Film Ljubljana, RTV Slovenia
International sales: Wide Management, www.widemanagement.com
Producers: Biljana Prvanović, Srđjan Dragojevic
Co-producers: Dejan Jocić, Igor Nola, Vladimir Anastasov, Eva Rohrman, Nikola Kojo, Mike Downey
Cinematography: Dušan Joksimovic
Editor: Petar Markovic
Production designer: Kiril Spaseski
Music: Igor Perovic
Main cast: Nikola Kojo, Miloš Samolov, Hristina Popović, Goran Jevtic, Goran Navojec, Toni Mihailovski, Dejan Aćimović, Matasa Marcovic