Dir: Lewis Klahr. US. 2011. 65mins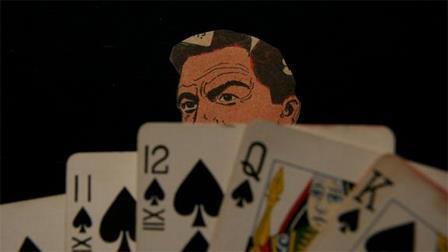 The word 'Pettifogger' is an archaic term used to describe a small-scale con-man and is the main character in Lewis Klahr's experimental first (almost, at 65 mins) full-length feature. A highly-regarded artist Klahr is known for his Prolix Satori 'couplets" which juxtapose songs against the backdrop of moving collages, and The Pettifogger extends his visual ethos without the driving element of music – although sound is a huge part of this piece.
Klahr's "abstract crime film" is wholly and bewitchingly experimental and should have a wide appeal within that arena.
The Pettifogger tells Klahr's story through intense repetition which becomes hypnotic as the viewer beholds a dizzying array of visuals, moving to flashing lights and bewildering blurs, ultimately set to the droning sounds of an ominous storm. Challenging but wholly intriguing, visual artist Klahr's piece is designed, he says, to put the viewer into a reverie – to move the audience into different states of consciousness over 65 minutes.
Not everyone will enjoy the ride, but Klahr's "abstract crime film" is wholly and bewitchingly experimental and should have a wide appeal within that arena. He's extending the reach and potential of the moving image and although The Pettifogger is challenging, it's also inclusive. It should join his other work in key galleries – his previous films have been acquired by MOMA and shown in the Tate Modern – as well as experimental sections of international festivals and may open up a wider appreciation of Klahr's work.
Set in 1963 The Pettifogger delivers a year in the life of an American gambler and conman through a delightful array of collage. Using a wide variety of materials against textured backdrops – from playing cards, markers, crumpled period photographs, even a cigar label and cocktail sticks, to cut-outs of illustrations and Lichtenstein-style figures taken from comic books, Klahr plays out his story.
Using repetitive imagery – cars, licence plates, gas stations – against overlapping soundtracks, he follows his man until this world begins to fall apart and the narrative becomes a less clear-cut, less identifiable. As we move into the August-December period of The Pettifogger's year, lashing lights start to move to the fore, a tricky array of strobes and fast-moving blurred images dotted by casino chips and whisky bottles.
The sound here, mixed by Nathan Ruhle, is just as powerful as the images, and often drives the mood of the piece. Period audio soundtracks are dotted amongst ambient sounds of casinos and cocktail bars before the constant driving storm of emotions overwhelms the viewer.