Dir: Anne Fletcher. US. 2009. 108 mins.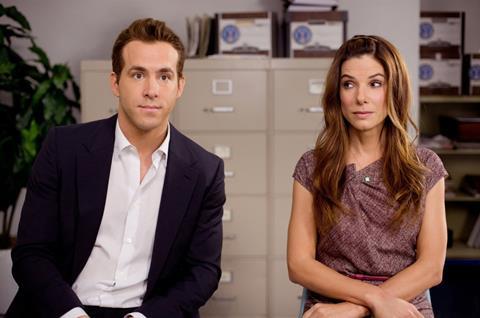 Charm and conventionality battle to a draw in The Proposal, a likeable romantic comedy featuring two charismatic leads who can't quite escape the shackles of a predictable storyline. Though directed with smooth control by Anne Fletcher (27 Dresses), the film, which represents a return to lighter fare for star and executive producer Sandra Bullock, frustrates more than it delights.
Bullock hasn't had a sizable hit since 2002's Two Weeks Notice ($199m worldwide and a romantic comedy), preferring lately to concentrate on less-profitable dramatic roles. Presumably, the film's broad appeal (and audiences' embrace of the popular Bullock) will help guarantee decent, if maybe not spectacular, returns.
Powerful and intimidating New York book editor Margaret Tate (Bullock) discovers that she's about to be deported to her native Canada, prompting her to announce that she's marrying her resentful assistant Andrew Paxton (Ryan Reynolds) so that she can stay in America. Andrew refuses, but she promises him a long-deserved promotion in exchange for the phony marriage. First, though, they have to convince a suspicious immigration official (Denis O'Hare) that their engagement is legitimate and visit his family in distant Alaska to announce their impending nuptials.
The Proposal's Margaret Tate feels inspired by Meryl Streep's tyrannical-boss character from The Devil Wears Prada, except that in this romantic comedy the harried assistant must marry the cold-blooded executive rather than simply cater to her every whim. In addition, Peter Chiarelli's screenplay recycles two romantic-comedy staples to complete its central narrative – two people who hate each other are forced through circumstance to team up, and an uptight big-city professional who must spend time in a rustic setting that she loathes.
To the credit of director Anne Fletcher, The Proposal's predictable story arc moves along briskly, aided by some nice slapstick moments. Chemistry is critical in romantic comedies and the interplay between Bullock and Reynolds is consistently pleasing. Bullock's character offers few surprises – Margaret starts off brittle and aloof before turning into a caring person – but the actress's unfussy charm makes the transformation enjoyable. Meanwhile, Reynolds excels as the caustic, put-upon assistant who first enjoys the opportunity to turn the tables on his demanding boss but then comes to develop genuine feelings for her.
If the leads make for a tart, funny pair, it's unfortunate then that so much of the surrounding film disappoints. The script's contrived central premise doesn't generate much suspense since it's fairly easy to deduce what will follow – namely, that Andrew and Margaret will try so hard to convince his family that they're in love, they will eventually fall in love. Romantic comedies don't need a high degree of believability or originality to shine, but some smarter plotting or more heartfelt emotions would have gone a long way toward elevating the proceedings.
The supporting cast also illustrates The Proposal's missed opportunities. As the smug immigration official, Tony-winning character actor Denis O'Hare gives an uncharacteristically broad performance, while Craig T. Nelson and Mary Steenburgen are underused as Andrew's well-heeled parents. As for Betty White, she plays Andrew's vivacious grandmother, but although she gives the clichéd loopy-elderly-woman role some spark, like so much of The Proposal the character seems lazily conceived and in desperate need of some fresh thinking.
Production company
Mandeville Films
International distribution
Walt Disney Studios Motion Pictures
Producers
David Hoberman
Todd Lieberman
Screenplay
Peter Chiarelli
Cinematography
Oliver Stapleton
Production designer
Nelson Coates
Editor
Priscilla Nedd Friendly
Music
Aaron Zigman
Main cast:
Sandra Bullock
Ryan Reynolds
Mary Steenburgen
Craig T. Nelson
Betty White
Denis O'Hare
Malin Akerman
Oscar Nunez
Aasif Mandvi