Dir/scr: Wisit Sasanatieng. Thailand. 2010. 130mins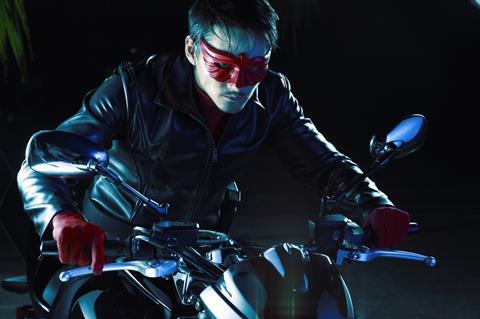 In a similar way to how Batman and The Green Hornet have received re-boots for new generations, so to the Thailand superhero Red Eagle – popular in novels and films in the 1960s - has been dusted off for a new millennium and given a special-effects friendly new look for modern audiences. Released to popular acclaim in Thailand late last year, the film had its European premiere at the Rotterdam Film Festival.
Plenty of action and mayhem takes place before the cliffhanger ending.
Written and directed by Wisit Sasanatieng – who gained cult status through the art-house acclaim for his Thai Western film Tears Of The Black Tiger in 2000 – The Red Eagle (Insee Dang) is a sprawling action-thriller that manages to pack in corrupt politicians, child sex slavery and wildly inventive action-violence before its cliffhanger ending.
The story is set in 2016, three years after an electoral victory for the Liberal Party of Thailand, with the tough-talking new Prime Minister letting down his supporters by embracing corruption and failing to follow-through on the idealistic statements of his campaign.
Onto the scene comes the tortured hero Red Eagle (called such because he wears a red eagle mask) who aims to bring down both criminals and corrupt politicians. And he doesn't play nice – favouring guns and a sword that seems to extend fro him hand, he kills and mains with enthusiasm and in bloody details.
His backstory is that he was a special forces solider named Rom Rittikral (or 'Rome' as the subtitles call him) betrayed by the government, and having been shot under the eye he suffers from debilitating headaches and needs morphine on regular doses. The scar under his eye handily tallies with the positioning of the real-life mole Ananda Everingham – who plays Red Eagle – has under his eye.
The evil/corrupt types, members of a secret body called Matulee recruit a deadly assassin named Black Devil to stalk and kill Red Eagle, while at the same time there is a sub-plot involving the lovely Yasana (Yarinda Boonnark), the one-time fiancée of the Prime Minister and who also happened to have helped save Red Eagle when he was first shot.
Plenty of action and mayhem takes place – with fight scenes between Red Eagle and Black Devil (who happens to have fought Red Eagle first when he was a mere soldier) especially inventive and exciting – before the cliffhanger ending. The final scene pays tribute to actor Mitr Chaibancha, who played Red Eagle back in the 1960s and who died in a stunt accident on the last day of shooting Golden Eagle.
Production companies: Five Star Productions, Kantana Group Co. ltd
International sales: Five Star Productions
Producers: Aphiradee Iamphungphorn, Surachedh Assawaruenganun
Cinematography: Chookiat Narongrit, Suta Kwanthong
Editor: Sunit Asavinikul
Production designer: Saksiri Jantarangsri
Website: www.inseedangthemovie.com
Main cast: Ananda Everingham, Yarinda Boonnark, Wannasingha Prasertkul