Dir: John Madden. UK-US. 2015. 123mins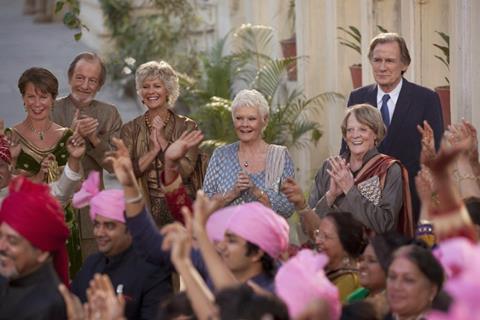 An easy-going audience-pleaser that should hit the sweet-spot for the under-served 'audience of a certain age', this smooth and savvy sequel might offer little in the way of dramatic twists (or surprises of any sort) but it more than makes up with a sense of gentle humour, engaging performances and a backdrop that is always brimming with verve and energy.
Judi Dench is especially good as a woman who finds her skills are appreciated in India and is offered work sourcing material for clothes, while Maggie Smith again gets the best barbed one-liners as a plain-speaking woman whose need for a proper cup of tea is always paramount.
Fifty Shades Of Grey may well be attracting the young folk, with their vicarious appetite for kinky sex, but The Second Best Exotic Marigold Hotel is perfect for the 'Grey pound' (or Dollar, Euro etc) as it revels in its continuing story of a bunch of British retired folk finding renewed life and – in some cases – loves as they relocate to exotic Jaipur in India and look to enhance the value of their pensions. Opening in UK on February 27, and the US and other key territories from March 6 onwards, the film will offer up a tasty alternative to current releases and should prove to be yet another worldwide success for Fox Searchlight.
The original film, The Best Exotic Marigold Hotel (based on Deborah Moggach's novel) was a sleeper hit in 2012 as audiences – often those who weren't cinema regulars – embraced the notion of a group of British pensioners who 'outsourced' their retirement and headed to a run-down and barely functioning hotel that claimed to cater for the 'Elderly and Beautiful'. A strong British acting cast, headed by the likes of Judi Dench, Maggie Smith and Bill Nighy, helped the appeal factor, but in truth it was an engaging and warm-hearted film that took audiences by surprise and eventually taking more than $136 million worldwide.
This time round the shrewd addition of Richard Gere, the silverest of 'silver foxes', to the cast should help the international profile of The Second Best Exotic Marigold Hotel even more, and even though the film is pretty much a tasty dose of the same all over again (the plot twists and gentle character arcs are all expected) it is a film that is reassuringly watchable, easy on the eye and does have more than a few moments to make you smile and laugh.
The hefty running time of over two hours reflects the large cast, all of whom need some character development and/or storyline, which does mean the film does lumber at times under the weight of its many story strands, but luckily Judi Dench, Maggie Smith et al invest their characters with enough compassion and pathos that director John Madden just about gets away with it. Some elements don't quite gel but the core stories are fun – in truth it almost cries out to be a multi-part TV series rather than a film.
The film opens amusingly enough with hotel co-managers Muriel Donnelly (Smith) and Sonny Kapoor (Dev Patel) driving in a convertible on Route 66 as they look to drum up financial support for a second Jaipur hotel. They have the perfect place in mind, and all looks good on the possible investment front, though all will depend on the report of an anonymous inspector who will report on their activities.
Back in India all is well at the hotel. Evelyn (Dench) and Douglas (Nighy) skirt around the possibility of a romance; Norman and Carol (Ronald Pickup and Diana Hardcastle) flirt with others, while also mull over an exclusive relationship, while Madge (Celia Imrie) juggles two wealthy and eligible suitors. As his wedding to Sunaina (Tina Desai) grows closer, Sonny finds the plans for the new hotel get in the way of plans for the big day, while the arrival of a handsome American guest in the form of Guy Chambers (Gere) adds spice to the mix when he takes a shine to Sonny's mother Mrs Kapoor (Lillete Dubey).
The spine of the film is the preparations for the wedding, with the various characters spinning off in different directions, sometimes interacting but mainly simply developing their personalities as introduced in the first film. Judi Dench is especially good as a woman who finds her skills are appreciated in India and is offered work sourcing material for clothes, while Maggie Smith again gets the best barbed one-liners as a plain-speaking woman whose need for a proper cup of tea is always paramount.
What gives the film its real heart is the chemistry between the performers. The veteran British actors are all true professionals, know exactly what they are doing and really deliver. Dev Patel might lack a little of the genial charm he showed in the first film, but gets better as the film develops, while Richard Gere fits in very nicely, and even gets to show off his dance moves in the final wedding sequence. He looks very much at home here, and appears happy to be one of a top ensemble cast rather than try and play the Hollywood star lead – but then he is up against Maggie Smith and Judi Dench, and they are hard to take screen time away from.
There are elements that don't quite work – David Strathairn's character, a US hotel investor, crops up at the end for a scene with Maggie Smith that doesn't really fit in with the tone of the film, and Celia Imrie's final romantic choice doesn't really convince – but this unconventional family of ordinary folk realising that retirement doesn't mean their lives are over do feel honest, open and tender. Ol Parker's script may offer no sense of great drama, but the dialogue and tone dovetails perfectly with a talented veteran cast who are on top form.
Production companies: Blueprint Pictures, Fox Searchlight Pictures, Participant Media, Image Nation Abu Dhabi
International distribution: 20th Century Fox
Producers: Graham Broadbent, Pete Czernin
Executive producers: Jeff Skoll, Jonathan King, John Madden, Michael Dryer
Co-producer: Pravesh Sahni
Screenplay: Ol Parker based on a story by Ol Parker, John Madden
Cinematography: Ben Smithard
Editor: Victoria Boydell
Production designer: Martin Childs
Music: Thomas Newman
Main cast: Judi Dench, Maggie Smith, Bill Nighy, Dev Patel, Celia Imrie, Penelope Wilton, Ronald Pickup, Richard Gere, David Strathairn, Tina Desai, Tamsin Greig, Diana Hardastle, Lillete Dubey