Dir/scr: Ben Lewin. US. 2011. 98mins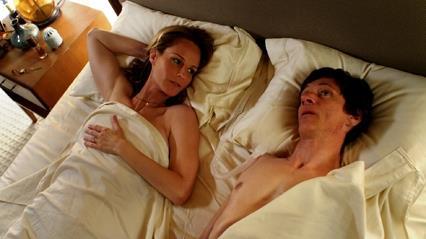 Based on the life and writings of Mark O'Brien, a poet who suffered from polio and survived with the help of an iron lung, The Sessions tells the story of his efforts to lose his virginity at the age of 38. A genuinely touching, if slight drama, the movie remains a sympathetic portrait of the plight of a handicapped person without ever growing too serious or saccharine.
Helen Hunt delivers a wonderfully authentic and easygoing performance.
Fox Searchlight—which acquired worldwide rights to the film after its Sundance premiere, when it was titled The Surrogate —may have a sweet, accessible movie with strong performances on their hands, but they'll also have a challenge convincing audiences to see a movie about sex and the disabled.
But O'Brien (John Hawkes) is not exactly paralysed. Though he is fated to lay prone on a gurney, with his head bent in one direction, and can only be away from his massive iron lung machine for a few hours at a time, he can feel normal bodily sensations. And he can have an erection. So physically, he should be able to have sex. Though dating, as you might expect, hasn't come easy for Mark.
Mark's interactions with women seem restricted to the female attendants who take care of him. He first falls for one named Amanda, a warm attractive brunette who sparks in him a yearning for more intimate interactions. Eventually, Mark is introduced to sex "surrogate" Cheryl Cohen Greene (Helen Hunt), a therapist who helps patients overcome their sexual hang-ups by having sex with them. Upon their first session, Cheryl differentiates herself from a prostitute: Though she gets paid for sex, her ultimate purpose is to stop having sex with her clients after a maximum of six meetings.
Initially, Mark, who still embodies a child-like innocence in his late 30s, is excited and terrified by the prospects of sexual relations. As expected, his first sessions end quickly. But Mark's sexual problems, interestingly enough, have as much to do with his handicap as his religion. With pictures of Mother Mary on his wall, and frequent visits to his laid-back new priest, Father Brendan (William H. Macy), Mark is limited by an overwhelming sense of Catholic guilt. Cheryl has her work cut out for her.
Sex, love, God and disabilities are all weighty topics that The Sessions ultimately glosses over. While Australian writer-director Ben Lewin keeps the proceedings refreshingly light, the tone also makes the film rather slim. No Christy Brown from My Left Foot, Mark manages to overcome his limitations frankly without too much adversity.
John Hawkes, who has had a string of quietly menacing roles (Winter's Bone, Martha Marcy May Marlene), brings a boyish charm, humor and vulnerability to the character of Mark—and he does it all lying down. But Mark is also a bit one-dimensional: Even when he's angry, it comes across as infantile. And his only fault seems to be his naivety.
Helen Hunt delivers a wonderfully authentic and easygoing performance as Cheryl: a woman who is both sensitive and professional. And as befitting the character, Hunt is as relaxed and effortless when she's clothed as when she's nude. There's also one particularly affecting scene where Hunt's Cheryl tries to suppress the growing feelings she has for Mark. And then a few minutes later, the teary floodgates burst open.
But Lewin's schematic script doesn't necessarily justify Cheryl's adoration. Mark may be a saintly figure, but as a man, The Sessions doesn't adequately explore why it is that she has fallen in love with him. Nor, arguably, does it demonstrate why the audience should either.
Production companies: Such Much Films, Rhino Films
International sales: Fox Searchlight
Producers: Judi Levine, Stephen Nemeth
Executive Producers: Maurice Silman, Julius Colman, Douglas Blake
Cinematography: Geoffrey Simpson
Production designer: John Mott
Editor: Lisa Bromwell
Music: Marco Beltrami
Main cast: John Hawkes, Helen Hunt, William H. Macy