Dir/scr: Hagar Ben Asher. Israel-Germany. 2011. 87mins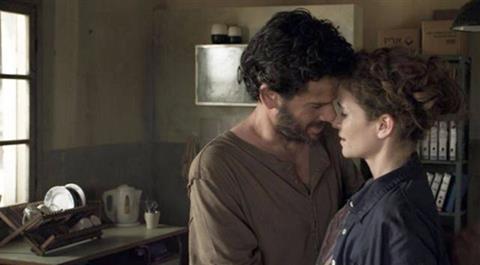 Writing, directing and playing the lead part of a woman who insists on her right to be promiscuous may be too much of a challenge for a debut film. Hagar Ben Asher introduced the same themes she develops here in her earlier short (Pathways), which won a Cinefondation award several years ago, but as they stand now, they would fit much more comfortably into yet another short.
The picture is packed with unanswered riddles.
To elaborate her fierce feminist statements, she creates laboratory conditions that suggest her opinions work better in theory than they would in real practice and her acting performance - pivotal for the success of the entire venture - is too bland and ineffective to convey the complexity of the part she plays. Though its provocative title and subject may well open a few festival and art house doors, critical support for The Slut (Hanotenet) will most probably be limited.
Tamar (Ben Asher) owns a chicken farm in a desolate village, where she lives with her two young daughters, Mika (Stav Yanai) and Noa (Daria Forman). Endowed with a healthy sex appetite that she sees no reason to keep it in check, she generously services the men of the village without ever feeling the need for stable ties with any of them.
The surrounding animals and their prominent presence all through the film suggest she is a bit like them… unbridled and free of spirit. That is, until Shai (Ishai Golan), a vet who used to live in the village, returns to take over his late mother's house.
The two start an affair which risks leading to an almost conventional relationship - he takes care of her daughters, impregnates her, cares for her, but at the same time his sincere affection surround her with a kind of emotional fence which she first enjoys but then rebels against with all her might.
For her arguments to prevail, Ben Asher starts by making sure all social considerations are thrown out of the window…the village looks almost abandoned; there are no women in it (otherwise, who knows whether they would have appreciated sharing their men so liberally); the vet takes care of animals which no one seems to own; the daughters grow up like wild flowers, their mother too busy satisfying her needs, though whether there is any satisfaction or not remains a mystery, for neither she nor her partners express anything much in this department.
The picture is packed with unanswered riddles, such as the identity of her daughters' father (or fathers), and there is an insinuation they may grow to be just like their mother. Symbols are often repeated - the vet putting a dog in the kennel or keeping a rabbit in a cage - while all social intercourse is reduced to frequent but not particularly exciting, acts of intercourse.


Production companies: Transfax Film Production, Rohfilm GmbH
Producers: Marek Rozenbaum, Benny Drechsel
International Sales: Films Distribution, www.filmsdistribution.com
Screenplay: Hagar Ben Asher
Cinematography: Amit Yasour
Editor: Asaf Korman
Production designer: Shunit Aharoni
Main cast: Hagar Ben Asher, Ishai Golan, Icho Avital, Yoav Levi, Tzahi Hanan, Daria Forman