Dir: James Ponsoldt. US. 2012. 99mins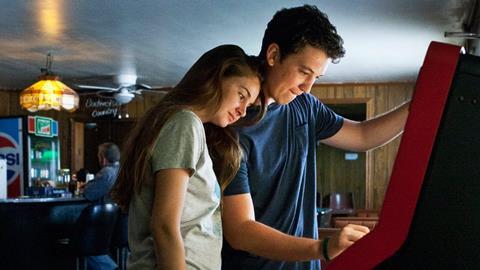 Early into this high school coming-of-age comic-drama, the two teenage leads slip away from a riverside party and take a stroll in the forest together. The camera follows them in a single uninterrupted take; bits of sunlight filter through the trees; birdcalls can be heard in the background; and a budding connection is formed. It's a beautifully relaxed and naturalistic sequence, particularly refreshing for a genre that all too often feels as if it was constructed with short-attention spans in mind.
At least The Spectacular Now has something to say, about the seeming indestructibility of youth and the desire to hold on to that ephemeral feeling.
Like the aforementioned scene, The Spectacular Now begins at a place we've seen before—with a high school senior attempting to fill out his college applications—and moves towards points that feel refreshingly darker and more meaningful. That's not to say The Spectacular Now is groundbreaking stuff. There are broken hearts, a prom dance, and familiar final-act revelations. But written by the screenwriters of (500) Days of Summer, the film injects some hard-won poignancy into the tale of a young man wavering on the precipice of adulthood.
Because of its occasionally serious approach, The Spectacular Now will require careful handling from specialty distributors, but with a pair of rising stars, Miles Teller (Project X) and Shailene Woodley (The Descendants), and an emotionally satisfying story, the film could achieve some potentially spectacular sales in the US. But no (500) Days, the film's overseas box-office potential is less assured.
When we first meet Sutter Kelly (Teller), he's the self-described life-of-the-party, a strong-willed class-clown who loves everyone. Never without a flask of whiskey by his side or a quick-witted excuse for some bad behavior, he always lives in the moment—without considering the consequences. And though he's broken up with his gorgeous girlfriend (Brie Larson), the magnetic big-man on campus has every intention of getting her back.
After one late-night binge, Sutter wakes up on the lawn of Annie Finicky (Woodley), a timid, wide-eyed girl who likes graphic sci-fi novels and French club, and lives under the thumb of her controlling (unseen) mother. It doesn't take long before Sutter, who just wants to "help" Annie break out of her shell, finds himself enamoured of this less popular unexpected beauty. And what seemed, at first, like another strategy to get his ex- back becomes a pivotal turning point in his come-uppance.
Most high-school dramas of this sort turn on some conflict revolving around the central love triangle, but The Spectacular Now goes to the source of Sutter's problems: an absent father, who disappeared from his life at an early age. If Sutter's ubiquitous drinking becomes a bit too conspicuous—it's obviously only a matter of time before his abuse of alcohol catches up him—the appearance of his derelict, and yes, alcoholic father late in the film is perhaps too telegraphed, as well. But at least The Spectacular Now has something to say, about the seeming indestructibility of youth and the desire to hold on to that ephemeral feeling.
Actor Miles Teller—who stole a couple scenes in 2010's Rabbit Hole—carries The Spectacular Now with a hefty dose of charisma and just the right shades of vulnerability, which eventually build to a heartfelt catharsis. Likewise, Woodley wonderfully expresses the reckless excitement of young love with her beaming brown eyes, counterpoised by a more serious side. They look like real 18-year-olds, not magazine covers, which together with their unselfconscious performances, helps to make the two characters' bond believable.
Though Jennifer Jason Leigh appears only in a few scenes as Sutter's overworked single-mom, she's perfect at playing the caring, but hardened parent.
Aside from one awkwardly cut scene between Sutter and his older sister, in which their eye-lines don't match, filmmaker James Ponsoldt (Smashed) does some formidable work here, deftly capturing the emotional truth of his characters with patience and sensitivity; indeed, the "spectacular now" of the title could also refer to the affective moment-to-moment realities of this well-meaning film.
Production Companies: Andrew Lauren Prods, 21 Laps Entertainment, Global Produce
International Sales: UTA, www.unitedtalent.com
Producers: Tom McNulty, Shawn Levy, Andrew Lauren, Michelle Krumm
Executive Producers: Scott Neustadter, Michael H Weber, Matthew Medlin, Marc Shmuger
Screenplay: Scott Neustadter, Michael H. Weber, based on the novel by Tim Tharp
Cinematography: Jess Hall
Editor: Darrin Navarro
Music: Rob Simonsen
Principal cast: Miles Teller, Shailene Woodley, Brie Larson, Jennifer Jason Leigh, Mary Elizabeth Winstead, Kyle Chandler