Documentary shines a light on the courage behind the epic struggle against apartheid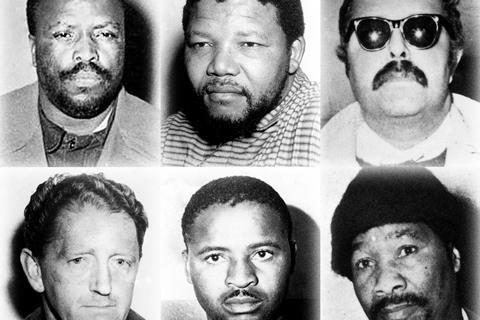 Dirs Nicolas Champeaux, Gilles Porte. France. 2018. 105mins
There is no visual record of the Rivonia trial of Nelson Mandela and his nine fellow defendants in 1963. Obliged to rely on other sources, directors Nicolas Chapeaux and Gilles Porte have pulled together a selection of alternatives (newsreels, animation, audio recordings etc) to bring a moment of history alive. The State Against Nelson Mandela And The Others captures the trial's lasting significance in the wider story of South African apartheid and its overthrow.
The real coup for The State Against… is access to the 256 hours of audio recordings from the trial.
The centenary of Nelson Mandela's birth this summer and the inclusion of final testimonies from those who have recently died should focus interest and sales on this solidly absorbing, uplifting documentary.
The real coup for The State Against is access to the 256 hours of audio recordings from the trial. These include not only Mandela's cross examinations but diverse testimony, lawyers' statements and comments from presiding judge Dr. Quartus de Wet, whose decision not to apply the death sentence now seems such a crucial and unexpected moment in Mandela's story. You are struck by the calm, reasonable, grace under pressure manner of Mandela and the defendants and, by contrast, the patronising superiority of those intent on vanquishing them
There is a swift, economical sketch of post-War South African history and white minority rulers with the firm conviction that blacks "were not capable of looking after themselves". ANC meetings and government accusations of plotting treasonous acts of sabotage, violence and destruction are depicted in animated sequences by Dutch graphic artist Oerd Van Cuijlenborg. Dense, black and white imagery has the smudged, sooty look of a charcoal drawing or a graphic novel.
Mandela's landmark speeches remain intensely stirring and the often familiar news footage (including the late Winnie Mandela's defiant words to reporter Robin Day) rewards repeat viewing but the film's winning card is fresh interviews with an impressive range of key figures from around the trial including Winnie, lawyers George Bizos and Joel Joffe, defendants Denis Goldberg, Andrew Mlangeni, Ahmed Kathrada and his former girlfriend Sylvia Neame.
Spreading the focus beyond Mandela provides a sense of the diverse figures committed to the fight against apartheid and the sacrifices demanded of them. All expected to receive the death penalty and were prepared to give their lives for the cause of equality. Denis Goldberg speaks movingly of his mother's response to his actions. Sylvia Neame is touching as she talks about the impact on her private hopes for a family that was never to happen. They provide the human connections and last living links to a story that has been written into the textbooks.
The people interviewed are sharp and witty, carrying their heroism lightly and revealing a strength of character that sustained them through lengthy imprisonment and beyond. All of them devoted their lives to what they believed to be right and seem all the more admirable for acting without the comforting knowledge of knowing that history would be on their side.
Production companies UFO Productions, Rouge International
International sales Versatile vpichon@verstaile-films.com
Producers William Jehannin, Julie Gayet, Nadia Turincev, Antoun Sehnaoui, Raphaelle Delauche
Screenplay Nicolas Champeaux, Gilles Porte
Editing Alexandra Strauss
Cinematography Gilles Porte
Music Aurelien Chouzenoux
Cast Denis Goldberg, Ahmed Kathrada, Andrew Mlangeni, Winnie Mandela