Dir: Dante Lam. Hong Kong. 2010. 113mins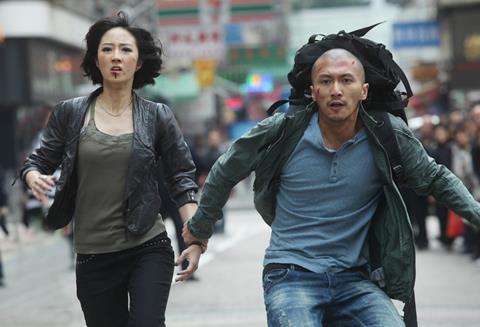 A tasty Hong Kong cops and robbers movie marred by a cliched plot and over-melodramatic backstory, The Stool Pigeon reunites Dante Lam with leads Nick Cheung and Nicholas Tse two years on from The Beast Stalker. While it lacks that film's tightly-wound story and dark mood, The Stool Pigeon has all the visual panache that we've come to expect from Lam, plus some enjoyable fight and chase sequences, and a screen-hogging performance by Kwai Lun-Mei (Secret, Parking) as a gangster's moll who takes revenge on her uncaring criminal lover.
Lam is at his most Tarantino-esque in one streets-of-the-city car chase which is played out entirely to the strains of White Christmas.
The film played in Berlin's Forum sidebar after its Chinese and Hong Kong release last August, when it performed fairly strongly. But with the European and US appetite even for Johnnie To's auterish variety of Cantonese noir tailing off in recent years, it's difficult to see this more traditional crime caper doing much theatrical business outside of Asia, except perhaps in late-night and speciality shots. Auxiliary results should be more robus.
Cheung plays Don Lee, an intense and serious inspector with the serious crimes bureau of the Hong Kong police. A pre-credit prologue raises the jeopardy factor of what will follow by showing a police informer who reports to Don being stabbed and beaten to a pulp by a boss whose drug deal he helped to rumble. A year on, the informer has lost his marbles and become a vagrant who (in one of the film's more mushy episodes) is visited and fed by the contrite Don.
This doesn't stop Don from courting recently released convict Ghost Junior (Tse), a shaven-headed illegal road racer, to become his new stool pigeon. Don knows that Ghost needs the police's blood money to pay back a debt to a gang that is prostituting his sister; he plans to use him to break up a jewellery-heist ring led by criminal mastermind Barbarian (Lu Yi) and Tai-ping (Keung), a local boss whose driver Ghost has become.
Barbarian's tough and independent-minded pregnant girlfriend Dee (Lun-Mei) is increasingly at odds with her man, who tells her dismissively to get an abortion, and she ends up spending more and more time with Ghost. Inevitably, passion sparks. Don, for his part, has his own more sentimental women problems, which are laid on with a thick trowel of sentiment. Years before he had an affair which led his wife (Miao Pu) to attempt suicide. Now she works as a dance teacher with that lazy scriptwriter's favourite affliction, amnesia. Don has enrolled as a student in her class just to be close to her, but he's too ashamed of his past behavour to reveal himself.
Moodily lit, with extensive use of colour filters for nighttime atmosphere, the film has real noir attitude – something reinforced by the urban jazz soundtrack. And with two snappily-edited car chases, two footchases, a road-racing scene and a visceral final showdown in an abandoned school, all shot with sweaty immediacy, there's plenty to please action fans.
Lam is at his most Tarantino-esque in one streets-of-the-city car chase which is played out entirely to the strains of White Christmas, and there's real chemistry between Tse and Lun-Mei in the film's gritty central romance. If only the script had kept its tear-jerking tendencies in check, and come up with some more original twists and turns.
Production companies: Visual Capture, Emperor Classic Film, Huayi Brothers Media, Sil-Metropole Organization
International sales: Emperor Motion Pictures, www.emp.hk
Producers: Albert Lee, Wang Zhonglei, Cheung Hong-tat
Executive producers: Albert Yeung, Wang Zhongjun, Song Dai
Screenplay: Jack Ng
Cinematography: Kenny Tse
Production design: Peter Wong
Editor: Chan Ki-hop, Matthew Hui
Music: Henry Lai
Main cast: Nicholas Tse, Nick Cheung, Kwai Lun-Mei, Miao Pu, Lu Yi, Liu Kai Chi, Philip Keung