Dir: Tony Scott. US. 2009. 107 mins.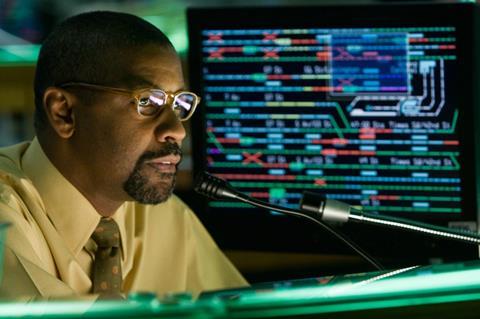 A relatively straightforward hostage thriller with the benefit of two A-list leading men in John Travolta and Denzel Washington, The Taking of Pelham 123 is a professionally mounted genre exercise which tries to please both the thriller and social drama crowds and suffers as a result. Director Tony Scott delivers a streamlined update of Joseph Sargent's 1974 original which ultimately collapses under its clashing styles of storytelling and acting.
Opening wide domestically on June 12 with no real new competition, Pelham should be guaranteed a few weeks of solid return, especially with an over-30s crowd curious to see how the material has been updated. Denzel Washington's three previous collaborations with Scott have proven lucrative globally and with John Travolta also on board, there's little reason to think this film won't do particularly well in international markets.
Pelham's set-up is efficiently-handled: Ryder (Travolta) and three of his gun-toting pals seize control of the front car of a New York subway train in the middle of an afternoon, demanding a multi-million dollar ransom for 19 hostages. Walter Garber (Washington) is the city employee who first fields their call. Ryder sets a deadline of one hour, threatening to kill a single passenger for each minute his pay-off is late.
With time ticking and options limited - the titular subway car is isolated underground in an area that precludes police response - the mayor (Gandolfini) and his aides scurry to secure the necessary funds. Meanwhile, Ryder refuses to speak to hostage negotiator Camonetti (Turturro), drawing Garber back into the proceedings and eventually coaxing out personal details - Garber is the target of a bribery investigation - that may compromise his future.
Scott seems to be reaching here for a strange urban street cred, using repeated profanity in the first line of dialogue and laying down the rhythms of Jay-Z's 99 Problems over a jittery, pulsing cityscape montage, which doesn't always work.
Brian Helgeland's adaptation scores some points for some of its subtle tweaks in characterisation. Gandolfini's mayor, unburdened by the niceties of potential re-election, is particularly well drawn and acted. There are also certain narrative parallels to Phone Booth, in which a man is manipulated by a killer and similarly held in limbo for his sins - nominally the fate of Garber, once Ryder gets into his head. But several plot points fail, whether it's the misguided attempt at human connection with a hostage talking to his girlfriend on a laptop webcam, or Scott's decision to intercut the unfolding subway drama with a high-speed police escort of the ransom cash.
Crucially, Pelham's script raises the issue of a limit on the amount of money that can be readied for a situation like this, then has Ryder initially, and pointedly, ask for a penny more. Despite the fact that this knowledge might help investigators source Ryder's true identity, it is never communicated to Camonetti, or indeed, further discussed at all. It's a wink for the audience, but makes everyone working to solve the hostage crisis look incompetent.
Apart from their characters' antagonism, even Washington and Travolta seem at odds, as if acting in different films. The former is cool and collected; Travolta, though, is flamboyantly unfocused and over-the-top which doesn't seem to match up once Ryder's true identity is revealed.
The film's technical package is solid, with both some nice, dank location atmosphere and a well staged car pile-up. Harry Gregson-Williams' driving score helps as an effective pacing mechanism.
Production companies
Relativity Media
Metro-Goldwyn-Mayer Pictures
Scott Free Productions
Escape Artists
Worldwide distribution
Columbia Pictures/SPRI
Producers
Todd Black
Tony Scott
Jason Blumenthal
Steve Tisch
Screenplay
Brian Helgeland, based on the novel by John Godey
Cinematography
Tobias Schliessler
Production designer
Chris Seagers
Main cast
Denzel Washington
John Travolta
Luis Guzman
John Turturro
Michael Rispoli
James Gandolfini
John Benjamin Hickey