Dir: Sam Fell & Rob Stevenhagen. US. 2008. 93 mins.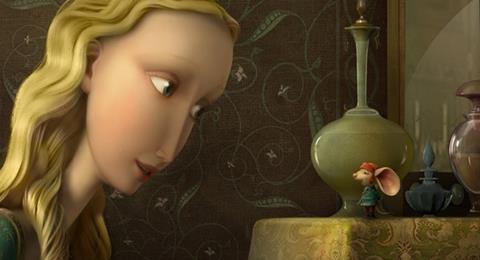 A 3-D animated adventure based on the popular 2003 children's book by Kate DiCamillo, The Tale Of Despereauxis a somewhat charmless affair which, while striking to look at, fails to come to dramatic life. Narratively convoluted and containing some grim plot turns which wouldn't be out of place in a Jan Svankmajer film, Despereaux is unlikely to attract the all-demographic audiences whick flock to titles from Pixar or DreamWorks Animation.
To say there are too many characters is an understatement, and the all-star voice cast seems wasted.
One of the first large-scale animated titles to come out of Universal Pictures in some years, Despereaux is styled after the Flemish Masters and it feels as dour as the greens and browns used in the colour palette. The royal characters are alienating, designed with long faces and hard, elongated noses which split their faces in two, while the serving staff are virtual Neanderthals - round, ugly and docile. Most of the rodent characters, mice and rats alike, are unpleasant in both looks and deeds. Mercifully Despereaux himself, with his outsize ears, is as cute as a button, offering one of the film's few obvious merchandising tie-ins.
Part of the challenge for the film is introducing DiCamillo's made-up kingdom of Dor in all its facets. A narration by Sigourney Weaver explains much of the culture and backstories of Dor, but there is so much to establish that the film never picks up a consistently brisk pace.
In the midst of all this scene-setting, Despereaux himself doesn't appear for a good 15 minutes. The story starts out with a likeable rat called Roscuro (voiced by Hoffman) who arrives in Dor for the annual soup-making celebrations. But when he accidentally lands in the queen's soup, she is so shocked that she dies on the spot, causing the bereaved king to send the kingdom into a state of permanent mourning, Soup-making is banned, rats are made illegal and dispatched to an underground existence in Ratworld and the king's own daughter, the princess Pea (Watson), is left full of longing and sadness.
Despereaux's own story begins after this lengthy prologue. In Mouseworld (which exists in a secret pocket of the human world), we hear (courtesy of Weaver) how the tiny mouse was born and grew up, never fitting in with his contemporaries. Full of daring and bravado, Despereaux (voiced by Broderick) has a hunger for adventure which gets him into trouble, especially when he befriends Princess Pea.
Since talking to a human is illegal, he is banned to the depths of Ratworld and almost certain death.
Of course he doesn't die, instead befriending Roscuro, and persuading him to apologize to Princess Pea for her mother's death. But when the princess scorns his friendship, Roscuro decides to take his revenge and teams up with ambitious serving girl Miggery Snow (voiced by Ullman) to capture the princess and bring her to Ratworld. Among the crowd of characters are Despereaux's despairing parents, Miggery's father Gregory, the evil rat king Botticelli, the king's chef Andre and Boldo, his genie made out of vegetables, the old blind mouse Hovis, the Mouse Mayor etc. To say there are too many characters is an understatement, and the all-star voice cast seems wasted.
Younger children might find elements of the story upsetting. Aside from the sudden death of the Queen, Despereaux is sent off by his own parents to die and Miggery is abandoned by her father to a pig farmer who proceeds to sell her into servitude at the palace. It's a cruel world in Dor.
To sign up for Screen's weekly Reviews Newsletter with all the week's new releases, international openings and full festival reviews delivered free to your mailbox every Friday, please click
HERE
Production companies
Larger Than Life
Framestore Animation
Worldwide distribution
Universal Pictures/UPI
Producers
Gary Ross
Alison Thomas
Screenplay
Gary Ross
From a screen story by Will McRobb & Chris Viscardi
Based on the novel by Kate DiCamillo
Cinematographer
Brad Blackbourn
Production designer
Evgeni Tomov
Editor
Mark Solomon
Music
William Ross
Voice cast
Matthew Broderick
Dustin Hoffman
Emma Watson
Tracey Ullman
Kevin Kline
William H Macy
Stanley Tucci
Ciaran Hinds
Robbie Coltrane
Frank Langella
Christopher Lloyd
Frances Conroy
Sigourney Weaver