Dir: Chang. South Korea. 2014. 98mins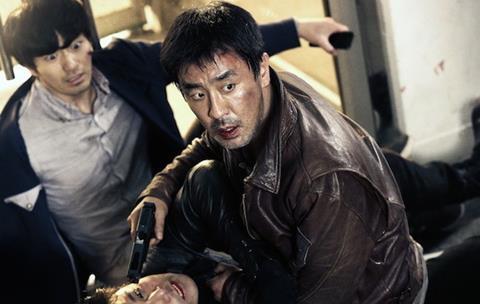 Although entertaining and at times gripping, The Target, a South Korean remake of the French action-thriller Point Blank (2010) lacks the necessary finesse to place it in the same ranks as other South Korean thrillers such as The Chaser (2008), but it does focus more on character development thereby successfully differentiating it from the French original and therefore more likely to make it more appealing to local audiences.
What perhaps distinguishes The Target from Point Blank is its greater focus on relationships, emotions and also humour, which although tailored for local audiences makes the film more compelling.
Making its international premiere in the Midnight out of competition screening at the Cannes Film Festival will inevitably boost its profile on the international market that will also help give it more exposure locally too as it sets to exploit a long holiday weekend in Korea from May 2-6 after opening on April 30,. The presence of leading actor Ryu Seung-ryong from box office smash hit Miracle In Cell No.7 is also another potential draw, but period action/drama The Fatal Encounter could hit sales should it open strongly.
In much the same way as Point Blank, the film's attempt at maintaining a fast pace begins at the get-go as it follows a skilled but injured mercenary called Yeo-hoon (Ryu Seung-ryong) on the run being chased by two killers, but is inadvertently hit by a vehicle, and ends up in hospital.
There he is treated by a young resident Tae-joon (Lee Jin-wook) who while on duty quickly saves the life of Yeo-hoon after he witnesses an attempt to kill his patient after he is admitted. Then, the next morning, somebody breaks into the doctor's home, which he shares with his pregnant wife Hee Joo (Jo Yeo-jeong), leaving him unconscious and kidnaps Hee-joo.
The intruder, who is later revealed to be Yeo-hoon's younger brother, Sung-hoon (Jin goo) then demands that he get the mercenary out of the hospital in order to ensure the safe return of his wife, but things become increasing complicated after Yeo-hoon decides to take matters into his own hands as it becomes clear that he's being framed for a murder of a renowned corporate leader amidst widespread police corruption. The two soon, however, become a pair as they hunt for those responsible and to find Hee joo who is caught up in the mess.
This 36-hour pursuit for the most part is competently handled by director Chang (2008's Death Bell) featuring a number of adrenaline fueled set-pieces involving plenty of chasing, shooting and driving - culminating in a later scene when a Yeo-hoon, in an SUV, accelerates into a police station, but Korean cinema has raised the bar so high over the last recent years in terms of the scale and aptitude in which such set-pieces are orchestrated, this in comparison feels surprisingly subpar.
In terms of pacing, the film works well for a 98-minute feature, which is a quality it shares with the original, but what perhaps distinguishes The Target from Point Blank is its greater focus on relationships, emotions and also humour, which although tailored for local audiences makes the film more compelling.
More time, for example, is spent on developing the relationship between Yeo-hoon and Sung-hoon who has a cognitive impairment, and the empathy Hee-joo feels for her captor is another interesting relationship that's not really developed in Fred Cavayé's 2010 film.
Ryu Seung-ryong comfortably moulds into an action-hero, which marks a sharp contrast to his previous role as a father with learning disabilities in Miracle In Cell No. 7, but many of the remaining cast appear to struggle. Lee Jin-wook (Miss Granny ) as the doctor is upstaged by those around him and Yu Jun-sang (2013's Nobody's Daughter Haewon) as a corrupt Chief Detective is too much of a caricature. Jin goo (Mother ) who plays Sung-hoon also tends to take his role too far by over stressing his character's disability.
Despite its flaws, however, the film just about has enough to keep its audience entertained, but for those wanting a repeat of other successful suspense-filled South Korean thrillers such as The Chaser, this remake of a French action-film is likely to leave them feeling rather short-changed.
Production Companies: Barunson Co,. Ltd & Yong Film
International sales: Gaumont, www.gaumont.com; Asia sales: CJ E&M, http://en.cjenm.com
Producers: Syd Lim, Seo Woo-sik, Park Tae joon
Co producer: Lee Jun-woo
Executive producer: Jeong Tae-sung
Screenplay adaptation writers: Jeon Cheoul-hong, Jo Seung-geo, based on the film À bout portant"(Point Blank)
Cinematography: Choi Sang-mook
Editor: Kim Chang-ju
Music: Park In-young
Main Cast: Ryu Seung-ryong, Lee Jin-wook, Kim Sung-ryoung, Jo Yeo-jeong, Cho Eun-ji, Yu Jun-sang, Jin goo