Dir: Bill Condon. US. 2011. 117mins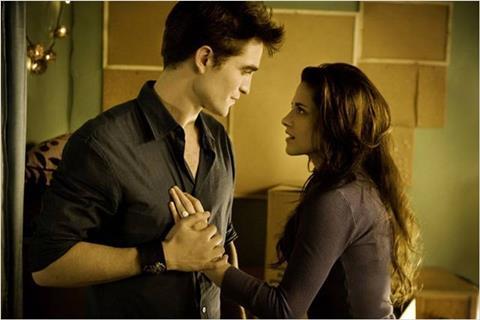 More hormonal catnip arrives in the form of The Twilight Saga: Breaking Dawn – Part 1, the fourth film in the mega-successful, teen-friendly, modern day vampire love story franchise, and a workmanlike effort that sets the table for series wrap-up next year. An emotionally fraught, dramatically leaden tale, the movie again proves the experiential sweet spot of the franchise — that of surging adolescent feeling trumping rational thought, and in this case lucid plotting.
Breaking Dawn – Part 1 is lighter on action than its predecessors, and not always very convincing in its incorporation of special effects.
The first three movies have grossed over a combined $1.8 billion in worldwide theatrical ticket sales for distributor Summit Entertainment, and there is no doubt that Breaking Dawn will do similarly huge business, owning the end of November and performing well into the holiday season. Ancillary value will also be through the roof.
Picking up after last year's The Twilight Saga: Eclipse, the story finds Washington teenager Bella Swan (Kristen Stewart) following through with her marriage to Edward Cullen (Robert Pattinson), who is part of an extended family of vampires that never age. A honeymoon on Isle Esme in Brazil follows, and Edward and Bella delay a decision on turning her into a vampire. Soon it's learned that she's pregnant, which no one was quite sure was possible.
Meanwhile, Bella's best friend and Edward's defeated romantic rival, Jacob Black (Taylor Lautner), who also happens to be a werewolf, is on the outs with his wolf pack (no Zach Galifianakis in sight). The more pregnant Bella becomes, the more emaciated she becomes, so Edward calls on Jacob for help, exposing each of them personally to danger and threatening a fragile peace treaty between werewolves and vampires. Eventually, Bella gives birth to a very special baby. The movie's end point, naturally, followed by a mid-credits tease, sets the stage for a changed Bella and the fight for the protection of her new family, in 2012's concluding installment.
Scribe Melissa Rosenberg, a veteran of the entire series, does a decent job of distilling some of the main conflicts from the 750-page novel that serves as the source material for the final two films, including Jacob's split with his pack, and the heretofore standoffish Rosalie Cullen (Nikki Reed) becoming something of a protector and advocate for Bella during her pregnancy.
Still, there are some dialogue howlers throughout ("You did this!" rages Jacob at Edward when he sees a pregnant Bella, stating the obvious), and a distinct lack of the sort of shaded weight of such a simmering rivalry between Edward and Jacob, the type of which might give the movie an electric undercurrent. Other bits are faithful to the book (Jacob intuiting that an in utero vampire baby might crave blood before this thought occurs to any vampire), but come across as ridiculous on screen, owing either to compression, staging or both.
The entire Twilight series is, among other things, chiefly a metaphor for the heat of young love, and the desire for that passion, and the bubble in which it exists, to remain permanent and unbreached. Director Bill Condon, though, forgoes much in the way of subtlety or tension, opting instead for programmatic obviousness.
This also means the performances in Breaking Dawn are largely soapy and melodramatic, especially from Lautner and to a lesser degree Pattinson. Many of the scenarios are dire, of course, but the acting style tilts toward manifestly expressive — inclusive of affected whispers, sneers and shouts — in theory to match the white-hot teen feeling of the conceit. It's worth bearing this in mind when considering some of the allegorical underpinnings of the material, as when Bella says to Edward, "I know it's different for you," on their honeymoon. She's talking about him being a vampire but might as well be talking about first discovering the body response of the opposite sex. A more skilled adaptation could plumb this material for more worth; this movie barely scratches the surface.
Focusing as it does on Bella's pregnancy, Breaking Dawn – Part 1 is lighter on action than its predecessors, and not always very convincing in its incorporation of special effects. The large wolves look persuasive when together, but markedly less so in attack, when problems of scale occur. Condon also proves a subpar director of spatial action, as a tussle between the wolves and the Cullen clan proves a jumbled mess with a shrugging emotional impact.
Somewhat dispiritingly, but not surprisingly, the movie leans inordinately upon composer Carter Burwell's goosing music cues, but also a litany of modern rock songs. The Twilight Saga isn't the first teen movie to try to move some soundtrack CDs, but the sales success of previous iterations does seem to have informed in circuitous fashion some of the creative choices herein, where songs are used as spackle for incomplete scenes.
Production companies: Temple Hill Productions, Sunswept Entertainment
Domestic distribution: Summit Entertainment
Producers: Wyck Godfrey, Karen Rosenfelt, Stephanie Meyer
Executive producers: Marty Bowen, Greg Mooradian, Mark Morgan, Guy Oseary
Screenplay: Melissa Rosenberg, based on the novel Breaking Dawn by Stephanie Meyer
Co-producer: Bill Bannerman
Cinematography: Guillermo Navarro
Editor: Virginia Katz
Production designer: Richard Sherman
Music: Carter Burwell
Visual effects supervisor: John Bruno
Website: www.BreakingDawn-TheMovie.com
Main cast: Kristen Stewart, Robert Pattinson, Taylor Lautner, Billy Burke, Kellan Lutz, Peter Facinelli, Elizabeth Reaser, Nikki Reed, Jackson Rathbone, Ashley Greene, Michael Sheen, Anna Kendrick, Sarah Clarke, Christian Camargo, Gil Birmingham, Julia Jones, Booboo Stewart, Mia Maestro, Maggie Grace, Myanna Buring, Casey Labow