Austria's difficult relationship with its own recent past comes into clear focus in this award-winning documentary.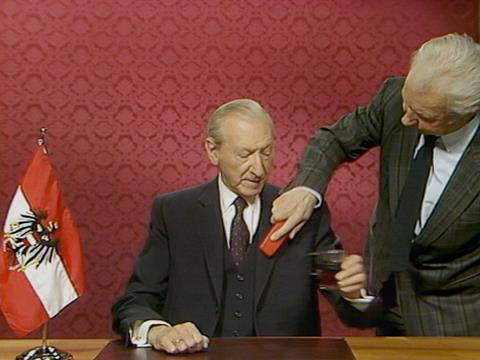 Dir. Ruth Beckermann. Austria. 2018. 93 mins.
There's little waltzing in The Waldheim Waltz, although we do see its subject beaming as he conducts a brass band, but Ruth Beckermann's documentary is a reminder that politicians' maintenance of their image is an intricate and slippery dance, with the public not always allowed to know all the steps.
"What are you supposed to do with 550,000 registered Nazis?"
Composed of archive material, both from TV and from video footage that Beckermann herself shot in the 1980s, the film traces the unmaking of a reputation – and presents alarming proof that, whatever emerges about a politician's nefarious past and mendacious present, some officials are impregnably coated with Teflon when it comes to catching votes. So, while the film recounts events three decades ago, it couldn't be more relevant today. Premiered in Berlin's Forum section, where it won the Glashütte Original Documentary Award, this fascinating, provocative work should attract fascination and controversy when it opens in Austria in autumn, and will be a hot ticket on the festival circuit and documentary distribution network.
The film's subject is Dr Kurt Waldheim (1918-2007), the Austrian politician who served as secretary general of the United Nations from 1972 to 1981, and became Austria's president from 1986 to 1992 – elected in the latter post despite evidence of his active past as a member of Nazi youth organisations, and involvement in deportations of Jews in Greece during World War Two. What is shocking about Beckermann's film – given that we're dealing with recent history, spoiler warnings are superfluous – is that Waldheim was elected even after he had been exposed as lying about his past, his autobiography omitting all mention of the relevant years.
The fact that he became president, Beckermann suggests, is both testimony to the power of devious political rhetoric and an indictment of the Austrian nation's attitude to its wartime past. Beckermann – whose films include 2016's The Dreamed Ones, about writers Paul Celan and Ingeborg Bachmann – narrates the film herself, which begins with footage she shot of anti-Waldheim protests in the 80s. As much essay as straight documentary, the film is united by a lightly-woven thread in which Beckmann muses on the role of the film-maker in political action, and the question of whether it's better to take part in protests or stay behind the lens and film them: in fact, in her black-and-white footage, shot on an early video camera, Beckermann manages to do both.
For the most part, however, Beckermann focuses on showing the revelations made about Waldheim, and his responses to them, both on the campaign trail and in the media. Beckermann begins by voicing her, and the media's, fascination with Waldheim's body language, notably his arm gestures – "he seemed to embrace the Austrian people" – and showing excerpts from a documentary showing his and wife Elisabeth's life in New York, with the elegant, patrician Waldheim as "a moral authority, a man the world trusts."
The film then presents, with date captions, a countdown of events in 1986 in the run-up to Austria's June elections – beginning with Profil magazine's publication of Waldheim's war record. The New York Times takes up the story, with allegations that Waldheim took part in an army command that arranged the deportation of Jews in Greece - something he claimed to be entirely ignorant of, although a quarter of the population of Salonika (Thessaloniki) was deported when he was serving there. As more information accrues - not least about Waldheim's presence in Kozara, Yugoslavia, where a massacre took place - the World Jewish Congress in the US mounts a vigorous campaign against the politician. Waldheim defends himself in heated terms on Austrian television – one has rarely seen such a textbook example of the proverbial 'protesting too much' – and his supporters, including politicians from the Austrian People's Party, retaliate in terms that become increasingly vitriolic.
Beckermann's own footage of heated arguments in Austria's streets show Waldheim supporters openly venting their anti-Semitic spleen against his accusers.
One of the themes that emerges most vividly from the film is the idea that while Germany as a nation faced up to its wartime iniquities, Austria went into a state of denial, for which Waldheim is the absolute poster boy, continuing to present itself as Germany's victim and denying its active involvement in the crimes of World War Two. The film is very much about confronting this state of blockage in the national consciousness, in which the post-war problem is, as a TV journalist puts it, "what are you supposed to do with 550,000 registered Nazis?"
Allowing its archive sequences time to play out at length when necessary without excessive editorial intervention, the film is meticulously assembled: Dieter Pichler is credited with 'montage' and Kurt Hennrich as editor, with Sebastian Brameshuber and Félix Leemann as researchers. Beckermann's own unobtrusive but trenchant voice-over intercedes at key moments, often with dry wit.
Production company: Ruth Beckermann Filmproduktion
International sales: WIDE House, servicing@widehouse.org
Producer: Ruth Beckermann
Screenplay: Ruth Beckermann
Editors: Dieter Pichler, Kurt Hennrich