Dir: Christophe Barratier. France. 2011. 100mins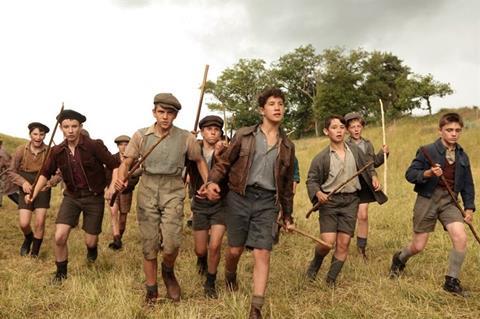 Given the quality of Christophe Barratier's first two features (The Chorus, Faubourg 36/Paris 36) in which a burnished, bittersweet nostalgia reigned thanks to smooth, evocative filmmaking, his less polished take on Louis Pergaud's 1912 novel The War Of The Buttons (La Nouvelle guerre des boutons) comes as a surprise. With a slightly bigger budget and more extensive foreign pre-sales, Barratier's variation, set in a French village in March and April of 1944, is arguably more ambitious yet less convincing than Yann Samuell's rival War Of The Buttons, which hit French screens a week earlier and is set in a smaller-looking French village in 1956.
This version pays more attention to the titular buttons, which the lads snip off each captive as war booty.
French ticket-buyers are turning out for both versions in healthy numbers, suggesting the respective productions - currently monopolising 25% of the nation's screens - weren't completely insane to go up against each other a week apart. That said, rushing to complete this film for its September 21 release instead of the originally planned November date does seem to have affected post-production. And the feeling remains that while both films are ok, neither was really necessary.
Both updates introduce a strong-willed female character into Pergaud's boy-o-centric classic novel - in this case Violette (Ilona Bachelier ), a poised and forthright young lady who could pass for Anne Frank's cousin. While the youngsters are all well chosen, the film sports a tempting cast of name adult actors (including beloved Barratier regulars Kad Merad and Gerard Jugnot) doing merely adequate work.
Lebrac (Jean Tixier), who leads the Longeverne boys in their ongoing rough and tumble fight against the boys of Velrans (there are way more boys on both sides in this version), is a mediocre student who spends much of his time consigned to the corner or in detention. Lebrac has no respect for his father (Merad), a potato farmer.
Lebrac is taken with Violette, who is visiting local milliner-cum-seamstress and major babe Simone (Laetitia Casta) whose presence in the rural backwater is no more incongruous than tractors and haystacks on the Place Vendome. Violette informs Lebrac that she only likes intellectual men, whereas he can barely read aloud.
While any number of real-life Gentiles sheltered Jews because it was, literally, the Christian thing to do, there's a peculiar discrepancy here. Smitten Lebrac clambers up to Violette's bedroom for an evening chat during which he learns she's really from Paris (not Brittany, which is part of her cover story) and that she's Jewish. Asked if that's a problem, Lebrac says he's neutral on the topic because he has "never met a Jew before."
That's strange since much of the population watches in dismay as a Jewish mother, father and child are forcibly removed from their lodging near the centre of town and bundled, struggling, into a car by a thuggish local youth who has found puffed up status as a Jew-hunting Vichy lackey.
While possibly true to the era, Guillaume Canet is painfully stiff as the boys' teacher. We know he has a backbone because he objects when the Jewish family is rounded up and we know there's some sexual tension between him and Casta's dressmaker, but very little in their line readings or body language rings true.
Where the Samuell film was heavy on insults and more overtly comical, this version pays more attention to the titular buttons, which the lads snip off each captive as war booty. The kids are genuinely cruel and their parents are harsh taskmasters. Except when they're not.
We know the Liberation is not far off after years of war, but when the authorities take a threatening interest in Violette's true identity, the wary locals spring into action.
Although ace editor Yves Deschamps worked on the film, far too many overlong reaction shots unaccountably made the cut. You can practically see certain actors hit their marks and stand glued to this or that spot, beautifully lit but not altogether convincing.
When Lebrac comes home late, his father slaps him and his mother steps in to stop the violence, the scene has all the stagey hallmarks of a D.W. Griffith social drama.
But these are relatively minor quibbles in the face of the film's overriding miscalculation: A musical score that belongs in another movie, such as a Viking epic by way of vintage Disney. Viewers who aren't particularly sensitive to scores may not notice and will take the carpet of music in stride, but derivations reminiscent of everything from Superman to Star Wars are as disconcerting as they are distracting. (In view of Barratier's background as a musician and the well-integrated role that appropriate tunes play in his other films Philippe Rombi's hit-you-over-the-head score is doubly odd, an overbearing series of cues to 'Feel Emotion Now!' instead of trusting the frequently florid crane-assisted visuals).
While setting the fifth screen adaptation of Pergaud's source novel toward the end of the German Occupation of France gives the filmmakers admirable opportunities to address the good and bad behaviour of French citizens in the waning days of WWII on a level today's young people should be able to grasp, there's something unnerving about implicitly comparing the long standing rivalry between the boys of two rural villages with the much (much!) bigger playing field of WWII.
The written-on-screen coda is just a tad past perfunctory in terms of storytelling impact.
Locals are mildly obsessed with the absence of a famous line of dialogue from the smash hit 1962 version that writer-director Yves Robert's widow refused to authorise for either update. Saucer-eyed Little Gibus says "Well if I'd known THAT, I wouldn't have come!"
Both films take a stab at paraphrasing it, a bit as if 007 had to say "My name consists of two parts. My last name is B-O-N-D and my first name is James." Or "Please don't stir my martini; shake it instead."
Production companies: La Petite Reine, TF1 Films Production, Studio 37, Mars Films
International sales: Wild Bunch, www.wildbunch.biz
Producers: Thomas Langmann
Screenplay: Christophe Barratier, Stephane Keller, Thomas Langmann, Philippe Lopes Curval based on the book by Louis Pergaud
Cinematography: Jean Poisson
Production designer: Francois Emmanuelli
Editors: Yves Deschamps, Anne-Sophie Bion
Music: Philippe Rombi
Website: www.lanouvelleguerredesboutons.com
Main cast: Guillaume Canet, Laetitia Casta, Kad Merad, Gerard Jugnot, Jean Texier, Ilona Bachelier, Marie Bunel, Clement Godefroy, Theophile Baquet