Dir: Russell Crowe. Australia. 2014. 111mins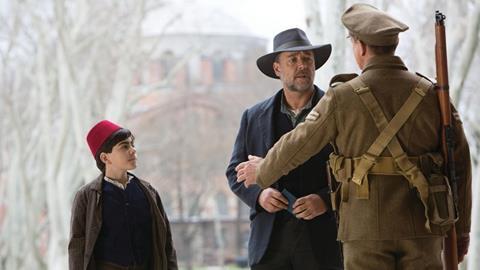 There is some jolting 1915 Gallipoli action in Russell Crowe's directing debut, but not overmuch. That's probably a good thing as The Water Diviner is released among many confronting fictional and factual movie and television items in the centenary year of the sacrificial battle that claimed not only 4,000 Australian and New Zealand Army Corps (ANZAC) lives but 7,000 homeland-defending Turks as well.
The Water Diviner is a heart-warming tale of family, love and sacrifice told with four-square enthusiasm and manliness by director and star Russell Crowe.
Crowe's prime focus is 1919 post-war Turkey, to where his staunch Aussie father comes seeking what became of his three volunteer soldier sons who are officially 'missing in action'. This allows reflection on the grotesque uselessness of the Gallipoli 'campaign' and on the essential humanity and camaraderie of the two contending nations, qualities that Crowe clearly embodies both as director and leading actor.
It's a solid and engrossing adventure with some humour and an unlikely love interest, a fast-moving quest with a touch of Indiana Jones and a pinch of Lawrence of Arabia. Though the occasional trench bayoneting and a graphic train-attack massacre will prohibit family viewing, it has all the ingredients of an old-fashioned, big-canvas, melodramatic blockbuster.
One of Crowe's best decisions was among his first: enlisting Australian cinematographer Andrew Lesnie (The Lord Of The Rings trilogy, The Hobbit trilogy, etc.). There are sweeping sequences in farmland Australia, at Gallipoli Cove (brilliantly recreated in South Australia), in Istanbul and in remarkably beautiful areas of rural Turkey. Lesnie clearly delights in visits to the Topkapi Palace and Istanbul's stunning Blue Mosque.
In an admirably concise setup, Joshua Conner (Crowe) is discovered on his dry backblocks farm with his wife and three close-knit sons. With his dowsing rods he goes searching for water, mysteriously locating the exact spot, then digging a deep well before breaking into underground water and floating to the top.
There doesn't seem to be any particular reason for this remarkable gift of divination — he's not a spiritual man; indeed, he rails against "God and King and Country" — but it comes in handy when he battles his way onto Gallipoli Cove and pinpoints buried ANZAC remains.
Arriving in a hostile Istanbul under the control of icy English officers, Joshua lucks his way to a hotel run by a spectacularly beautiful widow (Olga Kurylenko, Quantum Of Solace, Oblivion) with a cheeky young son (Dylan Georgiades). She is disapproving of a wide-brimmed-hat-wearing enemy from distant Australia. But soon, first the son and then the mother, is impressed by this manly, resolute seeker.
Joshua teams up with Turkish major Hasan (Yilmaz Erdogan, Once Upon A Time In Anatolia) and his long-serving sergeant Jemal (Cem Yilmaz, a leading Turkish comedian). We have seen them acting bravely during the opening war sequences; now they are teaming with the more democratic Turkish nationals against invading Greek forces.
There's an ever-encroaching 'soapiness' about the speeding screenplay by Andrew Knight and Andrew Anastasios that is kept at bay by the force of Crowe's sincerity and unforced determination even when, as "Mister Anzac", he teaches members of the Turkish Resistance how to play cricket.
Designer Christopher Kennedy (The Road, The Proposition) has provided brilliant studio recreations of the stately Istanbul hotel and the lively twisting/turning street markets where Crowe's big-hatted chases inevitably bring Indiana Jones to mind, not unpleasurably. There's a sweeping, stirring score by David Hirschfelder, excellent pacing by editor Matt Villa and terrific round-the-world costuming by Tess Schofield.
Though the practice of water divination remains mysterious, The Water Diviner is a heart-warming tale of family, love and sacrifice told with four-square enthusiasm and manliness by director and star Russell Crowe. This is exemplified, perhaps, by the final words of the end credits roll — a tribute to the South Sydney Rabbitohs, the 2014 premiership-winning Rugby League team that Crowe proudly co-owns. It reads, in the Aussie vernacular: "you beauty!"
Production companies: Fear of God Films, Hopscotch Features
International sales: Mister Smith Entertainment, www.mistersmithent.com
Producers: Andrew Mason, Keith Rodger, Troy Lum
Executive Producers: James Packer, Brett Ratner, Kerry Stokes, Tim Worner, Angus Ross, John Collee, Andrew Knight, Andrew Anastasios
Screenplay: Andrew Knight, Andrew Anastasios
Cinematography: Andrew Lesnie
Editor: Matt Villa
Production designer: Christopher Kennedy
Music: David Hirschfelder
Website: http://thewaterdivinermovie.com.au/
Main cast: Russell Crowe, Olga Kurylenko, Yilmaz Erdogan, Cem Yilmaz, Jai Courtney. Ryan Corr, Dan Wyllie, Steve Bastoni, Dylan Georgiades