Hammer's adaptation records hat-trick at the top of the UK box office and is now the most successful British horror film of the last 20 years.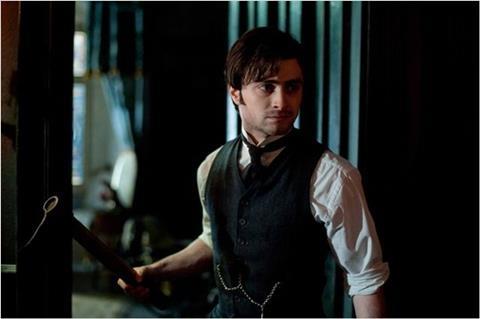 The Woman In Black has made it a hat-trick at the top of the UK box office, the second film to do so this year along with War Horse.
Momentum's horror took an estimated $3.8m (£2.4m) from its 457 sites at an excellent average of $8,477 (£5,351) to stand at a superb $23.1m (£14.6m) so far.
Simon Oakes, President & CEO of Hammer and Vice Chairman of Exclusive Media commented: "The record-breaking success of The Woman In Black is an important achievement that affirms the re-birth of Hammer. We are continuing to develop exciting and intelligent genre films this year such as The Quiet Ones and Gaslight, both of which will shoot in the UK."
This week's highest new entry belonged to Fox's The Best Exotic Marigold Hotel which charted second after a strong $3.6m (£2.3m) debut saw it narrowly beat Safe House to second. The opening is director John Madden's best ever in the UK, a record that previously belonged to Shakespeare In Love's $2.9m (£1.8m) bow, although The Best Exotic Marigold Hotel has some way to go before toppling that film's final tally of $33.0m (£20.8m).
Placing third after an equally decent opening was Universal's action-thriller Safe House which stole its way to $3.6m (£2.3m) from its 425 sites. The result is Denzel Washington's second strongest ever in the UK behind American Gangster's $4.1m (£2.6m) opening.
Dropping two places to fourth, Disney's The Muppets added $2.4m (£1.5m) for $20.3m (£12.8m) overall.
Based on non-final figures, Sony's The Vow rounded off this week's top five after a $775,000 (£490,000) weekend saw it climb one place to fifth. The based on real life romantic drama has now accumulated a solid $7.8m (£4.6m).
eOne's 3D sequel Ghost Rider: Spirit Of Vengeance was narrowly behind The Vow though on $773,000 (£488,000) and there's a possibility that actual figures might see the two swap places.
This week sees saturation releases for Warner Bros.' Project X, Fox's This Means War and Universal's Wanderlust. eOne Films' Hunky Dory and Trinity's Khodorkovsky both receive wide releases.