Dirs: Mike Bonanno, Andy Bichlbaum, Kurt Engfehr. US. 2009. 85mins .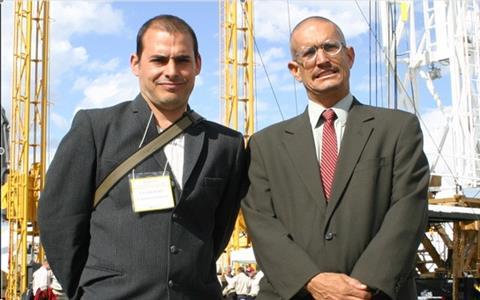 Satirical duo The Yes Men follow up their 2004 self-titled documentary with The Yes Men Fix The World in which they impersonate chemical company executives and peddle the benefits of industrial collateral damage to willing corporate customers. This sly sequel will test whether The Yes Men franchise has legs; it should have. Although the post-Obama glow is still strong, the corporate misdeeds that the film lampoons are no less topical than they were before the November election.
A quick release would help The Yes Men tap into anti-corporate rage internationally as the economy sinks and taxpayers bail out complicit bankers. As outrageous as The Yes Men Fix The World might be, its spoofs have been overtaken by cataclysmic real-life events as the world has leapt out ahead of them. Shelf-life for this one will be short.
The Yes Men - Mike Bonanno and Andy Bichlbaum - are as good as ever on their feet. Co-director Kurt Engfehr gives the doc dramatic punch as it mixes archival footage and animation.
In the spirit of Michael Moore and Morgan Spurlock, the pair exploit an invitation from the BBC to appear on television as representatives of Dow Chemical, and then promise billions to compensate the victims of the 1984 Bhopal insecticide factory explosion in India which killed more than 8,000 people and injured and maimed many times more. In 1999, Dow Chemical (the notorious manufacturer of napalm) acquired Union Carbide, which operated the Bhopal plant.
The media reveal to duo to be impersonators, but not before Dow Chemical's share price plunges. The Yes Men's response deepens and darkens the satire. Firms should see benefits in mass deaths, they argue at seminars - 'tomorrow's catastrophes could well lead to good - and industry must be ready to seize that good.'
Critics then allege that the Yes Men gave the Bhopal victims false hopes - another gift for their satire. Bonanno and Bichlbaum travel to Bhopal, giving the victim's advocates who welcome them a new chance to discuss the accident's enduring toll there.
Post-Katrina profiteers in New Orleans are also grist for their satirical mill.
Fans of The Yes Men, who will recall a golden suit with a meter-long inflatable phallus unveiled at a 'textiles of the future conference,' will be amused at this film's new gimmick, a head-to-toe round 'SurvivaBall' suit that shields its corporate customers from climate change and environmental critics. A parody of the HazMat suit, it is sure to be a logo for the film's campaign.
Less self-involved than Moore or Spurlock, Bonanno and Bichlbaum mix faux-pedagogy deftly with anti-corporate vaudeville. For jaded youth who seek an alternative to weepy political and environmental documentaries, The Yes Men Fix The World could be this season's choice.
Production companies
Arte France
Renegade Pictures UK
Article Z
Charny-Bachrach Entertainment
The Channel 4 Britdoc Foundation
International sales
Rezo Films
(33) 1 42 46 46 30
Producers
Doro Bachrach
Ruth Charny
Andy Bichlbaum
Mike Bonanno
Laura Nix
Screenplay
Mike Bonanno
Andy Bichlbaum
Music
Neel Murgai Noisola
Editor
April Merl