Dir/scr: Roland Joffé. Spain-US. 2010. 122mins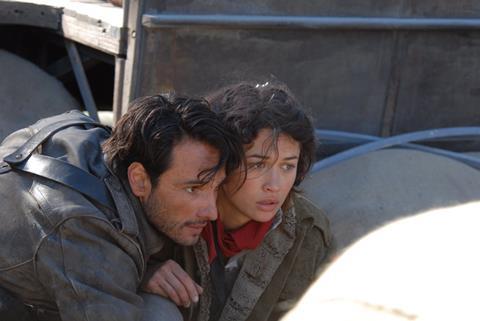 Becoming the latest disappointing entry in Roland Joffe's recent filmography, There Be Dragons is a clumsy attempt to turn an early-life biography of Josemaria Escriva, the controversial and recently canonised founder of Opus Dei, into a large-canvas human drama with a Spanish Civil War backdrop. While it may hold some appeal for Christian – specifically Catholic – audiences, less religious moviegoers will be hard to convince.

Joffe delivers a few visually impressive set pieces.
The English-language, Spanish-backed production opens in Spain this weekend and is set for a US release through IDP/Samuel Goldwyn in early May. Latin American releases are also in the works and it will probably be in Latin countries that the themes and international cast will have most chance of generating significant theatrical revenues.

Joffe's script - described as being "inspired by true events" – follows the paths taken by Escriva (played British up-and-comer Charlie Cox, from Stardust and Downton Abbey) and his childhood friend Manolo (American Beauty's Wes Bentley) through the 1936-39 war. The framing device is a 1982 reunion between Manolo and his son (Hitman's Dougray Scott), who is writing a book about Escriva.

The intertwining of stories gives the film breadth but feels artificial because the two characters rarely cross paths as adults. For its first half the film focusses mainly on young priest Escriva's arrival at the philosophy behind Opus Dei and the threat posed to him by Spain's political turmoil. The Catholic organisation (two of whose members are among the film's producers, according to the film's press notes) is given a much more sympathetic portrayal here than it was in the book and film versions of The Da Vinci Code.

Later, the focus broadens to contrast Escriva with the cynical, anti-religious Manolo, who becomes a spy for the right wing nationalists but in so doing loses the woman he loves.

Making a partial return to the style of his early successes The Killing Fields and The Mission, Joffe delivers a few visually impressive set pieces but allows too many individual scenes to become stagey and stilted.

Cox is good as the fresh-faced and idealistic Escriva but most of the other actors – several of them adopting fake sounding Spanish accents – try too hard to wring emotion from the often high-blown dialogue. Among the international performers in the supporting cast are Ukranian-born Olga Kurylenko (Quantum of Solace) as Manolo's love interest and Brazilian star Rodrigo Santoro (Che) as a dashing republican leader.
Production companies: Mount Santa Fe, N-Focus Productions, A3 Films
International sales: Bleiberg Entertainment, www.bleibergent.com
Producers: Ignacio Gómez-Sancha, Roland Joffé, Guy J Louthan, Ignacio Núñez
Cinematography: Gabriel Beristain
Production designer: Eugenio Zanetti
Costume designer: Yvonne Blake
Editor: Richard Nord
Music: Stephen Warbeck
Website: http://dragonsresources.com
Main cast: Charlie Cox, Wes Bentley, Olga Kurylenko, Derek Jacobi, Dougray Scott, Rodrigo Santoro