The UK heads back to the cinemas, as Paramount's Thor takes £5.4m from 500 screens in its first week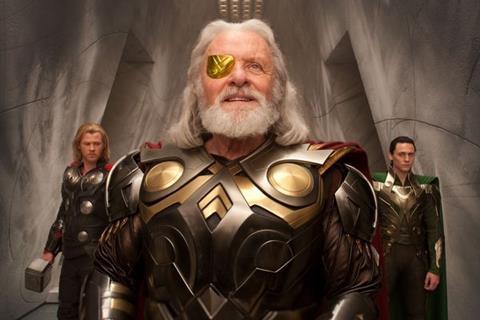 The royal wedding and blue skies didn't distract UK cinemagoers from the multiplexes this weekend as Paramount's action-adventure Thor stormed to the top of the box office in its first week, swiping £5.4m from 500 screen at an average of £10,899.
However, it should be noted that £2.3m of Thor's take came from 495 previews.
The haul is Paramount's biggest UK opening this year, easily surpassing Rango and Limitless, and places Thor 11th among Paramount's top performers of the last 12 months.
The latest Marvel studios franchise in which the arrogant warrior god Thor is cast out of the realm of Asgard and sent to live amongst humans on earth is easily Kenneth Brannagh's biggest opening as director, eclipsing the £1.3m made by Mary Shelley's Frankenstein in 1994.
Fast and Furious 5 continued to drive up solid numbers for Universal in second, grossing £2.6m from 452 screens at a good second-week average of £5,773, for a cumulative of £11.6m.
Now the second-highest grossing in the franchise, Fast Five is only £2m off the franchise leader, Fast And Furious 4.
Momentum's horror Insidious debuted decently in third, grossing £1.4m. Produced by Paranormal Activity producer Oren Peli and directed by Saw writer-director James Wan (Wan's original Saw took less than Insidious on debut and went on to gross more £6.6m in 2004), Insidious follows a family trying to prevent evil spirits from trapping their comatose child in a realm called The Further.
The film opened on 325 screens at an average of £4,435, and made sure that three films took more than £1m in the UK for the first time in four weeks.
Fox's Rio (£801,102 for £9.8m) and Warner's Arthur (£682,187 for £2.5m) rounded out the top five.
Fox's flop Cedar Rapids was the only other top 15 debut, entering the chart in a rocky 12th, grossing £146,062 from 180 screens at a meagre average of £811.
The Works' thriller Farewell, which debuted internationally in 2009, made £40,260 from 30 screens in 17th, while Eros' crime-comedy Chalo Dilli made £25,261 from 25 screens in 20th.
This week sees saturation releases for Universal's Hanna, Fox's Water For Elephants, Sony's Priest and Entertainment's Something Borrowed.