The UK box office displays decent depth as five films gross over $1.6m (£1m) for the first time in eight weeks.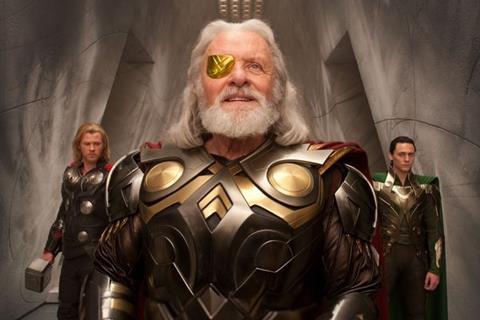 Paramount's Thor hammered its way to another $3.2m (£1.9m) to remain top of the box office for a second consecutive week.
The action-adventure suffered a 64% drop in its second week, although it's worth noting that figure drops to just 38% excluding the opening week's previews, to stand at $15.6m (£9.5m) overall. Thor is now Paramount's biggest grossing film of 2011 so far.
Stiff competition for the top spot came from Universal's Fast & Furious 5, which took $2.6m (£1.6m). The fifth entry in the popular franchise is now the biggest earner of the series after racing to $23.5m (£14.4m) after just three weeks to surpass the $22.4m (£13.7m) taken by Fast & Furious in 2009.
Momentum's Insidious delivered the week's strongest holdover performance of the top 20 to remain third, dropping just 9% week-on-week. James Wan's horror also notched up the week's highest screen average of $6,622 (£4,047) after scaring up a further $2.2m (£1.3m) from its 325 locations.
This week marked the first time in eight weeks that the top five all grossed over $1.6m (£1m) after Water For Elephants and Hanna both had decent debuts. 20th Century Fox's prestige drama took $2.1m (£1.3m) to chart fourth, although it would have had to settle for fifth without its previews of $506,762 (£309,263). That position instead fell to Universal's action-thriller, starring Saoirse Ronan as the titular assassin, after its £1.9m (£1.1m) opening haul.
In a busy week for new releases, four other films opened in the top 20. Entertainment can be pleased with a sixth place debut of $1.2m (£707,863) for romantic-comedy Something Borrowed, which compares favourably with Kate Hudson's previous film A Little Bit Of Heaven's debut of $726,292 (£443,156) back in February.
Sony, however, might well be disappointed with Priest's lacklustre performance after the 3D action-horror only took $647,968 (£396,038) from its 260 locations to land eighth.
Takeshi Miike's 13 Assassins sliced its way to $203,496 (£124,377) from 72 locations to land 12th and give Artificial Eye their fifth-best UK opening ever, while Arrow Films documentary Jig danced its way into 18th after grossing $60,556 (£37,012).
Next week sees a saturation release for Optimum's sci-fi Attack The Block and a wide release for Universal's comedy Take Me Home Tonight. Momentum's Australian Western Red Hill and Icon's drama The Way both receive limited releases.