Dir: Kenneth Branagh. US. 2011. 113mins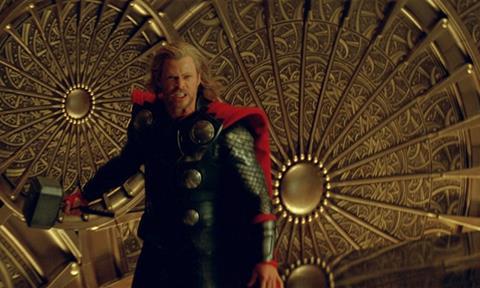 The Mighty Thor hammers his way onto the big screen in this latest addition to the ever-expanding adaptations of superheroes from the Marvel comic-book universe, and in the safe hands of British director Kenneth Branagh it is delivered with enough style and action to satisfy fans and newcomers alike. With Captain America due out later this year The Avengers and team-up movie currently shooting and set for a 2012 release all looks rosy in the world of Marvel movie superhero adventure.
Branagh seems most at ease with the Shakespearian-like conflicts between the gods and monsters in Asgard, and is mightily aided by terrific costumes and production design.
On the back of successes with Spider-Man, The Hulk and Iron Man, the Marvel movies are past-masters at snagging big box office, and as one of the first summer blockbusters out of the blocks Thor looks like being a worldwide smash. Quite whether it has the same 'must-see' factor of Iron Man or upcoming Captain America: The First Avenger remains to be seen, but a top cast and smart script go a long way to helping its cause. Thor opens in Australia on April 21 and the UK on April 27 prior to a wide release in the US in early May.
Branagh – perhaps best known for his big screen Shakespearian adaptations – brings that same sense of scope and pomp to the scenes set in the mystical Norse kingdom of Asgard (plus the scenes give Anthony Hopkins to extend his king/god repertoire playing mighty all-father Odin) but seems equally at ease back down on Earth where a banished Thor tries to adjust to life without god-status.
The film opens in dusty New Mexico where astrophysicist Jane Foster (Natalie Portman) and her team of Dr Erik Sevig (Stellan Skarsgard) and girl Friday Darcy Lewis (Kat Dennings) are busy chasing atmospheric disturbances. As they speed across the desert they happen to knock over the groggily hunky Thor (Chris Hemsworth)
Naturally enough with most origins films much time is taken in the first half-hour or so developing the back-story to Thor and the mystical world he inhabits, so after this brief turn on Earth the story switches to Asgard. Largely borrowed from Norse legend – but looking very sci-fi at the same time – Asgard is a realm ruled over by Odin (Anthony Hopkins), who has managed to keep an uneven peace with the Frost Giants of other realm Jotunheim.
When the Giants launch a minor attack on Asgard, Odin's son Thor along with his brother Loki (Tom Hiddleston) and best pals Sif (Jaimie Alexander), Volstagg (Ray Stevenson), Fandral (Josh Dallas), and Hogun (Tadanobu Asano) decide to go against Odin's will and take revenge. This leads to some stunning 3D action, but also Odin's anger.
Furious at his son's arrogance Odin banishes Thor to Midgard – or Earth to you and I – to learn a few life lessons. Thor's magical hammer Mjolnir – the source of his superpowers – is also sent to Earth, though until Thor learns the error of his ways he will not be able to pull it from the ground where it lands.
Meanwhile back on Earth there is fun to be had with Thor's frustrated rages at the strange world around him, and a nice gag as Jane Foster hits him again with her car as she tries to get him out of hospital. At the same time the government agency led fronted on the ground by Agent Coulson (Clark Gregg, who featured in Iron Man) has found Thor's hammer and is busy trying to work out its powers.
Marvel's Stan Lee – and creator of the Thor comic strip – has his expected cameo in an early scene where Mjolnir is first discovered on Earth and as local-yokels take in turns to try and draw the hammer from the ground in true sword-in-the-stone style. He has a go by dragging it out with a truck, only for the vehicle to be ripped apart as the chain snaps.
While Thor's brother Loki causes trouble up in Asgard, so Thor gradually comes to terms with his new existence – plus he gets to sample beer, which pleases him greatly. Loki dispatches a machine-like creation called the Destroyer to Earth to finally get rid of Thor, but in a spectacular – though perhaps too brief – battle Thor and his buddies manage to win through, with the flying hammer returning to Thor's hand…proof that he has learned those all important lessons.
Australian actor Chris Hemsworth has packed on the muscles to play Thor, and he does a good job in a role that essentially as much about the long blond hair, Norse outfit and rippling muscles as it is an arrogant man who must learn humility. Natalie Portman is impressive as Jane (in the original comic books the character was a mild-mannered nurse), showing an ease in the comedy scenes but never really having enough screen time to develop her character.
In fact the same might be said for so many of the characters here. There is so much going on between Earth and Asgard that no one performer has a chance to dominate. That being said, Anthony Hopkins brings some real force to Odin while Brit actor Tom Hiddleston (who starred with Branagh in the Wallender TV series and has a lead role in Spielberg's upcoming War Horse) is terrific as evil brother Loki, plus he gets the award for the best Norsehelmet.
Though she has little to do, indie star Kat Dennings offers the film the perfect line reading of her little sarcastic and witty digs and helps puncture what could have been and over-dose of superhero hokum. It is also great to see Rene Russo back on screen, playing Odin's wife Frigga, though frustratingly she is given little to do.
Comic-book fans, and those looking forward to The Avengers, will appreciate the un-billed cameo from Jeremy Renner as the military archer who will become Hawkeye in that film… and as usual you have to stay till after the credits for the expected scene with Samuel L Jackson as SHIELD boss Nick Fury offering up yet another clue to the background of The Avengers.
As might be expected Branagh seems most at ease with the Shakespearian-like conflicts between the gods and monsters in Asgard, and is mightily aided by terrific costumes and production design. He embraces the mythology with skill, manages to blend pomp and majesty with more than a little humour and humanity. And while 'action-adventure' is never a term one normally associates with Branagh movies, he also handles the earthbound scenes with style, with Thor's hand-to-hand tussles with agency guards a real standout.
Thor is the first of the Marvel superhero films to use 3-D, and while the film looks terrific apart from the Frost Giants vs Asgardians battle at the start of the film there is little 'wow' factor about the 3-D
Production companies: Paramount, Marvel Studios production
International distribution: Paramount
Producer: Kevin Feige
Executive producers: Patricia Whitcher, Louis D'Esposito, Alan Fine, Stan Lee, David Maisel
Co-producers: Craig Kyle, Victoria Alonso
Screenplay: Ashley Edward Miller, Zack Stentz, Don Payne, based on the Marvel comicbook by Stan Lee, Larry Lieber, Jack Kirby
Cinematography: Haris Zambarloukos
Editor: Paul Rubell
Production designer: Bo Welch
Music, Patrick Doyle
Main cast: Chris Hemsworth, Natalie Portman, Tom Hiddleston, Anthony Hopkins, Stellan Skarsgard, Kat Dennings, Clark Gregg, Colm Feore, Idris Elba, Ray Stevenson, Tadanobu Asano, Josh Dallas, Jaimie Alexander, Rene Russo