Dir: Morgan Knibbe. Netherlands. 2014. 74mins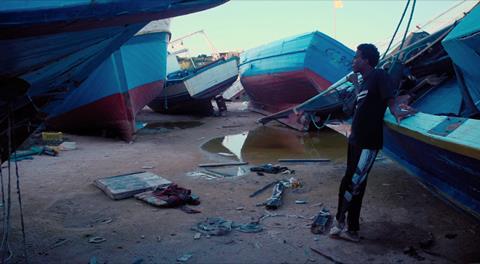 There is a visceral intensity to Morgan Knibbe's ambitious and engrossing debut feature that marks him as a talent to watch. The subject matter – the plight of refugees – may be a familiar one much tackled by documentary filmmakers, but his film has a fresh, vibrant and immersive style that makes it a unique viewing experience.
Its unconventional vision of an often-hopeless situation is striking and provocative.
Those Who Feel The Fire Burning, which had its world premiere in the feature length documentary section at Amsterdam's IDFA film festival, was one of the buzz films of the event, mainly for Knibbe's flowing visual style as his camera dips in and out of events and lives.
His opening scene, a re-enactment on board an illegal and very dangerous boat journey to Europe pitches the camera – and viewer – in the dark, on board the pitching boat as waves crash and terror mounts. It is never clear who lives or dies, but the spirit of one man continues the journey into the strange lands of Europe. That early dip into 'drama' aside, the rest of the film is very much pure observational documentary – though of a very poetic and creative style – as the camera observes a series of refugees as they deal with their new life, dwell on what has gone before and sometimes look to the future.
Some of the visual metaphors are heavy-handed (such as one man wandering amongst wrecked boats) but there is subtle questioning of how Europe handles these lost refugees. There extended use of drone cameras that skim above cities, cars and communities and they work perfectly alongside footage from Greece - extracted from Knibbe's 2010 student film We Go Europe Insha'Allah — and Italy.
A powerful central section featuring his award-winning short Shipwreck, which dwells on a shipwreck that left 350 Eritrean migrants dead off the coast of Lampedusa in Italy in 2013 is a sobre balance to the attempts at poetical meditation, but then the film is one of contrasts and variation of filming styles. It offers a patchwork collage of different refugee lives, and while there is no specific drum to beat its unconventional vision of an often-hopeless situation is striking and provocative.
Production company/contact: BALDR Film, www.baldrfilm.nl
Producers: Katja Draaijer, Frank Hoeve
Screenplay/cinematography: Morgan Knibbe
Editor: Xander Nijsten
Music: Carlos Djalla-Fiore