Dir/scr: Onur Unlu. Turkey. 2013. 107mins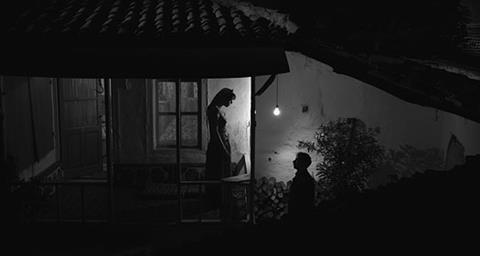 For the benefit of the bewildered viewers, unfamiliar with Shakespeare's 28th sonnet used for this film's title, director Onu Unlu also provides a motto that is easier to handle - Man Is Created By Anxiety, a line which he atributes to Euripides. All this, to confirm his intentions are earnest despite the series of improvised visual gimmicks which adorn his film from beginning to the very end.
Moving at a staccato rhythm, Unlu's film benefits from a cast that intuitively seems to blend into their parts.
Outstandingly shot and framed in black and white, Thou Gild'st The Even (Sen Aydinlatirsin Geceyi) is a collection of whimsical, often ironic but also sad, musings on human foibles of every kind, mixing fairytales with social comments and satire with poetry – what use is Shakespeare if not that - Unlu's film was not only the winner of the National competition at the Istanbul Film Festival this year, but also gathered Best Script, Best Editing, and inevitably, the International Film Critics Award. Just the kind of stuff festivals dote on.
Recounting the plot won't be much use in this case, since the story itself is much less significant than the way it is told. It is all about a young man, Cemal (Ali Atay), who has lost his mother and all his siblings in a fire, lives with his father, a barber, and helps him along in the shop. Haunted by the past, sleepwalking in the present, more inside his imagination than in real life, looking for solace and answers that will stop the little wheels from spinning around madly in his head, he pretends to be also a lineman referee in soccer games, the flag in his hand bestowing upon him the kind of authority he never has, otherwise.
A disturbed, suicidal personality, he is treated by a doctor, Irfan (Ercan Kesal), who sheds blood tears and hates the town and its people; rides his moped despondently; falls in love with a girl working on a farm, Yasemin (Demet Evgar), marries and then beats her up, then meets another girl, Defne (Damla Somnez) who suggests poetry might patch up the marriage, after which he tries to shoot the womanising factory owner he suspects of having had an affair with his wife but finds out his intended victim is immortal. Naturally, every sequence can be interpreted on its own as a metaphor even if it does wrap in a tongue in cheek manner.
It may not be difficult to discern here the seeds of a typically torrid Mediterranean melodrama, with childhood miseries, marriage troubles, football corruption, generation gaps, all mixed up together and with everything needed to fill up a classic tearjerker to the brims.
But when Cemal starts walking through solid fences, and director Unlu uses every old trick in the special effects book - from back projection to speeded up action, from jump cuts to slow motion - it's hard not to appreciate the legerdemain of a director who may not have all the answers for the tricks he employs, but most certainly enjoys using them.
Moving at a staccato rhythm, Unlu's film benefits from a cast that intuitively seems to blend into their parts. This is particularly true of Atay's bemused and uncomprehending Cemal, glowering at a confusing world that refuses to make sense. Unlike Unlu's manic, upside down parody of a sitcom, The Extremely Tragic Story Of Celal Tan and his Family, in which black humour went out of control, this time he masters his material much better and a series of moody, melancholy songs emerging every once in a while through the action help to restore the balance whenever it threatens to go out of kilter.
Production company/sales: Eflatun Film, sebnem@eflatunfilm.com
Producers: Orkun Unlu, Funda Alp
Cinematography: Vedat Ozdemir
Editor: Emre Boyraz
Production designer: Hussametin Demirci
Main cast: Ali Atay, Demet Evgar, Damla Somnez, Ercan Kesal, Exgi Mola, Serkan Keskin, Nadir Saribacak, Ahmet Mumtaz Taylan, Cengiz Bozlurt, Tansu Bicer