Dir: Viktor Chouchkov Jr. Bulgaria 2011. 94mins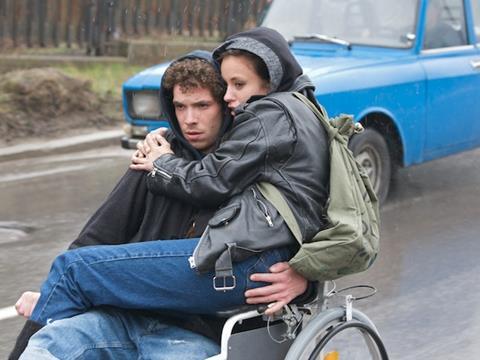 Already a big hit in its home market and now submitted as Bulgaria's entry for the foreign language film Oscar, Tilt is a lively, smartly-made drama that sets its tale of young love and youthful hustle against the backdrop of the fall of Communism in Eastern Europe.
The production values are notably strong.
Whether the film can attract the kind of awards season attention that often leads to wide international distribution remains to be seen. But even if it can't it should still serve as a useful industry calling card for first time director Viktor Chouchkov and his brother, producer and co-writer Borislav.The film screened at the Transilvania Intertnational Film Festival in Romania, and at Raindance in the UK.
The Chouchkov brothers (whose company has up to now made mostly TV shows and commercials) open the story in 1989 Sofia, where handsome rebel Stash (played by Yavor Baharoff from Bulgarian TV series Glass Home) and his friends Angel (Ivaylo Dragiev), Gogo (Ovanes Torosjan) and B-Gum (Alexander Sano) make cash for pinball and skateboarding by dealing in illegal German porn videos.
When Stash starts dating the equally rebellious Becky (Radina Kardjilova, also from Glass Home) the girl's policeman father (Georgy Staykov, recently seen in the Danish version of The Girl With The Dragon Tattoo) arrests the gang and threatens prison if Stash doesn't break off the relationship.
Taking advantage of the fall of the Berlin Wall, the boys flee to Germany and hook up with other emigres trying to make it in the West. When they hear of Bulgaria's velvet revolution, however, they head home, only to find that the people they left behind have changed just as radically as the country's politics.
Tilt works best over its first half, when Chouchkov paints a portrait of the spirited and likeable younger characters, a portrait that's made all the more attractive when contrasted with the bleakness of the communist era setting.
In its second half, as the focus shifts to the star crossed love between Stash and Becky, the film has a more conventional narrative structure and veers at times towards romantic melodrama.
The production values are notably strong, with Rali Raltchev, known for features including Letter to America, Samsara and Crayfish, contributing atmospheric cinematography and director Chouchkov moonlighting to deliver an effective music score.
Production companies: Chouchkov Brothers, Ostlicht Filmproduktion, Bulgarian National Television
International sales: Chouchkov Brothers, www.ch-bros.com
Producer: Borislav Chouchkov
Co-producers: Marcel Lenz, Guido Schwab
Screenplay: Borislav Chouchkov, Viktor Chouchkov Jr
Cinematography: Rali Raltchev
Production designer: Vanina Geleva
Editors: Kostatin 'Fozzie' Kostadinov, Zoritsa Kotseva
Music: Viktor Chouchkov
Website: www.tilt.bg
Main cast: Yavor Baharoff, Radina Kardjilova, Ovanes Torosjan, Ivaylo Dragiev, Alexander Sano, Phillip Avramov, Joreta Nikolova, Georgy Staykov