Dir: Peggy Holmes. US. 2014. 78mins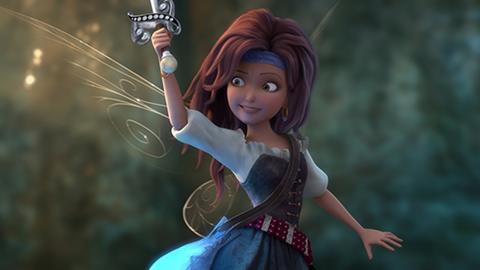 Disney's animated Tinker Bell film franchise heads into more action-packed waters with Tinker Bell And The Pirate Fairy, which sees the series weave its way to a formal link to the source 1953 Peter Pan film by seeing Tink and her fairy pals having a first encounter with a certain cabin boy named James, who will go on to become the nefarious Captain Hook.
Christina Hendricks and Tom Hiddleston enter into their vocal parts with enthusiasm and fun.
The fact that acclaimed British actor Tom Hiddleston (who starred as Loki in the Thor films and Avengers Assemble) provides the voice of James – and does a very charming job indeed – may pique the interest of adults, but the film is aimed resolutely fair-and-square at the under 10 marketplace.
The film, released in the UK on February 14 to tie in with the half term holiday market – where it will be up against The Lego Movie and Mr. Peabody & Sherman – has a strong fan base amongst young girls fond of fairy wings, dressing up and who have grown-up with the animated franchise. It opens on April 1 in the US.
The first film, Tinker Bell, debuted in 2008 and was followed on an annual basis by Tinker Bell And The Lost Treasure (2009), Tinker Bell And The Great Fairy Rescue (2010), the Disney Channel special Pixie Hollow Games in 2011, and Tinker Bell And The Secret Of The Wings in December last year. With the pixie world now firmly set in place with young fans, Disney's in-house filmmakers are clearly keen on developing such a hot franchise. The films are often limited theatrical offerings in the US – or straight to home entertainment – but have solid releases in other territories.
In truth, the mischievous Tink plays a secondary role in this new film, with the main focus being on the swashbuckling adventures of Zarina (voiced by Mad Men star Christina Hendricks), a smart and ambitious dust-keeper fairy who is captivated by Blue Pixie Dust (which the fairy community needs to survive) and its endless possibilities.
When her wild ideas get her into trouble she flees Pixie Hollow, and ends up joining forces with the scheming pirates of Skull Rock (and changing her attire from genial fairy wear to swashbuckling boots and bodice) who make her captain of their ship. She returns a year later and during the annual four seasons festival steals the precious Blue Pixie Dust. Tinker Bell and her fairy friends head off in pursuit of Zarina, who has been tricked by those pesky pirates, and soon they find themselves sword-to-sword with the pirates, who turn out to be led by the charming but duplicitous James.
The film is impressively animated 3-D fun, and while never ground-breaking and overly reliant on a saccharine-sweet sensibility, this edition in the series smartly racks up the action and while never remotely scary (this is a film for very young children remember) there are some nice cut-and-thrust piratical moments, especially when James grabs a hook (this is all set way before he loses his hand) and has a show-down with Zarina and the fairies.
There is also an introduction for the certain crocodile (a very young version) that will have such an impact on James in later life, as well a brief cameo from pirate favourite Smee towards the end of the film.
Christina Hendricks and Tom Hiddleston enter into their vocal parts with enthusiasm and fun, and while other parts are very much limited it is nice to see Tinker Bell regulars such as Lucy Liu, Raven-Symoné, Megan Hilty, Pamela Adlon, Angela Bartys and Anjelica Huston (who only has a couple of lines) back to provide classy vocal back-up.
Production companies: DisneyToon Studios, Prana Studios
Distribution: Walt Disney Motion Pictures
Producer: Jenni Magee-Cook
Executive producer: John Lasseter
Website: www.disney.co.uk/disney-fairies/
Main cast: Mae Whitman, Christina Hendricks, Tom Hiddleston, Lucy Liu, Raven-Symoné, Megan Hilty, Pamela Adlon, Angela Bartys, Anjelica Huston