Dir: Peggy Holmes. US. 2012. 75mins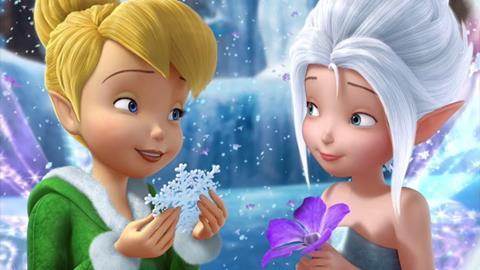 Disney's animated series of Tinker Bell films – themselves a belated spin-off from Disney's Peter Pan – have been solid performers on home entertainment and the Disney Channel, occasionally making a side-outing to cinema screens but all cheerfully reinforcing old-fashioned family entertainment and values for the under tens.
There is a dash of mild peril to spice up proceedings, but on the whole the film is simply about the strength of sisterhood and love.
The latest incarnation, Tinker Bell And The Secret Of The Wings had a limited release in the US before heading to DVD, but in other territories gets a pre-Christmas theatrical release, aiming of appealing to young ones aware of the brand and on holiday from schools. While they won't be blown away with this gently engaging 3D tale, there is enough innocent fun-and-games to work for the wee ones.
Once Disney managed to re-invent the Tinker Bell fairy character (in Peter Pan she was rather devious and malicious) into a cute, curious and cheerful character ripe for her own series (as well as spin-off video games) the 'Disney Fairies' franchise has been churning out pretty much a film a year.
The first film, Tinker Bell, debuted in 2008 and was followed on an annual basis by Tinker Bell And The Lost Treasure (2009), Tinker Bell And The Great Fairy Rescue (2010) and the Disney Channel special Pixie Hollow Games in 2011. With the pixie world now firmly set in place clearly Disney's in-house filmmakers have come to appreciate what a solid franchise they have put together.
Tinker Bell And The Secret Of The Wings might not have an overtly Christmas theme, but its emphasis on winter wonderland makes it a perfect festive film. It seems that in this magical world there is a strict separation between Pixie Hollow – where the warm-weather fairies work and play – and Winter Woods, where the winter fairies live.
Tinker Bell (voiced by Mae Whitman, who has handed the vocal duties since the first Tinker Bell film) is intrigued to see the animals cross over into winter, and against all advice she decides to investigate this snowy land. There she meets a frost fairy named Periwinkle (voiced by Lucy Hale) who she speedily bonds with…and who turns out to be her sister.
But there are dangers to crossing between the lands. Tinker Bell's wings may freeze in winter and Periwinkle cannot survive without the snow and cold. On learning of the crossings, Pixie Hollow's Queen Clarion (voiced with class by Angelica Huston) and Lord Milori (Timothy Dalton), the leader of the Winter Woods, both warm of the dangers and insist the sisters not see each other again.
But Tinker Bell and Periwinkle want to see each other and break the rules with the help of their friends. However a terrible accident sees a terrifying freeze threatening to destroy the Pixie Dust Tree, and in a race against time Tinker Bell must try and unite the warm and winter fairies.
Yes, there is a dash of mild peril to spice up proceedings, but on the whole the film is simply about the strength of sisterhood and love and while it is mercifully (for any adult audience at least) short it does deliver familiar family values in a package that features gambolling adventure and smattering of songs all tied together with that Disney fluffiness. The 3D animation is perfectly fine, and though offers nothing daring or original to the story it works quite sweetly with the winter wonderland backdrop.
The voice performance are nicely enthusiastic, and while Huston and Dalton add some class and familiarity to proceedings also cast are Megan Hilty (who stars with Huston in TV series Smash), Lucy Liu (more often seen in more adult orientated fare, but who has been a regular in the Tinker Bell films) and British actress Jane Horrocks.
Production companies: Walt Disney Disney Pictures, DisneyToon Studios,
Distributon: Disney
Producer: Michael "Makul" Wigert
Executive producer: John Lasseter
Co-director: Bobs Gannaway
Screenplay: Bobs Gannaway & Peggy Holmes, Ryan Rowe, Tom Rogers
Art direction: Barry Atkinson
Music: Joel McNeely
Website: http://disney.go.com/fairies/movies-secret-of-the-wings.html
Main cast: (voices) Mae Whitman, Lucy Hale, Lucy Liu, Raven-Symone, Megan Hilty, Pamela Adlon, Matt Lanter, Debby Ryan, Timothy Dalton, Jesse McCartney, Angela Bartys, Jodi Benson, Jane Horrocks, Anjelica Huston