Paramount's 3D animation takes $10.9m (£6.8m) on first weekend; studio scores one-two with Paranormal Activity 3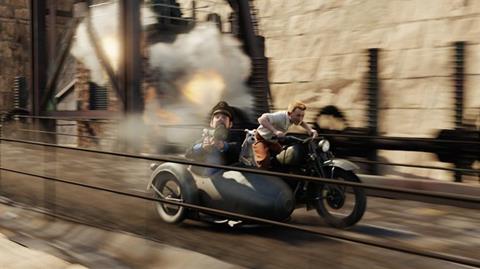 In the week it was revealed that Paramount is significantly downsizing its international offices, PPI scored another success in the UK with The Adventures of Tintin: Secret Of The Unicorn grossing $10.9m (£6.8m) from 512 screens at an excellent average of $21,257 (£13,201).
The strong opening was PPI's second-biggest of the year to date in the UK, behind Transformers: Dark Of The Moon.
However, the Steven Spielberg-directed adventure story took $5.3m (£3.3m) from 508 previews, which makes the pure weekend figure of $5.6m (£3.5m) a little less impressive, especially considering it was the only new children's film playing on the last weekend of half-term.
Paramount scored a one-two at the box office, with Paranormal Activity 3 taking a further $3m (£1.8m) from 415 screens over the Halloween weekend.
Holdovers accounted for positions three-five with Johnny English Reborn, Contagion and The Lion King 3D each grossing more than $1.6m (£1m). Johnny English Reborn dropped only 13% in its fourth week, while Disney will be delighted with 3D rerelease The Lion King, which has now taken $17.8m (£11m) in the same period.
After Tintin, Shah Rukh Khan's big-budget sci-fi Ra.One was the best of the newcomers, taking impressive numbers for Eros. The film grossed $1.46m (£908,768) from 94 screens at the week's second-best screen average of $15,568 (£9,668), a total narrowly short of Eros' previous best of $1.51m (£936,454) from 91 sites for My Name Is Khan in February 2010.
Reportedly the biggest-budget Indian film ever, Ra.One profited from the Diwali holiday and big preview numbers including a major 11-screen premiere at the O2 arena.
Disney's The Help debuted decently in seventh on $1.4m (£896,597), while eOne's The Ides Of March made $1.1m (£665,387) from 213 screens, not a bad result considering the screen number but in light of its star power, good reviews and strong numbers for recent high-concept political thrillers such as Tinker Tailor, eOne would have hoped for more.
We Need To Talk About Kevin posted good holdover numbers of $473,828 (£294,248) while Anonymous performed closer to its name than Sony would have liked, with only $294,997 (£183,194) from 214 screens at an average of $1,378 (£856).
This week sees saturation releases for Lionsgate's Machine Gun Preacher, Sony's Straw Dogs, Fox's In Time and Universal's Tower Heist.