Dir: Serge Bozon. France. 2013. 106mins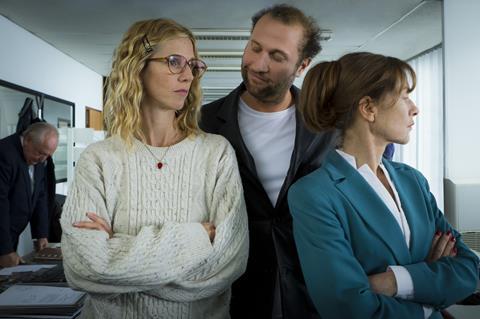 There's a long history in French cinema of directors getting hold of paperback thrillers and having their way with them, often in outrageously cavalier fashion. It worked for Truffaut, Godard, Beineix and others, but the payoff is more shaky in Tip Top, the second feature by sometime critic Serge Bozon.
Huppert has fun subverting her own hyper-dignified image, whether gobbling breakfast while driving, or catching blood drips on her tongue.
His 2007 debut feature La France - a sort of conceptual World War One musical - was an authentically sui generis experiment, but he offers a more familiar hybrid with in this awkward, ultimately tiresome mix of politics, noir intrigue and goofy farce. Star Isabelle Huppert is game as ever, but this peerless actress is not always at her most confident with comedy; still, you have to admire her for being game, to say the least. Despite her prestigious presence, the export prospects for Bozon's divertissement will be slightly less than tip top.
The film is based on a thriller by British writer Bill James, one of a series featuring Detective Constable Sally Bithron. Bozon and his co-writers relocate the action to France, specifically to Villeneuve, a district of Lille with a notable North African population. The film begins with a pricelessly executed in-your-face routine in which a belligerent tough (François Damiens) walks into an Arab bar lets rip with a stream of racist and homophobic invective; the deadpan payoff is quite brilliant.
The tough is in fact cop Robert Mendès, whose regular informer, one Benamar, has been found murdered. Skullduggery in the local police department is suspected, and Internal Affairs send in two investigators: Esther Lafarge (Huppert) and new assistant Sally Marinelli (Kiberlain), recently demoted over a matter of personal morality. With her no-nonsense directness, Lafarge goes in gangbusters, with the investigation focusing on assorted cops and informers, including Mendès's new recruit Younès (Aymen Saïdi) and the dead man's wife Virginie (Rocher).
There's a serious political underpinning to the drama, touching on Islam, Maghrebin social politics and on current events in Algeria, with frequent TV footage of unrest there. But, rather as Godard did in his '60s films, Bozon treats the politics in a cavalier fashion, flipping into goofy facetiousness at the drop of a hat. One of the daffier threads involves the two women's sexual peccadillos: voyeurism in Marinelli's case, and for Lafarge, unbridled S&M with her violinist husband (Samy Naceri). The comedy runs to such non-sequiturs as an impromptu dance routine by Younès, and a silly but extremely funny routine in which Mendès makes a fool of himself with his rusty Arabic.
For the most part, however, the comedy feels forced, as if Bozon is indulging a rather obscure private joke. In the cast, the bullish Damiens pulls off the humour to best effect, but Kiberlain - gawky even by her own standards - overdoes the twitchiness, while Huppert's sudden bursts of manic energy disrupt any sense of her Esther being a coherent character.
Not that conventional character really comes into it, for everything here, plot included, is undermined with self-conscious distantiation. At least Huppert has fun subverting her own hyper-dignified image, whether gobbling breakfast while driving, or catching blood drips on her tongue. Visually, the film has a clean-cut comic-strip quality to it, Céline Bozon's photography suggesting touches of Aki Kaurismäki and '80s Godard. But the knowingness rarely comes off as much more than clever but arch cinematic dandyism.
Production companie: Les Films Pelléas
International sales: Rezo, worldsales@rezofilms.com
Producers: David Thion, Philippe Martin, Nicolas Steil
Screenplay: Axelle Ropert, Serge Bozon, Odile Barski, from the book by Bill James
Cinematography: Céline Bozon
Production designer: Régine Constant
Editor: François Quiqeré
Music: Roland Wiltgen
Main cast: Isabelle Huppert, Sandrine Kiberlain, François Damiens, Karole Rocher