Dir/scr: Ivan Sen. Australia. 2011. 106mins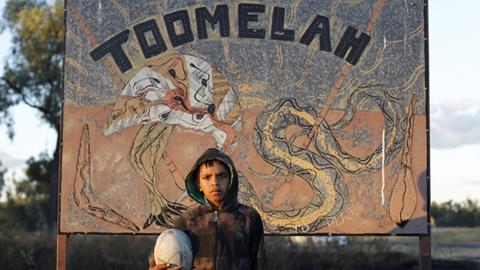 The limbo of life in a contemporary Australian aboriginal community - or 'mission' - is shown with sentiment-tinged realism in Ivan Sen's Toomelah, which is entirely set in the kind of rural ghetto of the aboriginal dispossessed that the protagonists of Warwick Thornton's Samson And Delilah fled from.
Sen's handheld digital camerawork, much of it shot at sunrise or sunset, is tasty and colour-saturated.
Seeing the action, and the place, through the eyes of a troubled local 10-year-old, Daniel, gives the film a focus and heart, as we root for him to turn out okay. But this is still a tough and slow-moving exercise whose slight story is stretched out almost to breaking point over the film's one-and-three-quarter-hour running time.
There's a haunting quality to the film's young protagonist, a kind of fragile strength, that makes Sen's film something more than a courageous and worthy ethnic minority exercise using non-professional actors, but at the same time the rather conventional characters and story make this a less surefire international arthouse distribution prospect than Thornton's tough love story - and that was not exactly an easy sell.
What Toomelah leaves us with is a real sense of place - and what a sad place it is, a dusty nowhere town of houses built from clapperboard and breeze block with no plan or centre, ringed by a periphery of trailers and auto cemeteries. Daniel (Connors) lives here, with his laissez-faire mother and elderly grandmother; dad is a former boxer who has turned to meths and lives in the street.
Daniel is clearly unhappy, but he translates this into a hard-man swagger - something made all the more poignant by the fact that we can see the uncertain little boy peeping through it. He gets into fights at school and soon drops out altogether, taking up instead with an alternative family headed up by drug dealer Linden (Edwards), who hangs out with a bunch of heavy-drinking cronies.
An aunt arrives from far away; we learn she was deported years before. Daniel gets into a fight with a schoolfriend over a girl, Tanitia, who he clearly fancies.
When a rival dealer, returned white jailbird Bruce (Daley-Jones), starts stealing Linden's clients, Daniel is sent to cast the joint - an act which will eventually lead to the rather staged explosion of violence that provides some sort of turning point in the sluggish plot.
There's a sense in which Sen is ticking off aboriginal issues in his screenplay: drugs, alcohol abuse, prison, broken homes, truancy, teenage pregnancies, sexism (via a rather randomly inserted scene in which Linden tells two girls who have sat down by the campfire to get lost), the forced confinement of nomadic aboriginal tribes to European-style settlements, the dying out of aboriginal language and culture. The director clearly feels very strongly about the loss of pride and race memories (like animal totems) that the film charts, but the story at times seems more a vehicle for a message than a genuine drama.
Sen's handheld digital camerawork, much of it shot at sunrise or sunset, is tasty and colour-saturated; there are no haunting didgeridoos on the soundtrack, instead the kind of commercial hip-hop that young people on the reservations actually listen to, though two guitar-strummed ballads hint at richer musical culture, which is disappearing like so much else in this twilight world.


Production companies Bunya Productions, Screen Australia, Screen NSW
International sales Visit Films, www.visitfilms.com
Producer David Jowsey
Cinematography/editor/music Ivan Sen
Website www.toomelahthemovie.com
Main cast Daniel Connors, Christopher Edwards, Dean Daley-Jones