Dir/scr: Walid Al-Awadi. Kuwait. 2011. 102mins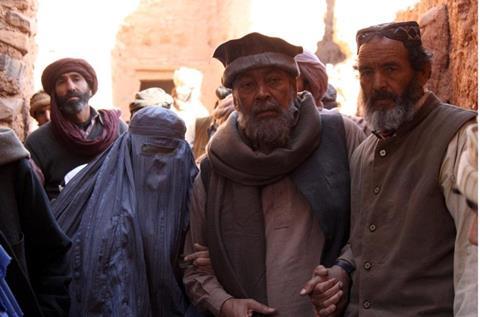 A heady blend of action-drama and family turmoil, Kuwaiti film Tora Bora is a highly watchable and impressively shot film that follows a Kuwaiti father, mother and son as they travel to Afghanistan to search for the family's youngest son who has joined the Taliban.
At heart Tora Bora is a family drama about aging parents trying to draw their family together again.
The film, which opened the 5th Gulf Film Festival in Dubai, has opened in its home country, and while its strong cost of known actors from the Gulf will help its release in the region, it could also intrigue festivals looking for an alternate view of issues in Afghanistan. Strong production values and moments of action in amidst family angst aid Tora Bora's profile.
The structure and storyline are familiar – even old-fashioned – but the contemporary context makes the film all the more pertinent, with writer/director Walid Al-Awadi making good use of his locations. Things get a little repetitive and the film could be tighter, but there is much to admire here.
Well to do elderly Kuwaiti couple Abou Tareq (veteran actor Saad Al Faraj) and Om Tareq (Asmahan Tawfig) are mortified when they learn their youngest son Ahmed (Adbullah Altararwah) has been influenced by radical teachings and has travelled to Afghanistan to join the Taliban. Unprepared for the hardships of travelling from Kuwait to the war-torn Tora Bora region of Afghanistan, the couple find themselves caught up in terrible events, but remain determined to continue their mission.
Meanwhile, their eldest son Tareq (Khalid Ameen) with the aid of two armed and equipped men from Pakistani Intelligence also sets out of for the region in search of his parents and brother. The two paths are eventually destined to cross as they get closer to finally finding Ahmed, who gradually comes to see that the Taliban's actions are not as clear as he once thought.
Shot in Morocco, the film makes great use of bleakly beautiful and harsh locations to double as Afghanistan that offer a perfect backdrop to the story. Though the film does dwell on the terror tactics of the Taliban – and how the actions damage the image of Islam – at heart Tora Bora is a family drama about aging parents trying to draw their family together again.
The clichéd hand wringing and wailing that often defines the performances of Saad Al Faraj and Asmahan Tawfig may well work for more traditional viewers, though there is also an emphasis on danger and action (to pique the interest of younger audiences) as oldest son Traeq and his accomplices track the Taliban to their stronghold. The actual fight scenes are limply handled (likely more of a budget issue), but the film finds a smart pace as it heads towards its climax.
Production company: C Sky Pictures
International sales: C Sky Pictures, www.cskypictures.com
Producers: Walid Al-Awadi
Cinematography: Raquel Fernandez
Editor: Alejandro Lazaro
Production designer: Marco Trentini
Music: Raad Khalaf
Website: www.torabora.tv
Main cast: Saad Al Faraj, Khalid Ameen, Yassin Ahjam, Asmahan Tawfig, Adbullah Altararwah, Al Araby Al Sassy, Kais Nashif, Amine Louadni