World premieres for Patricia Rozema, Guy Édoin and Stephen Dunn are among the selection scheduled to screen at the Toronto International Film Festival (TIFF).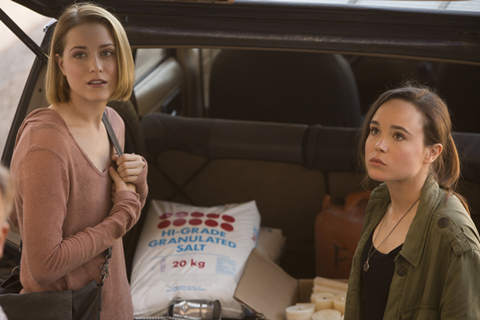 "The festival is excited to showcase these distinctively Canadian voices," said TIFF senior programmer Steve Gravestock.
"From compelling documentaries on pressing social issues and complex, affecting dramas to political satires, we are proud to share the impressive range and talent of Canada's directors."
"This year's filmmakers represent the depth and diversity of Canadian storytelling," said the festival's film programmes manager Magali Simard.
"By presenting the strong perspectives of the best and brightest in the film industry from across the country, we share with audiences the unique ways Canadians view the world."
The films will compete for the Canada Goose Award for Best Canadian Feature Film, while the City Of Toronto Award For Best Canadian First Feature Film is also up for grabs.
This year's Canadian awards jurors are director Don McKellar, AFI FEST director Jacqueline Lyanga and Rio de Janeiro International Film Festival programming and executive director Ilda Santiago.
TIFF organisers also unveiled the Talent Lab participants, projects in the Telefilm Canada Pitch This! programme and the four TIFF Rising Stars.
TIFF 2015 runs Sept 10-20.
Key: WP = world premiere, CP = Canadian premiere, TP = Toronto premiere.
SPECIAL PRESENTATIONS
Born To Be Blue (Canada-UK), Robert Budreau WP
Into The Forest, Patricia Rozema WP
Ville-Marie, Guy Édoin WP
TIFF DOCS
Al Purdy Was Here Brian D. Johnson, Canada
Guantanamo's Child: Omar Khadr, Patrick Reed and Michelle Shephard WP
Ninth Floor, Mina Shum, Canada WP
This Changes Everything (Canada-US), Avi Lewis WP
Welcome To F.L., Geneviève Dulude-De Celles WP
DISCOVERY
Closet Monster, Stephen Dunn WP
Fire Song, Adam Garnet Jones WP
The Rainbow Kid, Kire Paputts WP
River (Canada-Laos), Jamie M Dagg WP
Sleeping Giant, Andrew Cividino NAP
CONTEMPORARY WORLD CINEMA
How Heavy This Hammer, Kazik Radwanski, WP
Our Loved Ones (Les Étres Chers) Anne Émond NAP
My Internship In Canada, Phillipe Falardeau, NAP
The Waiting Room, Igor Drljaca, NAP
VANGUARD
Endorphine, André Turpin WP
Hellions, Bruce McDonald CP
No Men Beyond This Point, Mark Sawers NAP
WAVELENGTHS
88:88, Isiah Medina NAP
The Forbidden Room, Evan Johnson and Guy Maddin CAP
Invention (UK-Canada), Mark Lewis WP
Minotaur (Mexico-Canada), Nicolás Pereda WP
Bring Me The Head Of Tim Horton, Guy Maddin, Evan Johnson and Galen Johnson WP
The Forbidden Room - A Living Poster, Galen Johnson WP
La Giubba (Canada-UK), Tony Romano and Corin Sworn WP
Stories Are Meaning-Making Machines (France-Canada), Annie MacDonnell and Maïder Fortuné IP
SHORT CUTS
The Short Cuts section contains 44 selections including entries from Don McKellar, and Connor Jessup. To learn more visit the official website.
TALENT LAB / TELEFILM CANADA PITCH THIS!
The 2014 Talent Lab and Telefilm Canada Pitch This! editions have been announced.
TALENT LAB
The programme's 12th year will honour the following participants:

Canada: Anna Fahr, Joshua Huculiak, Ali Jaberansari, Marie-Ève Juste, Joey Klein, Dusty Mancinelli, Stéphane Moukarzel, Celeste Parr, Madeleine Sims-Fewer and Timothy Yeung.
International: María Alché (Argentina), Amin Dora (Lebanon), Derya Durmaz (Turkey), Hiwot Admasu Getaneh (Ethiopia), Carolina Markowicz (Brazil), Tommy Oliver (USA), Marina Person (Brazil), Ricky Rijenke (Holland), Eva Riley (UK) and Alexis van Stratum (Belgium).
Talent Lab governors are Wim Wenders and Jim Stark.
TELEFILM CANADA PITCH THIS!
Now in its 16th year, the finallists are: Brown Girl In The Ring: The Prequel, Sharon Lewis and Jenn Paul; Claire, From The Bus, Andrew Nicholas McCann Smith, Kjartan Hewitt and Jordan Canning; Demonolatry, Laura Perlmutter and Daniel Perlmutter; E.V.E., A.J. Bond; Mohammed VI, Matthew Hannam and Kaveh Nabatian; and Passover, Daniel Schachter and Constance Malpel.
TIFF RISING STARS
The fifth-year selections are: Deragh Campbell (Toronto, actor-writer); Stephan James (Toronto, actor); Aliocha Schneider (Quebec, actor); and Karelle Tremblay (Montreal, actor);
"TIFF is dedicated to shining a spotlight on Canadian talent, and we're thrilled to offer Deragh, Stephan, Aliocha, and Karelle — the 2015 TIFF Rising Stars — a global stage during the festival," said TIFF artistic director Cameron Bailey.
The four Rising Stars will take part in a special programme organised by the TIFF Industry Office that includes public events and industry meetings.