Morgan Spurlock re-engages with the food industry, James Franco digs into the 'worst film ever made'.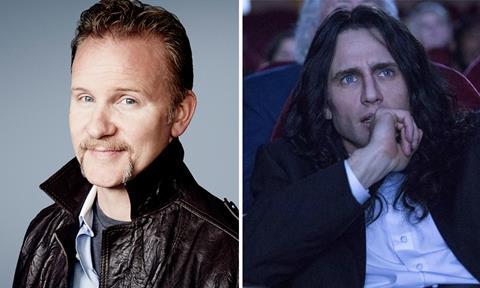 Top brass at the Toronto International Film Festival (TIFF) unveiled on Tuesday selections in the TIFF Docs, Midnight Madness, and Short Cuts programmes.
The Canadian titles that are part of this year's programme will be announced on August 9. The 42nd Toronto International Film Festival is scheduled to run from September 7-17 and will open with Borg/McEnroe.
TIFF DOCS
The world premiere of Morgan Spurlock's Super Size Me 2: Holy Chicken! joins a marquee TIFF Docs roster from renowned filmmakers that opens with Sophie Fiennes' Grace Jones: Bloodlight And Bami.
Selections include Brett Morgen's profile of primatologist Jane Goodall in Jane; the story of three Hasidic Jews who attempt to join the secular world in One Of Us by Heidi Ewing and Rachel Grady; Violeta Ayala's Bolivian drug trade film Cocaine Prison; and Emmanuel Gras' closing film Makala, the winner of the grand jury prize in Cannes Critics Week about a labourer in the Democratic Republic of Congo.
"Resistance is a key theme in this year's documentaries," TIFF Docs programmer Thom Powers said. "We pay witness to rebels challenging the status quo in art, politics, sexuality, religion, fashion, sports and entertainment. They speak powerfully to our times as audiences seek inspirations for battling powerful and corrupt systems."
The TIFF Docs Programme is sponsored by A+E IndieFilms.
TIFF Docs line-up:
Azmaish: A Journey Through The Subcontinent (Pakistan), Sabiha Sumar (NAP)
BOOM FOR REAL The Late Teenage Years Of Jean-Michel Basquiat (USA), Sara Driver (WP)
The China Hustle (USA), Jed Rothstein (WP)
Cocaine Prison (Australia-Bolivia-France-USA), Violeta Ayala (WP)
Eric Clapton: Life In 12 Bars (UK), Lili Fini Zanuck (WP)
Ex Libris – The New York Public Library, Frederick Wiseman USA (NAP)
The Final Year (USA), Greg Barker (WP)
The Gospel According To André (USA), Kate Novack (WP)
Grace Jones: Bloodlight and Bami (UK-Ireland), Sophie Fiennes (WP) Documentary Programme Opening Film
JIM & ANDY: the Great Beyond – The Story Of Jim Carrey & Andy Kaufman featuring a very special, contractually obligated mention of Tony Clifton (USA-Canada), Chris Smith (NAP)
Jane (USA), Brett Morgen (WP)
The Judge (Palestine-USA), Erika Cohn (WP)
The Legend Of The Ugly King (Germany-Austria), Hüseyin Tabak (WP)
Lots Of Kids, A Monkey And A Castle (Spain), Gustavo Salmerón (NAP)
Love Means Zero (USA), Jason Kohn (WP)
Makala (France), Emmanuel Gras (NAP) Documentary Programme Closing Film
Of Sheep And Men (

Switzerland-Qatar

),

Karim Sayad

(WP)
One Of Us (USA), Heidi Ewing, Rachel Grady (WP)
The Other Side of Everything (Serbia-France-Qatar), Mila Turajlić (WP)
Sammy Davis, Jr.: I've Gotta Be Me (USA), Sam Pollard (WP)
Scotty And The Secret History Of Hollywood (USA), Matt Tyrnauer (WP)
Silas (Canada-South Africa-Kenya), Anjali Nayar and Hawa Essuman (WP)
Super Size Me 2: Holy Chicken! (USA), Morgan Spurlock (WP)
MIDNIGHT MADNESS
Joseph Kahn's Bodied, a battle rap satire produced by Eminem, and Sôichi Umezawa's Vampire Clay from Japan bookend Midnight Madness. Peter Kuplowsky is the new head programmer of the section, which is sponsored by Cineplex Entertainment. TIFF announced back in February that former section overlord Colin Geddes was stepping away.
The genre programme includes The Disaster Artist, James Franco's film about the making of Tommy Wiseau's 2003 cult film The Room, considered by some to be the worst film ever made. The selection includes S. Craig Zahler's Brawl In Cell 99, Nicholas Cage and Selma Blair in
Brian Taylor's Mom And Dad, and Coralie Fargeat's Revenge from France.
"With my inaugural line-up, I've sought to assemble an eclectic group of films that expand and explode traditional definitions of genre and shock cinema while still preserving the infectious rock 'n' roll gusto that TIFF's Midnight Madness audiences have come to relish over the past three decades," Kuplowsky said.
Midnight Madness line-up:
Bodied (USA), Joseph Kahn (WP) Midnight Madness Opening Film
Brawl In Cell Block 99 (USA), S. Craig Zahler (NAP)
The Crescent (Canada), Seth A. Smith (WP)
The Disaster Artist (USA), James Franco (WP)
Downrange (USA), Ryuhei Kitamura (WP)
Great Choice (USA), Robin Comisar (CP)
Let The Corpses (Belgium-France), Tan Hélène Cattet, Bruno Forzani (NAP)
Mom And Dad (USA), Brian Taylor (WP)
Revenge (France), Coralie Fargeat (WP)
The Ritual (UK), David Bruckner (WP)
Vampire Clay (Japan), Sôichi Umezawa (WP) Midnight Madness Closing Film.
SHORT CUTS
The shorts selection comprises 35 shorts from 30 countries in 16 languages, with a strong presence from the Middle East and South America. Women directed 17 of the selections.
Anticipated highlights include Ifunanya Maduka's Boko Haram kidnapping story Waiting For Hassana; Mahdi Fleifel's immigrant tale A Drowning Man, Yang Qiu's short film Palme d'Or winner A Gentle Night (Xiao Cheng Er Yue), and animations such as Niki Lindroth von Bahr's Annecy winner The Burden (Min börda); and The Death, Dad & Son by Denis Walgenwitz and Winshluss.
Films in the Short Cuts programme are eligible for the IWC Short Cuts Award for Best Film. Jason Anderson and Danis Goulet programme the section, sponsored by IWC Schaffhausen.
Click here for further information.