A heavyweight roster of world premieres from the leading lights of Canada's film industry will grace the Toronto International Film Festival next month.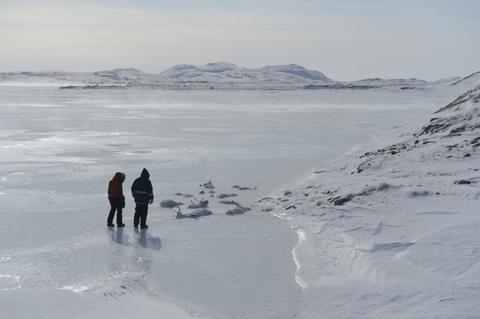 New work from Deepa Mehta, Bruce McDonald and Chloé Robichaud are among the Canadian features set to receive their world premieres, while Xavier Dolan and Kim Nguyen earn North American premieres for their latest films following their Cannes debuts.
Wednesday's announcement included the slate of Canadian short films, the festival's four Rising Stars, and participants in the Talent Lab and Telefilm Canada PITCH THIS! programmes.
Talent Lab alumnus Andrew Cividino is named the 2016 Len Blum Resident. The film-maker will take up residency at the Festival Tower for three months later this year and receive one-on-one script consultations with screenwriter Blum, mentoring from TIFF's industry and programming teams, and support from TIFF partners.
Cividino will work on his screenplay, We Ate the Children Last, a feature version of his award-winning sci-fi short adapted from Yann Martel's short story of the same name. TIFF runs from September 8-18.
CANADIAN FEATURES
Up for grabs are The Canada Goose Award for Best Canadian Feature Film and the City Of Toronto Award for Best Canadian First Feature.
SPECIAL PRESENTATIONS
WP = World Premiere, IP = International Premiere, NAP = North American Premiere, CP = Canadian Premiere, TP = Toronto Premiere
Below Her Mouth April Mullen WP
It's Only The End Of The World (Canada-France) Xavier Dolan NAP
Mean Dreams Nathan Morlando NAP
Two Lovers And A Bear [pictured] Kim Nguyen NAP
Weirdos Bruce McDonald WP
Window Horses (The Poetic Persian Epiphany Of Rosie Ming) Ann Marie Fleming NAP
MASTERS
Anatomy Of Violence (Can-Ind) Deepa Mehta WP
We Can't Make the Same Mistake Twice Alanis Obomsawin WP
TIFF DOCS
All Governments Lie: Truth, Deception, and The Spirit of I.F. Stone Fred Peabody WP
Black Code Nicholas de Pencier WP
Giants Of Africa Hubert Davis WP
Mostly Sunny Dilip Mehta WP
The River Of My Dreams Brigitte Berman WP
The Skyjacker's Tale Jamie Kastner WP
The Stairs Hugh Gibson WP
DISCOVERY
ARQ Tony Elliott (US-Can) WP
Hello Destroyer Kevan Funk WP
Jean Of The Joneses Stella Meghie CP
Old Stone Johnny Ma (Can-Chi) NAP
Prank Vincent Biron NAP
Werewolf Ashley McKenzie WP
CONTEMPORARY WORLD CINEMA
Boundaries Chloé Robichaud WP
X Quinientos Juan Andrés Arango WP
VANGUARD
PRIMETIME
nirvanna the band the show created by Matt Johnson and Jay McCarrol WP
TIFF CINEMATHEQUE
A Cool Sound From Hell Sidney J. Furie
"We are thrilled to present a robust selection of projects from some of Canada's best filmmakers," said Steve Gravestock, TIFF senior programmer. "From thought-provoking documentaries and affecting dramas, to unconventional biographies and thrillers, to animated features, this year's selections highlight the diversity and high-calibre work produced in Canada."
"We are proud to shine a spotlight on both veteran filmmakers and emerging talent in this year's slate," said Magali Simard, TIFF film programmes manager. "Canadians continue to forge their own path on a global scale with their own distinct perspectives and methods of storytelling."
SHORT CUTS
Canadian films in the Short Cuts programme are eligible for the Short Cuts Award for Best Canadian Film, and the Short Cuts Award for Best Film.
3-Way (Not Calling) Molly McGlynn WP
5 Films About Technology Peter Huang WP
Ape Sodom Maxwell McCabe-Lokos WP
Blind Vaysha Theodore Ushev NAP
Cleo Sanja Zivkovic WP
CYCLES Joe Cobden WP
DataMine Timothy Barron Tracey TP
Emma Martin Edralin WP
Four Faces Of The Moon Amanda Strong WP
A Funeral For Lightning Emily Kai Bock (Can-US) WP
Gods Acre Kelton Stepanowich WP
HAND.LINE.COD. Justin Simms WP
Imitations Fabian Velasco and Milos Mitrovic WP
Late Night Drama Patrice Laliberté WP
Mariner Thyrone Tommy WP
Mutants Alexandre Dostie NAP
Nothing About Moccasins Eden Mallina Awashish NAP
Nutag – Homeland Alisi Telengut NAP
Oh What A Wonderful Feeling François Jaros NAP
Plain And Simple Raphaël Ouellet WP
Red Of The Yew Tree Marie-Hélène Turcotte NAP
The Road To Webequie Ryan Noth, Tess Girard WP
Shahzad Haya Waseem WP
Small Fry Eva Michon (US-Pol-Can) WP
SNIP Terril Calder WP
The Smoke Rebecca Addelman WP
The Taste Of Vietnam Pier-Luc Latulippe WP
TMG_103 (rough cut) Walter Woodman
Tshiuetin Caroline Monnet WP
Twisted Jay Cheel WP
Whispering Breeze Jonathan Tremblay WP
Wild Skin Ariane Louis-Seize WP
Your Mother and I Anna Maguire (Can-UK) WP
WAVELENGTHS
350 MYA Terra Lon (Morocco-Canada) P
Dark Adaptation Chris Gehman WP
Strange Vision Of Seeing Things Ryan Ferko (Canada-Serbia) WP
Untitled, 1925 Madi Piller TP
International titles for the Short Cuts programme will be announced on August 9. The complete Wavelengths programme will be announced on August 16.
RISING STARS
The four actors selected to participate in the 2016 TIFF Rising Stars programme and take part in public events and industry meetings during the festival are:
Jared Abrahamson
Grace Glowicki
Mylène Mackay
Sophie Nélisse.
For the first time in six years of the programme, international Rising Stars will be announced in the coming weeks.
"Canadian talent have proven themselves among the best in the world," said TIFF artistic director Cameron Bailey. "We are truly proud to connect this year's TIFF Rising Stars with the global film industry, offering them an international platform for showcasing their work and a launch pad to develop their careers."
TALENT LAB
Now in its 13th year, the five-day artistic development programme runs from September 6-10 and is led by governors including Atom Egoyan, Christine Vachon and Jim Stark who will guide 20 filmmakers to develop their creativity, artistic process, and independent voices.
Canadian Participants:
Ben Petrie
Caroline Monnet
Frieda Luk
Jesse Klein
Joyce Wong
Kelton Stepanowich
Meryam Joobeur
Randall Okita
Reem Morsi
Slater Jewell-Kemker
International Participants:
Alejandra Márquez Abella (Mexico)
Aleksandra Terpinska (Poland)
Anwar Boulifa (United Kingdom)
Bryn Chainey (Australia)
Mark Noonan (Ireland)
Martín Morgenfeld (Argentina)
Mateo Bendesky (Argentina)
Myrsini Aristidou (Cyprus)
Sofia Carrillo (Mexico)
Zamo Mkhwanazi (South Africa).
Monnet and Stepanowich are in the 2016 Short Cuts programme with Tshiuetin and Gods Acre, respectively.
Former participants have features in this year's festival: Ashley McKenzie, Werewolf; Hugh Gibson, The Stairs; Johnny Ma, Old Stone; Kevan Funk, Hello Destroyer; and Tony Elliot, ARQ. Alumni in 2016 Short Cuts are: Maxwell McCabe-Lokos with Ape Sodom, and Tess Girard, co-director of The Road To Webequie.
"We are delighted to welcome all the participants in these two terrific programmes," said TIFF director of industry Kathleen Drumm. "It's a great chance for them to hone their craft, to develop their projects and to access the knowledge of highly respected voices in the industry."
TELEFILM CANADA PITCH THIS!
Telefilm Canada's PITCH THIS! challenge takes place on Sunday, September 11 at 4.30pm and is open to all festival industry and press delegates. 

The 2016 finallists are:
Mary Goes Round Matt Code and Molly McGlynn
Qalupalik Sean Wainsteim and Nyla Innuksuk
Sharkasaurus Spencer Estabrooks and Greg Jeffs
The Art Of Being Busy Lauren Grant, Chris Ross and Lauren Corber
The Edible Woman Francine Zuckerman and Karen Shaw
To Be Continued Rob Grant, Luke Black and Mike MacMillan.