EXCLUSIVE: Lotus Entertainment has reported a strong response from buyers to Tom Tykwer's A Hologram For The King starring Tom Hanks.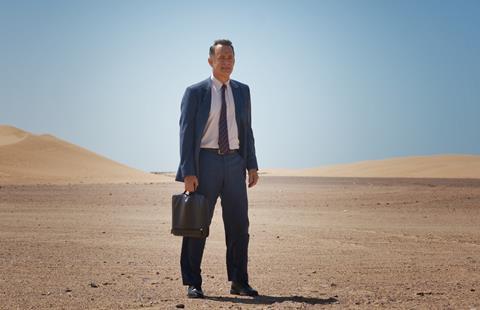 Bill Johnson, Jim Seibel and the sales team have closed deals in Scandinavia (Mis.Label); Latin America excluding Mexico (Swen); Benelux (A-Film Benelux Rechten); Poland (Monolith); Portugal (Pris Audiovisuais); and the former Yugoslavia (Blitz Film).
Lotus has also licensed rights in Hong Kong (Golden Scene); Singapore (Shaw Renters); Taiwan (Caichang Int'l); Thailand (Mono Film); and China (HGC Entertainment).
Further deals closed in Greece, Cypress, Turkey, Middle East, India and Pakistan (Italia Film); Iceland (Myndform); Israel (United King); Bulgaria and Romania (Programs4 Media); South Africa (MNet.) and airlines (Cinesky).
X Filme Creative Pool co-produced the feature and retains rights for Germany, Austria and Switzerland, while executive producer Fábrica de Cine controls Mexico and Spain.
A previously announced Icon Film Distribution holds UK rights to the tale of a man teetering on the brink of insolvency who starts a new life in Saudi Arabia in a bid to look after his family and achieve something.
Sarita Choudhury, Omar Elba, Tracey Fairaway, David Menkin and Tom Skerritt round out the key cast.
Uwe Schott and Stefan Arndt of X Filme Creative Pool produce with Arcadiy Golubovich and Tim O'Hair of Primeridian and Hank's business partner Gary Goetzman at Playtone.
Steven Shareshian of Playtone, Claudia Bluemhuber of Silver Reel, Gaston Pavlovich of Fabrica de Cine, Lotus' Seibel and Johnson and Dave Eggers are the executive producers. CAA handles US rights.
Lotus' sale slate includes zombie drama Maggie, which Lionsgate acquired on the eve of Toronto and pulled from the festival. Among the roster are Kidnap starring Halle Berry, Fallen, Z For Zachariah with Chiwetel Ejiofor and Chris Pine and Song One starring Anne Hathaway.