The UK's Hanan Kattan, Germany's Peter Rommel and Canada's Chantelle Kadyschuk are among those selected for this year's Producers Lab Toronto (PLT).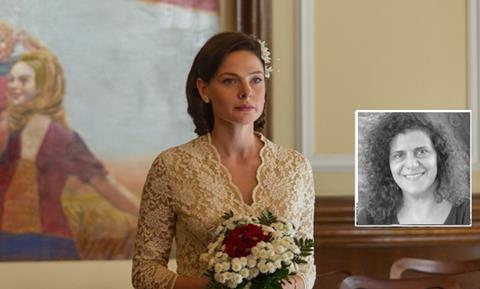 The 24 producers from Europe, Canada, Australia and New Zealand will participate in the sixth edition of the networking platform, which will run Sept 9-12 during the Toronto International Film Festival (Sept 10-20).
PLT is targeted at producers who have had previous experience in working on international co-productions and now have projects in the pipeline that could be interesting for the international market.
European producers
The ten European producers were selected by European Film Promotion's member organisations from previous participants of its Cannes-based initiative Producers on the Move.
Together with her partner Shamim Sarif, Hanan Kattan has a presence in the UK and Canada with their Enlightenment Group of companies. Hattan produced Sarif's three features, including Despite The Falling Snow, starring Charles Dance and Rebecca Ferguson, as well as co-directing the documentary The House Of Tomorrow.


Active in production for over 20 years, Peter Rommel has produced films by such directors as Andreas Dresen, Fridrik Thor Fridriksson, Erwin Wagenhofer, Dito Tsintsadze, Valeska Grisebach, David Wnendt and Stéphane Robelin. Rommel recently added another string to his bow by becoming the co-owner of the restaurant Ceviche in Berlin's Kreuzberg district.


Since setting up her own company Vintage Pictures with colleague Birgitta Bjornsdottir in 2011, Iceland's Hlín Jóhannesdóttir has worked on films by Robert Douglas, Phie Ambo and Graeme Maley. She is now preparing writer-director Asa Helga Hjorleifsdottir's feature debut The Swan, to shoot next summer.


Sarajevo-based Adis Djapo of SCCA/Pro.ba is following Danis Tanović's Berlinale competition film An Episode In The Life of An Iron Picker and Faruk Lončarević's With Mum with the development of Igor Drljača's Tabija which won the Eurimages Co-production Development Award at CineMart in Rotterdam and the CineLink Excellence Award in Sarajevo last year.


After working with Urszula Antoniak on three feature films and the artist Fiona Tan on her debut feature History's Future, Dutch producer Floor Onrust of Amsterdam-based Family Affair Films is now producing Lonnie van Brummelen and Siebren de Haan's documentary feature Citizens Of Nature.


This year saw Estonian producer Ivo Felt's production of Zaza Urushadze's Tangerines nominated for the Academy Award and Golden Globe in the Best Foreign Language Film category. He also served as a co-producer on Finnish director Klaus Harö's award-winning The Fencer. Felt is a production partner on Seneca's Day, the first feature film to be made as a co-production Lithuania, Latvia and Estonia.
The ten Canadian producers taking part in PLT were selected by the Ontario Media Development Corporation (OMDC) and the Toronto festival from an open call across Canada.
They include Chantelle Kadyschuk of No Trace Camping, the Canadian partner on Lenny Abrahamson's Room which will be premiering at Toronto, and The Film Farm's Simone Urdl who has worked with Atom Egoyan, most recently on his film Cannes 2014 film The Captive.
In addition, this will be the third year in a row that Screen Australia (SA) and the New Zealand Film Commission (NZFC) are supporting the event by each sending two producers to Toronto.
One of the Australian producers, Raquelle David of Damsel Pictures, has already forged connections with Canada having come to Toronto in 2013 as part of Screen Australia's Talent Escalator programme to work alongside the Canadian producer Niv Fichman on a number of film and television projects.
She will be the Australian co-producer on the Australia/Canada treaty co-production, The Drowsy Chaperone, to be directed by Fred Schepisi and starring Geoffrey Rush from early 2016.
New Zealand will be represented by Leanne Saunders who is currently producing Taika Waititi's Hunt For The Wilderpeople, his follow-up to What We Do In The Shadows.
Starring Sam Neill and Julian Dennison, this is the first film made under Piki Films, a new production partnership between Waititi, Saunders and Carthew Neal.
PLT's four-day programme of events include pitching sessions, case studies, roundtables and various networking events with key people from the film industry and film funds.
The first five editions of PLT were attended by such producers as Italy's Alessandro Borrelli, Romania's Ada Solomon, Germany's Nicole Gerhards, Finland's Mark Lwoff, and The Netherlands' Els Vandervorst as well as George Ayoub, Sarah Timmins, Réal Chabot from Canada, and Anna Vincent, Fiona Copland and Tom Hern from Australia/New Zealand.
European participants
Adis Djapo, SCCA (Bosnia and Herzegovina)
Ivo Felt, Allfilm (Estonia)
Eva Jakobsen, Snowglobe (Denmark)
Hlín Johannesdóttir, Vintage Pictures (Iceland)
Hanan Kattan, Enlightenment Productions (UK)
Nathalie Lichtenthaeler, Wide Eye Films (Ireland)
Floor Onrust, Family Affair Films (The Netherlands)
Silvia Panáková, Arina (Slovak Republic)
Edmon Roch, Ikiru Films (Spain)
Peter Rommel, Rommel Film (Germany)
Canadian participants
Bob Crowe, Angel Entertainment Corp.
Chantelle Kadyschuk, No Trace Camping Productions
Kaleena Kiff, Radius Squared Media Group
Jane Loughman, Monkeys & Parrots
Andrew Nicholas McCann Smith, First Love Films
Marie-Claude Poulin, Item 7
Julia Rosenberg, January Films
Simone Urdl, The Film Farm
Barbara Willis Sweete, Willis Sweete Productions
Arnie Zipursky, CCI Entertainment
Australian participants
Raquelle David, Damsel Pictures
Rebecca Summerton, Closer Productions
New Zealand participants
Alexander Behse, Monsoon Pictures International
Leanne Saunders, Piki Films