From The Birth Of A Nation to TWC, Screen reveals the key talking points.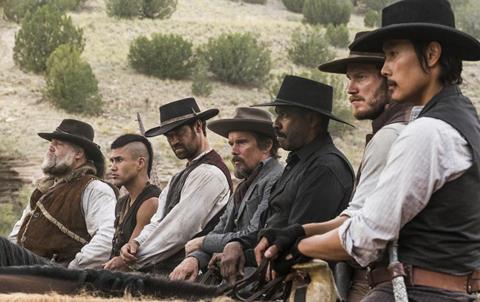 1. Has Toronto found an opening-night film that will get tongues wagging again?
After what might be described generously as a barren patch in the curtain-raising department since Looper kicked off proceedings in 2012, have artistic director Cameron Bailey and his team found the right weave of star power and spectacle again with the world premiere of Antoine Fuqua's The Magnificent Seven? The western remake feels relevant in today's uncertain times, boasts stupendous action sequences and features a diverse cast led by Fuqua regular Denzel Washington alongside Lee Byung-hun, Manuel Garcia-Rulfo and Martin Sensmeir. It's popcorn with a message, but will the audience agree?
2. Can The Birth Of A Nation maintain its awards momentum?
Nate Parker's slave-revolt drama had had tongues wagging all year, but now the conversation has taken a darker turn. Back in January, Fox Searchlight forked out $17.5m for worldwide rights following an electrifying world premiere in Sundance. Overnight, The Birth Of A Nation director, co-writer, producer and star Parker had morphed into The Next Big Thing and Searchlight executives emerged into the chill Park City dawn, giddy in the knowledge that they owned the poster child of the #Oscarsowhite backlash and a loud and preposterously early awards-season frontunner.
Fast forward eight months and Parker is mired in an ongoing saga that stems back to a 17-year-old rape allegation while he attended Penn State University. Although he was acquitted, the issue has shown little sign of going away since it resurfaced last month. One Academy voter has gone on record saying it will be hard to divorce the film from the man and Searchlight's team of Oscar specialists are strategising how to keep the tarnish off their golden prospect. The October 7 US release date remains in place and the studio just announced that Parker will take part in press junkets in Toronto. Can they keep Birth on course for Academy recognition?
3. What (else) will Nate Parker say in Toronto?
A lot depends on what the man in the middle of it all says and does in the coming days. With no official TIFF press conference for The Birth Of A Nation, all eyes will be on those junkets on September 10 and 11. Presuming Searchlight allow personal questions, does Parker go full apology, refuse to be boxed in by specific questions, or avoid the matter entirely and speak only about his film? In the last three weeks, he has granted two interviews to the trades, issued a long statement on social media and told Ebony last weekend that back in 1999 "I never thought about consent as a definition". One could argue he has already said too much and now the task before him is to strike the right balance between reassuring not just African-Americans and women of all colour, but awards voters and audiences.
4. Does the plight of 'Birth' open up the playing field?
Creating a face-off between films that champion non-white actors and non-white stories may do little to advance the cause of dissolving prejudice to allow important voices to flourish. Yet this being the onset of awards season, things will inevitably get competitive. So far this year, Hollywood has focused most publicly on African-American and black storytelling and so, inelegant as it may seem, if Birth stumbles, there are other equally worthy contenders ready to rush in.
Jeff Nichols' understated Loving won fans in Cannes and resides in the Focus Features stable, while Barry Jenkins' Moonlight from A24 gets its first outings in Telluride and Toronto and will cause a stir with the scope of its ambition and the intensity of its performances.
Two female empowerment stories could gather a head of steam if well executed: Fox 2000 will show footage from Hidden Figures by Theodore Melfi, while Mira Nair's Queen Of Katwe from Disney screens in Galas. Conspicuous by its absence is Denzel Washington's Broadway adaptation and December release Fences for Paramount and Scott Rudin. No festival premiere has been set yet.
5. Will there be a buying frenzy at TIFF?
Several industry executives polled by Screen suggest that on paper at least there isn't an abundance of appealing Engish-language acquisition titles. However, a pool of available titles that includes the likes of (Re)Assignment, Jackie, Wakefield, Message From The King, Una, Colossal, Carrie Pilby and The Limehouse Golem would suggest it may be too soon to cast judgement.
Now that theatrical distributors have shown they are prepared to fight deep-pocketed upstarts Netflix and Amazon Studios, a bidding war can erupt anytime, anywhere. That said, both digital titans have plenty in the pipeline and neither is in urgent need for new material. It may be premature, too, to see Apple make a theatrical play, although the word on the silicon-paved street is the behemoth will flex muscles in 2017.
In a not unrelated point, cash-strapped The Weinstein Company has been quiet on the acquisitions front this year and the likes of STX Entertainment, Broad Green, A24 and The Orchard are settling into their stride and may not feel obliged to make statement buys.
6. What will emerge as the awards season heavyweights?
Denis Villeneuve's Arrival, Tom Ford's Nocturnal Animals, Pablo Larrain's Jackie and La La Land from Damian Chazelle will all hop across the Atlantic from Venice for their North American premieres and each is expected to touch down in Toronto laden with buzz.
Derek Cianfrance's The Light Between Oceans also premieres on the Lido first, although early reviews have not been stellar. Eyes will be on Garth Davis' Lion, JA Bayona's A Monster Calls, Oliver Stone's Snowden, Jenkins' aforementioned Moonlight, Ewan McGregor's directorial debut American Pastoral, Garth Jenning's Sing from Illumination Entertainment, Peter Berg's Deepwater Horizon and Mick Jackson's Denial, to name a few.
7. Enter stage left… Harvey Weinstein?
Beset by rumours of financial instability (so what's new?) triggered by an exodus of senior executives, Weinstein would love a best picture Oscar win more than ever.
Despite a broad smattering of triumphs in other Academy Award categories, come Oscar night in February 2017 it will be five years since he got his hands on a best picture statuette courtesy of Michel Hazanavicius' The Artist. If you're the mercurial architect of the modern Oscar campaign, that's an eternity. In Lion, Weinstein may have, on paper at least, the answer to his prayers. Let's see how it plays. The world premiere is on September 7.