Nigerian metropolis Lagos is the focus of the eighth City To City showcase at the Toronto International Film Festival (TIFF) as top brass anoint two international Rising Stars.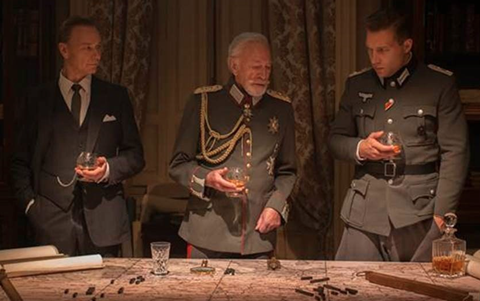 TIFF's latest line-up announcement also featured extra selections in Galas and Special Presentations, among them Walter Hill's (Re)Assignment, Philippe Falardeau's The Bleeder, David Leveaux' The Exception (pictured), Ken Loach's Palme d'Or winner I, Daniel Blake and Terry George's drama The Promise.
A vibrant crop of Contemporary World Cinema entries includes Kleber Mendonça Filho's Aquarius, Danis Tanović's Death In Sarajevo, Marie Noëlle's Marie Curie, The Courage Of Knowledge and Akin Omotoso's Vaya.
Hirokazu Kore-eda brings After The Storm to the Masters showcase, alongside Marco Bellocchio's Sweet Dreams, Pedro Almodóvar's Julieta, Cristian Mungiu's Graduation, Gianfranco Rosi's Berlin Golden Bear winner Fire At Sea and Adoor Gopalakrishnan's Once Again.
Rounding out the programming is the Wavelengths strand of film and video art curated to challenge popular notions and refresh the cinematic art.
The 41st Toronto International Film Festival runs from September 8-18.
WP = world premiere, IP = international premiere, NAP = North American premiere, CP = Canadian premiere, TP = Toronto premiere.
CITY TO CITY
"Hundreds of films are made every year in Lagos for a voracious audience around the world," said TIFF artistic director Cameron Bailey. "Our City to City spotlight brings some of Nollywood's most popular filmmakers together with new voices who are introducing an alternative, indie spirit to Nigerian cinema."
76 Izu Ojukwu WP
93 Days Steve Gukas WP
The Arbitration Niyi Akinmolayan IP
Green White Green Abba Makama WP
Just Not Married Uduak-Obong Patrick IP
Okafor's Law Omoni Oboli WP
Oko Ashewo (Taxi Driver) Daniel Emeke Oriahi NAP
The Wedding Party Kemi Adetiba WP opening night film
TIFF RISING STARS
"Over the past six years the Rising Stars talent accelerator has blossomed, and it's timely for us to shine an even wider spotlight on acting talent by embracing international actors," said director of industry Kathleen Drumm. "The Nigerian actors are a welcome addition and a natural evolution of what the programme aims to achieve."
OC Ukeje
The Lagos-born actor, singer and performer won the 2006 Amstel Malta Box Office reality TV show for actors an went on to train at the New York Film Academy. Credits include Half Of A Yellow Sun, Two Brides And A Baby, Black November and TV series Gidi Up.
Somkele Iyamah-IdhalamA
Actor, model and fashion executive based in Lagos. A graduate of McMaster University in Hamilton, Ontario, she made her onscreen debut in the TV series The Island. Credits include 93 Days, The Arbitration and The Wedding Party and TV series Gidi Up.
IN CONVERSATION WITH…
In Conversation With… Genevieve Nnaji and Kunle Afolayan
The session will explore the careers of Nollywood leading lady Genevieve Nnaji and director Kunle Afolayan.
GALAS
Norman: The Moderate Rise And Tragic Fall Of A New York Fixer (USA-Israel) Joseph Cedar IP
The Promise (USA-Spain) Terry George WP
SPECIAL PRESENTATIONS
(Re)Assignment (Canada) Walter Hill WP
150 Milligrams (La Fille de Brest) (France) Emmanuelle Bercot WP
The Bleeder (USA) Philippe Falardeau NAP
Brain On Fire (Ireland-Canada) Gerard Barrett WP
Burn Your Maps (USA-Mongolia) Jordan Roberts WP
Christine (USA) Antonio Campos CP
The Duelist (Russia) Alexey Mizgirev WP
The Exception (pictured, UK) David Leveaux WP
I, Daniel Blake (UK-France-Belgium) Ken Loach NAP
In Dubious Battle (USA) James Franco NAP
The Long Excuse (Nagai Iiwake) (Japan) Miwa Nishikawa WP
Rage (Japan) Sang-il Lee WP
Voyage Of Time: Life's Journey (Germany) Terrence Malick NAP
Wakefield (USA) Robin Swicord IP.
CONTEMPORARY WORLD CINEMA
'Contemporary World Cinema is the global heart of the Festival," said Bailey. "We're thrilled to be launching a lineup that includes the premieres of new films from Turkey's Yeşim Ustaoğlu, Romania's Adrian Sitaru, South Africa's Akin Omotoso, and Germany's Marie Noëlle."
A Decent Woman (Los Decentes) (Austria-South Korea-Argentina) Lukas Valenta Rinner NAP
After Love (L'Économie Du Couple) (France-Belgium) Joachim Lafosse IP
The Animal's Wife (La Mujer Del Animal) (Colombia) Víctor Gaviria IP
Apprentice (Singapore-Germany-France-Hong Kong-Qatar) Boo Junfeng NAP
Aquarius (Brazil-France) Kleber Mendonça Filho NAP
Ayiti Mon Amour (Haiti-USA) Guetty Felin IP
Brooks, Meadows And Lovely Faces (Al Ma' Wal Khodra Wal Wajh Al Hassan) (Egypt) Yousry Nasrallah NAP
Clair Obscur (Tereddüt) (Turkey-Germany-Poland-France) Yeşim Ustaoğlu WP
Death In Sarajevo (Smrt U Sarajevu) (Bosnia and Herzegovina-France) Danis Tanović NAP
Ember (Kor) (Turkey-Germany) Zeki Demirkubuz IP
The Fixer (Fixeur) (Romania-France) Adrian Sitaru WP
Handsome Devil (Ireland) John Butler WP
Heaven Will Wait (Le Ciel Attendra) (France) Marie-Castille Mention-Schaar NAP
In Between (Bar Bahr) (Israel-France) Maysaloun Hamoud WP
Indivisible (Indivisibili) (Italy) Edoardo de Angelis IP
Marie Curie, The Courage Of Knowledge (Germany-France-Poland) Marie Noëlle WP
Mister Universo (Austria-Italy) Tizza Covi and Rainer Frimmel NAP
Past Life (Israel) Avi Nesher WP
The Patriarch (Mahana) (New Zealand Lee Tamahori NAP
Pyromaniac (Pyromanen) (Norway) Erik Skjoldbjærg IP
The Rehearsal (New Zealand) Alison Maclean NAP
The Road To Mandalay (Taiwan-Myanmar-France-Germany) Midi Z NAP
Santa & Andres (Santa y Andrés) (Cuba-Colombia-France) Carlos Lechuga WP
Tamara And The Ladybug (Tamara y La Catarina) (Mexico-Spain) Lucía Carreras WP
Tramps (USA) Adam Leon WP
Vaya (South Africa) Akin Omotoso WP
We Are Never Alone (Nikdy Nejsme Sami) (Czech Republic-France) Petr Vaclav NAP
The Wedding Ring (Zin'naariyâ!) (Niger-Burkina Faso-France) Rahmatou Keïta WP
White Sun (Seto Surya) (Nepal-USA-Qatar-Netherlands) Deepak Rauniyar NAP
The Women's Balcony (Ismach Hatani) (Israel) Emil Ben Shimon WP
Zaćma: Blindness (Poland) Ryszard Bugajski WP
Zoology (Zoologiya) (Russia-France-Germany) Ivan I. Tverdovsky NAP.
MASTERS
After The Storm (Japan) Hirokazu Kore-eda NAP
Afterimage (Powidoki) (Poland) Andrzej Wajda WP
The Beautiful Days Of Aranjuez (Les Beaux Jours d'Aranjuez) (France-Germany) Wim Wenders NAP
Fire At Sea (Fuocoammare) (Italy-France) Gianfranco Rosi CP
Graduation (Bacalaureat) (Romania) Cristian Mungiu CP
Hissein Habré, A Chadian Tragedy (Hissein Habré, une tragédie tchadienne) (France-Chad) Mahamat-Saleh Haroun NAP
J: Beyond Flamenco (JOTA) (Spain) Carlos Saura WP
Julieta (Spain) Pedro Almodóvar NAP
Land Of The Gods (Dev Bhoomi) (India-Serbia) Goran Paskaljević WP
Ma' Rosa (Philippines) Brillante Ma Mendoza NAP
The Net (Geumul) (South Korea) Kim Ki-duk NAP
Never Ever (À Jamais) (France-Portugal) Benoît Jacquot NAP
Once Again (Pinneyum) (India) Adoor Gopalakrishnan IP
Personal Shopper (France) Olivier Assayas NAP
A Quiet Passion (UK-Belgium) Terence Davies NAP
Safari (Austria) Ulrich Seidl NAP
Sieranevada (Romania) Cristi Puiu NAP
Sweet Dreams (Fai Bei Sogni) (Italy) Marco Bellocchio NAP
The Unknown Girl (La Fille Inconnue) (Belgium-France) Luc Dardenne and Jean-Pierre Dardenne NAP
Yourself And Yours (Dangsinjasingwa Dangsinui Geot) (South Korea) Hong Sang-soo WP.
Previously announced Canadian titles in the Masters programme include Deepa Mehta's Anatomy Of Violence and Alanis Obomsawin's We Can't Make the Same Mistake Twice.
WAVELENGTHS
SHORT FILM PROGRAMMES
Wavelengths 1: The Fire Within
Silueta Sangrienta (USA) Ana Mendieta
Há Terra! (France-Brazil) Ana Vaz
Venus Delta (Austria) Antoinette Zwirchmayr
025 Sunset Red (USA-Spain) Laida Lertxundi
Untitled, 1925 (Canada) Madi Piller
Children Of Lir (USA) Katherin McInnis
Burning Mountains That Spew Flame (Spain) Helena Girón and Samuel M. Delgado
Anima, Silueta De Cohetes (Firework Piece) (Mexico) Ana Mendieta
Wavelengths 2: Incantati
Incantati (France) Danièle Huillet and Jean-Marie Straub
Cilaos (France) Camilo Restrepo

An Aviation Field (Portugal-USA-Brazil) Joana Pimenta
Strange Vision Of Seeing Things (Canada-Serbia) Ryan Ferko,
Ears, Nose And Throat (USA) Kevin Jerome Everson
Ten Mornings Ten Evenings And One Horizon (Japan) Tomonari Nishikawa
Luna e Santur (Japan) Joshua Gen Solondz
Wavelengths 3: Post-performance
Untitled (Austria) Björn Kämmerer
What's New (Germany) Nina Könnemann
Foyer (France-Tunisia) Ismaïl Bahri
350 MYA (Morocco-Canada) Terra Long
I'll Remember You As You Were, Not As What You'll Become(USA) Sky Hopinka
Dark Adaptation (Canada) Chris Gehman
The Watershow Extravaganza (UK) Sophie Michael
Wavelengths 4: Indefinite
Flowers Of The Sky (USA) Janie Geiser

Ayhan And Me (Netherlands) belit sağ

AS WITHOUT SO WITHIN (Mexico-USA-UK) Manuela de Laborde
Indefinite Pitch (USA) James N. Kienitz Wilkins, USA.
FEATURES
Austerlitz (Germany) Sergei Loznitsa NAP
By the Time it Gets Dark (Dao Khanong) (Thailand-Netherlands-France-Qatar) Anocha Suwichakornpong NAP
The Death of Louis XIV (La Mort De Louis XIV) Albert Serra, France/Portugal/Spain NAP
The Dreamed Ones (Die Geträumten) (Canada) Ruth Beckermann CP
The Dreamed Path (Der Traumhafte Weg) (Germany) Angela Schanelec NAP
General Report II. The New Abduction Of Europe (Informe General II. El Nuevo Rapto De Europa) (Spain) Pere Portabella NAP
Hermia & Helena (USA-Argentina) Matías Piñeiro NAP
The Human Surge (El Auge Del Humano) (Argentina-Brazil-Portugal) Eduardo Williams NAP
I Had Nowhere to Go (Germany) Douglas Gordon NAP
Kékszakállú (Argentina) Gastón Solnicki NAP
Mimosas (Spain-Morocco-France-Qatar) Oliver Laxe NAP
The Ornithologist (O Ornitólogo) (Portugal-France-Brazil) João Pedro Rodrigues NAP
Ta'ang (Hong Kong-France) Wang Bing NAP
The Woman Who Left (Ang Babaeng Humayo) (Philippines) Lav Diaz NAP.
FREE INSTALLATIONS AND SPECIAL SCREENINGS
Ana Mendieta: Siluetas Ana Mendieta IP
Nightlife Cyprien Gaillard NAP
Rudzienko Sharon Lockhart IP
Singularity Albert Serra NAP.