Dir/scr: Lynn Shelton. US. 2013. 89mins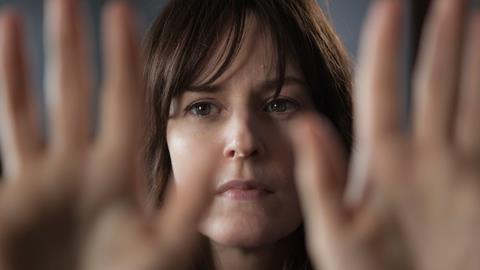 Touchy Feely represents writer-director Lynn Shelton at both her most commercial and most mysterious, resulting in a comedy-drama that ultimately returns to her core themes: the bonds of family and the desire for connection. Powered by a cast led by Rosemarie DeWitt and Josh Pais that radiates indomitable warmth, Touchy Feely breaks from the largely improvised nature of Shelton's last two features, the superb Humpday and Your Sister's Sister. And although the storytelling veers toward the conventional, the depth of the feelings generated helps compensate enormously.
Shelton's trademark nonchalant storytelling style works to her advantage, letting Abby and Paul's separate journeys of self-discovery be removed from any sort of greater meaning or significance.
Part of Sundance's US Dramatic Competition, which is where Humpday was slotted as well, Touchy Feely could prove more commercially successful than Your Sister's Sister, which grossed $1.6m in the States. Despite its feel-good vibe, though, this modest film will remain an art-house player as opposed to a mainstream crossover for Shelton.
Touchy Feely focuses on two siblings: Abby (DeWitt), a massage therapist, and Paul (Pais), an uptight, nerdy dentist who isn't even aware that his daughter Jenny (Ellen Page) has long grown tired of working as his dental assistant. Inexplicably, this sister and brother suddenly both go through profound physiological changes. (Abby can no longer stomach the idea of touching anyone or being touched, while Paul gains an ability to cure any patient's long-term physical pains.) These changes end up not only affecting the siblings' lives but the lives of those around them.
In her past films, Shelton has relied on her actors to improvise their dialogue, creating movies with an agreeably unpretentious, lifelike quality. But with Touchy Feely, she seems to have focused much more on writing out scenes, a decision that removes some of the meandering quality of her earlier work but also makes her new film feel a bit more conventional.
To perhaps counteract that, Shelton has come up with a plot that, in another director's hands, could be the basis for a psychological thriller or horror movie. We are never told precisely why Abby and Paul are greeted by these seemingly independent physiological changes, nor is it entirely clear dramatically what these changes are meant to represent for each character.
But while that lack of explanation could be frustrating for the viewer, Shelton's trademark nonchalant storytelling style works to her advantage, letting Abby and Paul's separate journeys of self-discovery be removed from any sort of greater meaning or significance. What does come through, though, is that both siblings are being forced to question the nature of their interaction with others, and indeed all of Touchy Feely's characters are striving to connect with those around them.
DeWitt, who was also in Your Sister's Sister, is quite fine as a woman whose seemingly contented life with a loving boyfriend (Scoot McNairy) starts to unravel once she's repulsed by touching others. Without revealing anything, let it be said that Abby's affliction causes her to re-examine past pain, and DeWitt's face conveys the character's genuine sense of confusion and disillusionment.
By contrast, Pais is adorable, if at times heavy-handed, in his portrayal of the perpetually nervous Paul. Beyond his relationship with his daughter (the sadly underused Page), Paul also strikes up an unlikely friendship with an herbalist and healer (Allison Janney), and their few scenes together are small little comic pleasures.
There is no question that Shelton aims in this movie to create a crowd-pleasing statement about embracing those around us and appreciating what we have. Her attempts can come off a bit programmatic at times, but her cast's complete confidence with the material helps sell the occasionally saccharine sermonising. Touchy Feely, certainly, but not oppressively so.
Production company: Most Favored Nations
International sales: United Talent Agency, www.unitedtalent.com/ Submarine Entertainment, www.submarine.com
Producer: Steven Schardt
Executive producers: Nancy Black, Dashiell Gantner, Vallejo Gantner, Trey Beck, Dave Nakayama
Cinematography: Benjamin Kasulke
Production designer: John Lavin
Editor: Lynn Shelton
Music: Vinny Smith
Main cast: Rosemarie DeWitt, Josh Pais, Allison Janney, Ron Livingston, Scoot McNairy, Ellen Page, Tomo Nakayama