Dir: John Curran. Australia. 2013. 110mins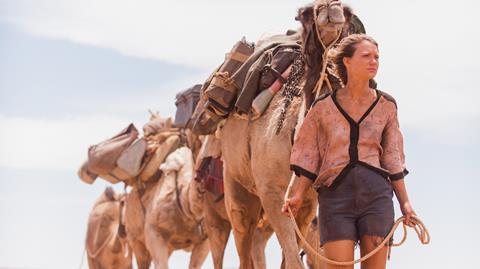 A beautifully composed and magnificently performed story about one young woman's nine-month trek across the Australian desert, Tracks is a rewarding and memorable film built around a mesmerising performance by Mia Wasikowska as a would-be lone explorer with no other reason for her journey expect that it is there to be done and that she wants to be alone.
Mia Wasikowska delivers some of her best work here.
The film, which had its world premiere at the Venice Film Festival has the real-life story angle to appeal and is likely to be supported by strong reviews and great word of mouth not only for Wasikowska's performance but also for the sheer brutal beauty of the landscape, the intriguing inner story that drives Robyn Davidson (the film is based on her international bestseller) and the sheer respect and relish for the complex nature of the Australian outback.
The film may well be rather languid and moves at an unhurried pace, but this in truth also reflects Davidson's journey – a trek of close to 2,000 miles in the 1977 from Alice Springs across to the Indian Ocean, with her only company being four plodding camels and her loyal hound Diggity. Walking through a harsh, barren, unrelenting but also profoundly beautiful landscape, the young 'camel lady' (as she comes to be known as in the media) may well have to endure interactions from people – press, tourists and a dogged photographer – be her journey of solitude is what drives her, rather than any attention she may receive.
The film opens with this self-reliant and determined young woman arriving in Alice Springs intent on learning how to deal with camels as well as try and raise some money to fund her journey. She meets American photographer Rick Smolan (Adam Driver), who is to be part of her sponsorship from National Geographic, with him meeting her at various points on her trip to take pictures.
She does, however, meet kind and supportive people on her trip, with the most charismatic being Aboriginal 'old fella' Eddy (a wonderfully funny and sensitive Rolley Mintuma) who helps see her through sacred desert areas for part of the trip. But while camera-happy tourists occasionally make her life misery she meets an old couple in the middle of the desert (and stays with them for a few days, bathing and playing scrabble), while the initially irritating Rick also grows on her with his positive attitude and gentle kindness.
Director John Curran uses titles to note how many days and miles pass on Robyn's journey, which also helps reflect the subtle changes in the landscape and also the episodic nature of the journey (as reflected in her book). The stunning scenery is enhanced by judicious use of overhead shots, while cinematographer Mandy Walker does a spectacular job in conveying the stark beauty as well as inherent danger in the country.
Mia Wasikowska delivers some of her best work here. She makes shrew film choices, but the Australian actress is perfectly cast here (and looks rather like the real Robyn Davidson, as is evident from a selection of stills at the end of the film) bring a brittle and determined charm to her character, a gentle soul who relishes her own company but – as the film explains in subtly used flashbacks – has issues of her own to deal with. It is a terrific performance and deserves some attention.
Production companies: See-Saw Films, Screen Australia
International sales: HanWay Films, www.hanwayfilms.com
Producers: Emile Sherman, Iain Canning
Executive producers: Andrew Mackie, Richard Payten, Xavier Marchand
Screenplay: Marion Nelson, based on the book by Robyn Davidson
Cinematography: Mandy Walker
Editor: Alexandre de Franceschi
Production designer: Melinda Doring
Music: Gareth Stevenson
Main cast: Mia Wasikowska, Adam Driver, Rainer Bock, Rolley Mintuma, John Flaus, Robert Coleby