Top brass at the 2016 Tribeca Film Festival presented by AT&T have announced selections in the US Narrative, International Narrative and Documentary Competition strands.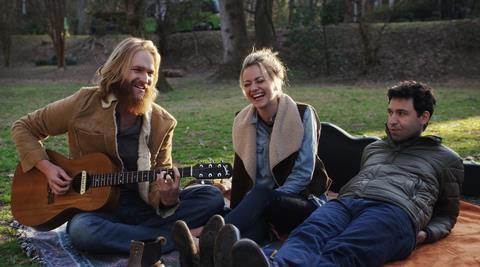 The films comprise 55 out of 110 features that will play during the 15th edition of the New York festival from April 13-24. The festival will present features films in the Spotlight, Midnight, and Special Sections on March 8.
Also included in Wednesday's announcement are the out-of-competition Viewpoints titles.
The world premiere of Bill Ross and Turner Ross' Contemporary Color will open the World Documentary competition on April 14, while the world premiere of Kicks by Justin Tipping will open the US Narrative competition.
The world premiere of Madly directed by Gael García Bernal, Mia Wasikowska, Sebastian Silva, Anurag Kashyap, Sion Sono, and Natasha Khan will open the International Narrative Competition. Viewpoints will open with the world premiere of Nerdland directed by Chris Prynoski.
One third of the festival's feature films are directed by women — the highest percentage in Tribeca's history. Twelve female directors and screenwriters are eligible to receive the fourth annual Nora Ephron Prize, which recognises women who embody the spirit and vision of the late filmmaker and writer.
The 2016 film programme includes features from 32 countries and will showcase 77 world premieres, eight international premieres, six North American premieres, four US premieres, and five New York Premieres. Eighteen directors are returning to the festival with new work.
"In our 15th year we wanted to deepen our support of American narrative filmmakers and have opened our competition to separately showcase the US and International films," said festival director Genna Terranova. "We are very impressed by the films this year and inspired to see new voices transcending traditions and taking risks by telling their stories their own way. We are excited to share with audiences how the world of independent documentary and narrative filmmaking is thriving."
"With our new International Narrative Competition we are reinforcing our faith in cinema from around the world and belief that Tribeca is a fantastic platform for filmmakers to share their vision," said ," said artistic director Frederic Boyer. "Over the ten days of the festival these films will take our audiences on a cinematic adventure, and offer a wide range of perspective in both the stories they tell and the methods through which they're told."
This year, ten US narratives, eight international narratives, and 12 documentary features making their North American, international, or world premieres will compete for cash prizes totalling $155,000, as well as artwork from the Artists Awards programme, offering donated work from contemporary artists.
For further details on the selection click here.
US NARRATIVE COMPETITION
Sponsored by AKA Hotel Residences
Launching in 2016, Tribeca introduces a new competitive section dedicated to American films and filmmakers and mostly comprises first-time directors. The 10 films will compete for the Founders Award for Best Narrative Feature, Best Screenplay, Best Cinematography, Best Actor, and Best Actress. All selections in this section are world premieres and US films unless indicated otherwise.
Kicks, dir Justin Tipping
OPENING FILM
Always Shine, dir Sophia Takal

AWOL, dir Deb Shoval
Dean, Demetri Martin.
Dreamland, dir Robert Schwartzman
The Fixer, dir Ian Olds
Folk Hero & Funny Guy (pictured), dir Jeff Grace

Live Cargo, dir Logan Sandler
The Ticket, dir Ido Fluk
Women Who Kill, dir Ingrid Jungermann
INTERNATIONAL NARRATIVE COMPETITION
The eight films will compete for Best Narrative Feature, Best Screenplay, Best Cinematography, Best Actor, and Best Actress. All are world premieres unless indicated otherwise.
Madly (Argentina-Australia-USA-India-Japan-UK), dirs Gael García Bernal, Mia Wasikowska, Sebastian Silva, Anurag Kashyap, Sion Sono, and Natasha Khan
OPENING FILM
El Clásico (Norway-Iraqi Kurdistan Region), dir Halkawt Mustafa
North American premiere
Icaros: A Vision (USA), dirs Leonor Caraballo and Matteo Norzi
Junction 48 (Israel-Germany-USA) dir Udi Aloni
International premiere
Mother (Ema) (Estonia), dir Kadri Kousaar
International premiere
Parents (Forældre) (Denmark), dir Christian Tafdrup
Perfect Strangers (Perfetti Sconosciuti) (Italy), dir Paolo Genovese
International premiere
The Tenth Man (El Rey Del Once) (Argentina), dir Daniel Burman
North American premiere.
WORLD DOCUMENTARY COMPETITION
Sponsored by Bira 91
The 12 films will compete for Best Documentary Feature, Best Cinematography, and Best Editing. All are world premieres unless indicated otherwise.
Contemporary Color (USA), directed by Bill Ross and Turner Ross
OPENING FILM
All This Panic (USA), dir Jenny Gage
Betting On Zero (USA), dir Ted Braun
BUGS (Denmark), dir Andreas Johnsen
Do Not Resist (USA), dir Craig Atkinson
The Happy Film: a GRAPHIC Design Experiment(USA), dirs Stefan Sagmeister, Ben Nabors, and Hillman Curtis.
Keep Quiet (UK-Hungary), dirs Joseph Martin and Sam Blair
LoveTrue (USA), dir Alma Har'el
Memories Of A Penitent Heart (USA-Puerto Rico), dir Cecilia Aldarondo
The Return (USA), dirs Kelly Duane de la Vega and Katie Galloway
Tickling Giants (USA), dir Sara Taksler
Untouchable (USA), dir David Feige.
VIEWPOINTS
Viewpoints is Tribeca's home for "films with bold directorial visions, and embraces underrepresented perspectives, styles, and characters." All are world premieres unless indicated otherwise.

Nerdland, directed by Chris Prynoski
OPENING FILM
Abortion: Stories Women Tell, (USA), dir Tracy Droz Tragos
Actor Martinez (USA), dirs. Nathan Silver and Mike Ott
North American premiere
Adult Life Skills (UK), dir Rachel Tunnard
After Spring (USA), dirs Ellen Martinez and Steph Ching
As I Open My Eyes (À Peine J'ouvre Les Yeux) (France-Tunisia-Belgium-UAE), dir Leyla Bouzid
US premiere
Between Us (USA), dir Rafael Palacio Illingworth
Califórnia (Brazil), dir Marina Person
North American premiere
The Charro Of Toluquilla (El Charro De Toluquilla) (Mexico), dir Jose Villalobos Romero
International premiere
Children Of The Mountain (USA-Ghana) dir Priscilla Anany
Detour (UK), dir Christopher Smith
Equals (USA), dir Drake Doremus
US premiere
14 Minutes From Earth, (USA), dir Jerry Kolber
haveababy (USA), dir Amanda Micheli
High-Rise (UK), dir Ben Wheatley
New York premiere
Houston, We Have a Problem! (Slovenia-Croatia-Germany-Czech Republic-Qatar) dir Žiga Virc
The Human Thing (La Cosa Humana) (Cuba), dir Gerardo Chijona
International premiere
Keepers Of The Game (USA), dir Judd Ehrlich
The Loner (USA), dir Daniel Grove
Night School (USA), dir Andrew Cohn
Obit (USA), dir Vanessa Gould
Poor Boy (USA), dir Robert Scott Wildes
The Ride (France), dir Stéphanie Gillard
SOLITARY (USA), dir Kristi Jacobson
Southwest Of Salem: The Story Of The San Antonio Four (USA), dir Deborah S. Esquenazi.