Dir: David Schwimmer. US. 2010.104mins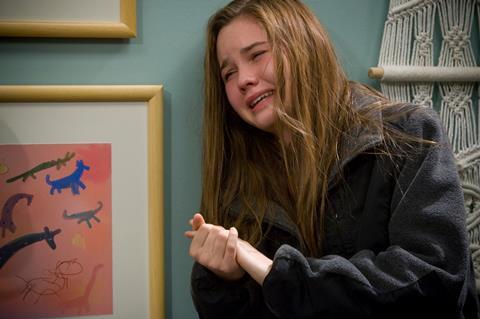 Trust, a sober sided look at internet predators, may not have all the answers or questions to the social dilemma it confronts … but it tries damn hard to cram in as much data and emotion into a compact movie frame. Meticulous and heartfelt, it nonetheless stumbles periodically when its plot veers into the schematic to underline plot points.
Schwimmer gets fine performances from his ensemble.
The independent production essentially has to play the award card to gain entry into the marketplace. Ideally it would like to be this year's Precious equivalent and likely will fall short of that film's commercial penetration domestically and success internationally. Still, with astute marketing it should fare better than Little Children that covered some of the same territory to acclaim but an extremely limited audience.
The story centres on Annie Cameron (Liana Liberato), a 16 year-old high schooler in the upscale suburban Chicago enclave of Wilmette (though primarily filmed in adjacent Michigan). The film takes pains to paint a rather harmonious, idyllic environment of supportive parents, being a cool classmate and other innocuous banalities.
It also initially employs a clever technique to convey information via tweets with a variety of messages scrolling at the bottom of the screen as the equivalent of sub-titles. Annie's on-line admirer is Charlie, who first identifies himself as a high school senior but as their relationship develops he ups his age to 20 and then 25.
When Annie finally meets up with her pursuer, she recoils at the discovery that he's pushing 40. But "Charlie" has a line of patter that melts icy concerns and hormones and conformity contribute to the "date" culminating in a motel room. The saga turns on her best friend spotting her at the mall and soon school authorities, the police and the FBI get involved in tracking the pedophile.
Annie goes through all the steps from shame to defiance, anger, outrage, guilt and remorse in this harrowing tale. Her father, played by Clive Owen, similarly conveys frustration and anger and a crippling epiphany when confronted by an ad campaign he's created that blatantly uses sex as a sales tool.
Schwimmer gets fine performances from his ensemble including Owen and Catherine Keener as Annie's parents as well as newcomer Liberato and vets Viola Davis as a shrink and Tom McCarthy as the smooth yet slightly creepy Charlie. It's a handsomely mounted production with stand-out work from cinematographer Andrzej Sekula and production designer Michael Shaw.
Good intentions certainly prevail throughout Trust but the filmmakers are sufficiently astute and clever to keep them from hobbling the story.
Production company/International sales: Nu Image
Producers: Avi Lerner, Robert Greenhut, Ed Cathell, Schwimmer, Heidi Jo Markel, Tom Hodges, Dana Golomb
Screenplay: Andy Belin
Cinematography: Andrzej Sekula
Production designer: Michael Shaw
Editor: Douglas Crise
Music:Nathan Larson
Cast: Clive Owen, Catherine Keener, Liana Liberato, Viola Davis, Jason Clarke, Tom McCarthy