Climactic instalment of eOne's popular franchise adds $8.4m (£5.3m) to retain top spot ahead of Skyfall and impressive debutant Nativity 2.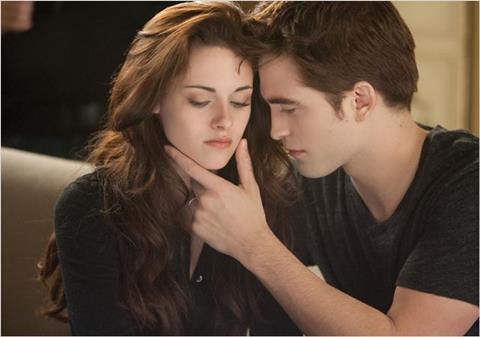 Despite a strong field of new openers, The Twilight Saga: Breaking Dawn - Part 2 recorded a second consecutive week at the summit of the UK box office.
The climactic instalment of the popular franchise added $8.4m (£5.3m) and has now amassed $42.6m (£27m) after ten days in play through eOne. Currently, Breaking Dawn - Part 2 is tracking ahead of each of the previous instalments, with Part 1's $37.3m (£23.3m) the closest contender, meaning that Part 2 is poised to end the vampire saga on a record high.
Breaking Dawn - Part 1 is currently the Twilight UK champion with $49.8m (£31.1m).
Still going strong in its fifth weekend was Sony's record breaker Skyfall as it remained in second.
The latest Bond mission shot its way to a further estimated $6.3m (£3.9m) for a mighty $144.5m (£90m) to date. If that estimate holds up, Skyfall is now within £4m of overtaking Avatar as the biggest grosser of all time in the UK.
Performing impressively in third was eOne's Nativity 2: Danger in the Manger! which recorded a $2.6m (£1.6m) debut from its 435 sites. That result is over double the opening of the original Nativity! which took $1.3m (£785,887) in 2009 on its way to $8.5m (£5.3m).
Alex Hamilton, head of film, eOne UK commented: "More and more people are discovering [the series] – not only did we open Nativity! 2 at number three behind two enormous blockbusters, we also saw Nativity!, a three year old film, climb up to being the third bestselling film DVD last week. Debbie [Isitt, director] and her co-conspirators have created a little cultural phenomenon and eOne is thoroughly proud to be part of it."
Entertainment's Silver Linings Playbook grossed a solid estimated $2m (£1.2m), including previews, on its opening bow in the UK.
David O. Russell's comedy-drama starring Bradley Cooper and Jennifer Lawrence failed to top the director's strongest debut though, which remains The Fighter's $3.4m (£2.1m). Three Kings is Russell's best ever performance in the UK though, finishing with $11.2m (£7m) back in 2000.
Also for Entertainment, The Master added an estimated $320,000 (£200,000) to hit the £1m mark.
Michael Hoffman's remake of Gambit, starring Colin Firth and Cameron Diaz, opened with $1.1m (£689,041) from its 380 sites through Momentum, including previews of $301,000 (£187,930), Hoffman's second-best debut in the UK behind One Fine Day's $1.8m (£1.1m) opening.
StudioCanal's End of Watch debuted in sixth after taking $984,000 (£616,593) from its 278 sites, including previews of $38,000 (£23,982). That opening is narrowly behind that recorded by director David Ayer's Street Kings, which grossed $992,000 (£619,647) from more sites (353) in 2008.
Paramount's Madagascar 3: Europe's Most Wanted added a non-final $950,000 (£590,000) to climb to $34.1m (£21.3m), while Warner Bros.' well-received awards contender Argo now stands at $6.2m (£3.9m) following a $789,000 (£492,000) weekend.
This week sees saturation releases for Entertainment's Alex Cross, Lionsgate's Great Expectations, Paramount's Rise of the Guardians and Warner Bros.' Trouble with the Curve. Ben Wheatley's critically acclaimed black comedy Sightseers receives a release in around 90 sites through StudioCanal, while Arrow's The Hunt is among the films receiving a limited release.