Dir: Catherine Hardwicke. US. 2008. 121 mins.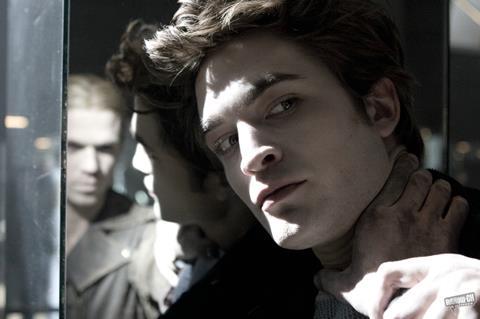 Summit Entertainment is looking at its first blockbuster hit with the film version of Stephanie Meyer's bestselling novel Twilight, a highly-effective adaptation with an intoxicating blend of breathy romance and mild horror which will be must-see viewing for teenage girls. Faithful to the novel in almost every narrative detail, film-maker Catherine Hardwicke nevertheless infuses the film with its own visual personality courtesy of the atmospheric northeastern landscapes and the spot-on casting of her young lovers Kristen Stewart and Robert Pattinson.
Rated a family-friendly PG-13 in the US, the film has an inbuilt awareness from the success of Meyer's novels and a six-month marketing crescendo there which has generated enormous want-to-see among the powerful teen and pre-teen girl demographic. They will go to see it once, twice, three times, if only to swoon and re-swoon at Pattinson.
Summit has nurtured this project from the start and its domestic arm as well as its international output partners are counting on a home run after the poor performance of Never Back Down and Sex Drive. The extent of the film's success is the question here. Doubtless it will work well enough to ensure a greenlight for the sequel New Moon, but whether it can achieve super-grosses is dependent on crossover to teenage boys and adults. It is not a sure thing that teenage boys will be drawn to the film, which is short on action and blood and high on unabashed girly love. Adults, either accompanying their daughters or going on their own, might be more swayed by the film's unusual romance and stylish mise-en-scene.
As the Harry Potter producers know all too well, the challenge with adapting literary properties beloved by a whole generation of kids is that they might never meet the expectations of the fans. Twilight and its sequels are one of those rare phenomena, having sold 17 million copies worldwide.
The always-dependable Hardwicke and screenwriter Melissa Rosenberg didn't attempt to tinker with Meyer's story or characters, instead focusing on how every plot twist and character could be accommodated within a two-hour framework without sacrificing narrative momentum or suspense. It was the right tactic and fans will be satisfied by the realisation of the novel's characters and mythology.
Best of all is the casting. Stewart, a fine young actress who played Jodie Foster's daughter in Panic Room, Robert De Niro's daughter in What Just Happened' and Emile Hirsch's girlfriend in Into The Wild, sinks her non-vampire teeth into her first lead role of Bella with confidence. Pattinson, the young British actor who found his first fans playing the doomed Cedric Diggory in Harry Potter IV, is the perfect Edward. Both boyishly handsome and broodingly masculine, he kicks Orlando Bloom out of the frame as the new number one pinup for teenage girls.
But Hardwicke and company have also filled each supporting role with careful consideration for the fanbase and possible sequels. From Peter Facinelli as the head of the Cullen clan to Nikki Reed as the aggressive Rosalie Cullen to Billy Burke as Bella's father Charlie to Taylor Lautner as the sweet native American Jacob and Cam Gigandet as the dangerous nomad vampire James, the actors are extremely well-cast.
The plot is as Meyer wrote it: 17-year-old Bella Swan (Stewart) leaves Phoenix and arrives in the grey, rainswept town of Forks, Washington, to live for a while with her father (Burke) while her mother travels with her new husband. She settles into Forks with as much enthusiasm as she can muster, falling in with new friends at the local high school.
But she also becomes enamoured of Edward Cullen, a handsome classmate who keeps apart from the others with his photogenic adopted brothers and sisters. After initial hostility from Edward, who is her reluctant partner in biology class, she becomes friendly with him. But when he saves her life by pushing a ten-tonne truck out of her way, she begins to suspect he is not like the other boys.
The soundtrack of songs, already number one in the US, is another smart move by the producers. Supervised by the celebrated Alexandra Patsavas, who famously brought youth-oriented pop tracks to TV series like The OC, Grey's Anatomy and Gossip Girl, the soundtrack features Muse, Radiohead and Linkin Park and is the perfectly hip, teen-cool accompaniment to the story. After all, Twilight is not too distant a cousin to Gossip Girl and The OC. It is the same package of teen sexuality, high school intrigue and beautiful youngsters, only with a few fangs thrown in for novelty value.
Production companies
Temple Hill
Maverick
Imprint
US distribution/International sales
Summit Entertainment
+ 1 310 309 8400
Producers
Greg Mooradian
Mark Morgan
Wyck Godfrey
Screenplay
Melissa Rosenberg
Based on the book by Stephanie Meyer
Cinematographer
Eliott Davis
Art directors
Christopher Brown
Ian Phillips
Editor
Nancy RIchardson
Music
Carter Burwell
Main cast
Kristen Stewart
Robert Pattinson
Billy Burke
Peter Facinelli