Dir: Anne Fontaine. Australia-France. 2012. 112mins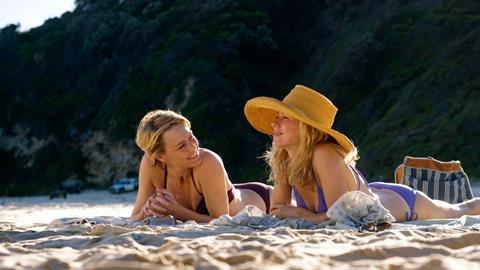 A thoughtful, sexy, mature and (most importantly) non-judgmental examination of potentially tawdry material, Two Mothers charts the emotional havoc unleashed when two very close female friends begin relationships with each other's grown son. Buoyed by nuanced, muted performances from Naomi Watts and Robin Wright, the English-language debut from French director Anne Fontaine (Coco Before Chanel) is at heart about the unfathomable mysteries of human desire, in the process delivering a romantic drama in which sadness and joy are never far apart.
Watts and Wright are both superb playing women who didn't ask to fall in love with each other's son but who quickly try to rationalise the situation once it takes hold.
After its Sundance screening, Two Mothers will open in France through Gaumont, and internationally the star presence of Watts (and, to a lesser degree, Wright) will help spur sales. The salacious subject matter may also attract business, although Fontaine's handling of the material veers toward the intellectual and heartfelt rather than to the trashy or sleazy.
Two Mothers has been adapted by Christopher Hampton from Doris Lessing's novel The Grandmothers, which is said to be inspired by true events. In the film, Lil (Watts) and Roz (Wright) are lifelong, inseparable friends who each have a son: Ian (Xavier Samuel) and Tom (James Frecheville), respectively. With Roz's husband (Ben Mendelsohn) growing ever so distant, Ian begins to act on his feelings for her, which she, to her surprise, reciprocates. Blindsided by their affair, Tom pursues Lil, and soon the four of them try to normalise these two unusual romantic relationships.
Rather than dwelling on the shock of these affairs, Fontaine calmly investigates the emotional repercussions, illustrating how none of the four characters can extricate him or herself from the relationships. Early on, she quickly and convincingly establishes the bond between the two women and their sons, showing how easily their platonic feelings for one another could eventually drift toward romantic stirrings. Subtly, Two Mothers questions whether Lil and Roz's deep friendship — outsiders sometimes wonder if they're lesbians — might have been partly to blame for these ill-advised romantic pursuits. (Sharing their sons is just another way to share a part of their lives.)
Watts and Wright are both superb playing women who didn't ask to fall in love with each other's son but who quickly try to rationalise the situation once it takes hold. There will be those who find their actions' unconscionable, but the strength of these actresses' performances is how persuasively they reveal Lil and Roz's guilt, concern, and exhilaration in equal measure. Rather than condemning these women, Two Mothers goes beneath the surface to show the emptiness and longing that have pushed Lil and Roz toward such a romantic entanglement. The leads make their characters strongly empathetic in an understated way, even when they seem to have ensured their own heartbreak.
The two sons are impossibly strapping young men, but as played by Samuel and Frecheville, they're also infused with deep feelings and soulfulness. (Fontaine gives each couple a few erotic scenes that pulsate with sensuality.) Considering that Roz's husband isn't around that much and Lil's died years ago, these four characters seem to have no one else in their life to fulfil their emotional needs. It is, to be sure, a somewhat farfetched premise. (Don't Ian and Tom know anyone their age?) But Fontaine suspends our disbelief enough so that she and her excellent cast can sketch out over the span of years an incredibly complex love story in which there are no tidy happy endings — merely resolutions that are bittersweet but, especially in retrospect, also inevitable.
Production companies: Screen Australia, Screen NSW, Cine +, Canal +, Hopscotch Features, Ciné-@, Mon Voisin Productions, Gaumont, France 2 Cinéma
International sales: Gaumont, www.gaumont.fr
Producers: Michel Feller, Barbara Gibbs, Andrew Mason, Philippe Carcassonne
Executive producers: Naomi Watts, Troy Lum, Sidonie Dumas
Screenplay: Christopher Hampton, based on the novel The Grandmothers by Doris Lessing
Cinematography: Christophe Beaucarne
Editors: Luc Barnier, Ceinwen Berry
Production designer: Annie Beauchamp
Music: Christopher Gordon
Main cast: Naomi Watts, Robin Wright, Xavier Samuel, James Frecheville, Sophie Lowe, Jessica Tovey, Gary Sweet, Ben Mendelsohn