Dir: Vikramaditya Motwane. India. 2010. 137mins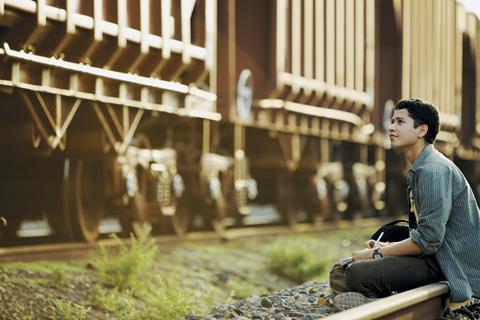 A tearjerking tale of triumph over adversity, Udaan is corny, conventional but also filled with the potential to become an unsophisticated crowdpleaser. The story of a young man locked in conflict with his stern disciplinarian father is unlikely to secure widespread critical support but it does milk the situation for all its worth.
Even the most cynical might find it hard not to respond with a lump in their throat.
Audiences will respond to its shameless emotional pull, the lengthy running time passes surprisingly briskly and Rajat Barmecha makes a personable leading man. All these elements combine to suggest a degree of commercial viability for Vikramaditya Motwane's feature beyond its home territory of India.
The opening sequences of Udaan are funny and warm-hearted and seem more in keeping with an American Pie-style Hollywood comedy than a more typical Bollywood film. A group of student friends break free from their boarding school to attend a movie screening. They are caught and expelled which leads seventeen year-old Rohan (Rajat Barmecha) back to the father he hasn't seen for the past eight years.
The hard-drinking, humourless father Bhairav (Ronit Roy) is like a figure from Victorian melodrama as he demands that he be addressed as "Sir" and lays down a set of house rules - Rohan must never raise his voice or misbehave, will study chemical engineering and work in his father's factory. Rohan's ambition is to become a writer setting up a Billy Elliot-style situation in which his impossible dream goes against the grain of everything his father believes. Rohan also discovers that he has a six year-old half brother from his father's failed second marriage.
Udaan does everything by the book from the father's beastly acts of intransigence to soulful montage sequences of a miserable Rohan adrift in his hometown. The father insists that Rohan join him on a lengthy morning jog each day which he always wins and you just know there will come a moment when the roles are reversed and it will signal a defining moment in their relationship.
Motwane completes the tried and tested formula by using the kind of inspirational music that wouldn't seem out of place in a Rocky film. Most of the elements in Udaan are obvious but there is a smattering of welcome humour, the relationships are believably sketched and even the most cynical might find it hard not to respond with a lump in their throat.
Production companies: UTV Motion Pictures
International sales: UTV Motion Pictures 91 22 4091400
Screenplay: Vikramaditya Motwane, Anurag Kashyap
Cinematography: Mahendra Shetty
Editor: Dipika Kalra
Music: Amit Trivedi
Main cast: Rajat Barmecha, Ronit Roy, Aayan Boradia, Ram Kapoor