Dir-scr: Apichatpong Weerasethakul. UK-Thai-Ger-Fr-Sp. 2010. 113mins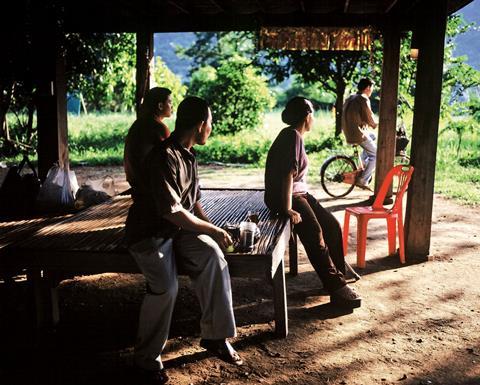 The wonderfully titled Uncle Boonmee Who Can Recall His Past Lives is a beautifully entrancing film… simple in story but complex in structure and subtext, and likely to deeply please those who are fans of director-artist Apichatpong Weerasethakul.
Uncle Boonmee Who Can Recall His Past Lives is an elegantly artistic film that is both visually arresting and engagingly entertaining.
Accessibility for those audiences unfamiliar with Weerasethakul's previous work - such as Syndromes And A Century (2006) and Tropical Malady (2004) – will be limited, but the film must be destined for a healthy festival life and also art-house release for buyers aware of niche markets, or who have handled his films before.
The film is a beautifully assembled affair, with certain scenes staged with painterly composure, and also increasingly moving as the subtle story develops. Plus Apichatpong Weerasethakul is not afraid of adding in moments of surreal humour – often laugh-out-loud moments for that – which helps the pacing of the film.
Uncle Boonmee (Thanapat Salsaymar) is suffering from acute liver failure, and has decided to spend his last days in the Thai countryside, surrounded by his loved ones.
To his surprise, he is visited by the ghost of his dead wife (Natthakarn Aphaiwonk) and also his long lost son, who returns home in a non-human form – that of a man-sized hairy animal with blazing red eyes.
He dwells on his past lives as he contemplates the reasons for his illness, and towards the end of the film treks through the jungle, with his family, to reach a mysterious and beautiful hilltop cave – the birthplace of his first life and where he wants to end his current one.
Weerasethakul never actually makes it clear who or what Uncle Boonmee's past lives were – they could be the buffalo who escapes from the farm at the start of the film, the catfish which sexually toys with a facially disfigured princess in the centre of the film, or even flies that are swatted by a battery-powered fan – but rather lets the audience's imagination decide.
The film was shot in the North-East of Thailand, and the lush and visually arresting jungle backdrop is as much a character of the film as the actors in the foreground. In the section devoted to the disfigured princess (Wallapa Mongkolprasert) she is filmed wading into the pool beneath a beautiful waterfall as she talks to a catfish/water-ghost. The sequence is painterly in composition as it takes reference to classic Thai cinema.
Similarly Uncle Boonmee's final trek through the jungle to a hidden cave is visually arresting as well as being deeply poignant, with amateur actor Thanapat Salsaymar appropriately low-key and modest. His simplicity and honesty works perfectly alongside the more surreal aspects of the film.
Most memorable, though, as the animal ghosts – one of whom is Boonmee's long lost son – who emerges from the forest. In a charming reference to old-fashioned horror movies, these ghosts are simply actors in cheap gorilla suits, replete with blazing red eyes to distract from the amusingly ordinariness of their costumes. Again this is Weerasethakul having some fun, and offering his audience the chance to laugh out loud.
Uncle Boonmee Who Can Recall His Past Lives is an elegantly artistic film that is both visually arresting and engagingly entertaining. Certainly not a film for everyone – but certainly one that will stay with an audience once watched.
Production companies: Illuminations Films, Kick the Machine Films, Anna Sanders Films, The Match Factory, GFF Geissendoerfer Film-und Fernsehproduktion, Eddie Saeta S.A.
Producers: Simon Field, Keith Griffiths, Charles de Meaux, Apichatpong Weerasethakul
Co-producers: Hans W Geissendoerfer, Luis Miarro, Michael Weber
Cinematography: Sayombhu Mukdeeprom, Yukontorn Mingmongkon, Charin Pengpanich
Production designer: Akekarat Homlaor
Editor: Lee Chatametikool
Main cast: Thanapat Salsaymar, Jenjira Pongpas, Sakada Kaewbuadee, Natthakarn Aphaiwonk, Geerasak Kulhong